Matt Caines is a creative producer, extending his roots through music, experiential and environmental design. A New York native, he has performed and produced events internationally, creating a haptic and participatory space that moves people, causes a reaction, instigates change.
With an initiative to connect purpose and place, in 2018, Matt moved to Tulum and where he became the managing partner and a co-founder of Art With Me, Tulum's first large-scale arts & cultural festival. Art With Me was a huge success in attracting local emerging and international artists, celebrating the creative arts, inspiring guests to live their best lives, while giving back to the community.
Today we chat with Matt Caines ahead of Art With Me Festival to take place in the city of Miami from November 26th-28th, featuring Anja Schneider, Lee Burrdige, Tycho:ISO50, Behrouz, Rodriguez Jr., himself, and many more. Grab your tickets here. 
EG: Hi Matt! Welcome! It's a pleasure to have you here with us. How have you been doing?
Matt Caines: I've been doing awesome, super busy, but everything is going great.
EG: Congratulations on bringing Art With Me to Miami! How are you feeling about this one?
Matt Caines: Thank you! I'm feeling great about this one, we can not wait to share all the hard work and effort our team has put in to create this for all of you.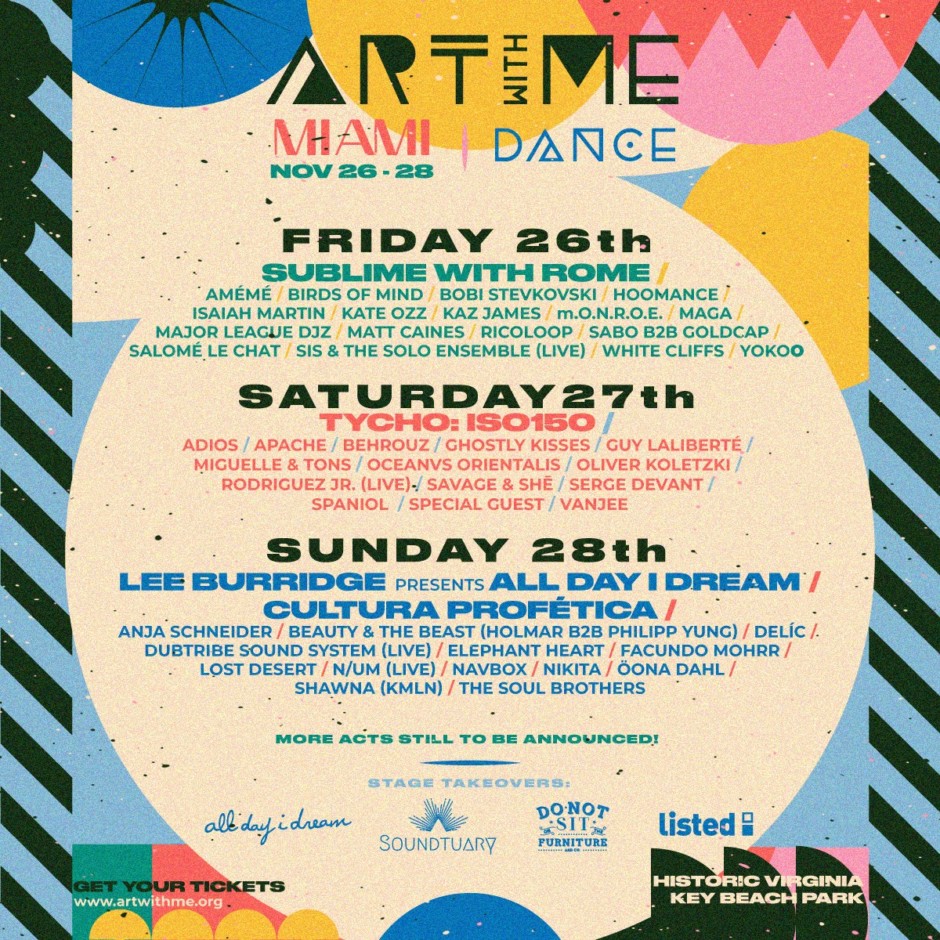 EG: Could you tell our readers what Art With Me is all about? What can attendees expect from this maiden voyage in Miami? What are these pillars?
Matt Caines: Art With Me is an international arts, music and cultural festival, offering experiences across a multitude of highly creative platforms that immerse, inspire, and activate its attendees and followers. We seek to create a space where inspiration is the heartbeat of the experience. Art in all its forms has the power to inspire through impactful creative experiences.
Art with Me Miami, is this Thanksgiving weekend and the fully immersive 3-Day weekend consists of 6 main pillars: Art, Dance, Breathe, Eat, Play & Care.
ART features hundreds of works of art consisting of: large-scale art activations, interactive art, body art, classic art, art classes, live art, laser art, & digital art, even art cars.
DANCE features over 70 musical performances from around the world across 4 stages, headlined by Sublime with Rome, TYCHO:ISO5O, Lee Burridge presents All Day I Dream, and Cultura Profética to name a few.
BREATHE is our wellness experience featuring world-renowned instructors from noon until 8 pm every day consisting of yoga classes, cacao ceremonies, sound healing journeys, meditation sessions, and panels about wellness and mental health.
EAT includes a 3-day culinary experience with a large selection of gourmet food & exotic cocktails, curated to enhance your journey through the Art With Me festival. Closing the adventure is a night with the #1 female chef of the year, Daniela Soto – Innes.
CARE is hosted by the Care With Me Foundation. It has put together a group of local and international charities to enhance the experiences throughout the festival, as well as, spearheading a plastic-free initiative. They will also bring a series of riveting "share with me" panels on art, wellness, and sustainability with several surprise guests.
EG: By the way…what a fantastic line-up! Are you excited? How much planning goes into designing an eclectic line-up like this one?
Matt Caines: A lot!. Art With Me is so much more than a music festival, it's an art and cultural experience and lifestyle. It's awesome to be able to look at this line-up and see so much diversity…from reggae to indie alternative, world music, house, techno, and singers and songwriters, it's inspiring to see it all together in one place.
"You have to stay positive and look for solutions, not problems, manage expectations, delegate, show gratitude, and be thankful to the people working really hard
to turn these dreams into a reality"
EG: Are there any personal favorites? Anyone you're really looking forward to seeing live?
Matt Caines: Totally. You have legends like Sublime with Rome and Lee Burridge who musically had an impact on my life to old school OG's like Behrouz and his Do Not Sit on the Furniture Showcase and Dubtribe Soundsystem, from the house music scene. Elephant Heart and Ghostly Kisses are two super talented emerging acts I am excited to see perform.
EG: What have the Tulum experiences been like so far? What are you looking to replicate? How will Miami be different?
Matt Caines: The Tulum experience has been really special and unique, there's nothing quite like it anywhere in the world. It has this natural sense of adventure and mysticism built into its DNA, along with a strong sense of community at its core. All things we will carry with us everywhere we go. The biggest difference I think is the overall scale of the event. Expanding into a new major city like Miami has given us the opportunity to go bigger with all of our programmings and in every way possible, by focusing the whole event into one venue, the beautiful Historic Virginia Key Park, instead of being spread out into over 20 smaller venues like in Tulum
EG: How do you prepare for such a big gig like this one?
Matt Caines: It's all about your mindset. You have to stay positive and look for solutions, not problems, manage expectations, delegate, show gratitude, and be thankful to the people working really hard to turn these dreams into a reality. Most importantly, be kind to yourself because you will not always have all the answers..and that's ok. When you are tired, slow down for a moment to rest and catch your breath, then keep on moving.
EG: Speaking about your sound…you just released a new mix on our Spotlight series! What was the idea behind it?
Matt Caines: I enjoy using sophisticated melodies, rhythms, breaks and vocals to tell a story. This was an expression of myself and what I was feeling this past week. I hope you enjoy it!
"Expanding into a new major city like Miami has given us the opportunity to go bigger with all of our programming
and in every way possible"
EG: What's next for Matt Caines and Art With Me? What new milestones can your fans look forward to in the coming months?
Matt Caines: Personally, I will take a little bit of a vacation and go enjoy the beach and mountains after the event wraps up. I'm also looking forward to spending some quality time with my family and loved ones for the holidays. Musically, I have some great gigs planned here in Miami at Art With Me next week, Dance With Me in Puerto Rico on December 9th, NYE at Ahau Tulum for their 10-year anniversary event, then off to Punta del Este in early January. Early next year,I will have a new release coming out and some overseas festival gigs planned that I am super excited about.
As for Art With Me, we have some big plans to grow and continue delivering inspirational creative, and immersive experiences for our fans. Dance With Me, our one-day music events will be hosted in numerous cities across the US and globally and we have some more exciting announcements coming soon, so stay tuned.
EG: Thank you for your time Matt! We wish you all the best for the future! See you on the dancefloor!
Matt Caines: Of course, and thank you as well and I hope to see you at Art with Me Miami!
Art With Me Festival will take place in the city of Miami from November 26th-28th. Grab your tickets here. 
Follow Matt Caines: Soundcloud | Facebook | Instagram