Mau and Saqib, two music producers with different backgrounds and styles, came together to create the hit track 'Me Mira.'
Despite being in different cities, they overcame the challenges of distance and different work styles to produce a track that is gaining traction in the dance music scene. 'Me Mira' via Beats On Time is not just a collaboration of two talented producers, but also a representation of their cultures and passion for music. In this conversation, we get to know Mau and Saqib, their creative process, challenges, and insights into the music industry.
EG: Hi Mau and Saqib, it's great to have you both here. Where are you guys? How have you been?
Mau: Hi guys! Grateful, and excited to be here sharing with you all a little bit about us. I live in the sunshine state (Miami, Florida) currently working between the studio doing music and curating music experiences for the upcoming months.
Saqib: Thanks for having us! I'm currently in Brooklyn, New York in my studio! I've been great. Really really busy with the label and all the projects around it!
EG: Congratulations on the release of 'Me Mira'. Can you tell us a bit about your creative process in producing the track and how your collaboration on this project came about?
Mau: I always wanted to do music with Saqib. We became close friends and have learned much from each other, there is mutual respect and inspiration on many levels. It was a matter of time to combine our powers. I started with different vocals and percussive sounds as part of my roots, we went back and forth with different versions until the true inspiration was conceived over an all-nighter in Miami, watching the sun come up during Art Basel 2022.
Saqib: We wanted to work on something together for quite some time. I wanted to bring Mau's Latin and percussive and salsa vibes to my sound. We actually went through a couple of different tracks before we got to this one.
"Me Mira" is a track about movement, about riding off into the sun and letting go of everything that is no longer serving your purpose" – Mau
EG: 'Me Mira' has a very unique sound. Can you talk about the creative process behind the track and how you incorporated these different elements into the production?
Mau: 'Me Mira' is a track about movement, about riding off into the sun and letting go of everything that is no longer serving your purpose. We incorporate a lot of grooves in this track, very percussive with a powerful hypnotic synth that takes you off. The Vocal is trippy and is in Spanish, I am from Venezuela so I loved that we incorporate the South American element.
Saqib: I think we started with this grooving tech bass and the drums…and then went through like 5 different vocals/synths/ guitar ensembles and like entirely different sound schemes that we deleted and kept going back to basics… then when that Spanish vocal came in and I started looping it and playing around with the pitches/ effects there was a mental AHA moment and we knew we had the track right there! Boom!
EG: Were there any challenges or obstacles you faced during the production or release of 'Me Mira'? How did you overcome them?
Mau: Yes we hit some roadblocks. Being in different cities, being able to sync our studio times since we both have full-time projects and jobs. Our learning curves with the different versions we did, having the right inspiration at the right time. I am more of a person that works with the flow. Saqib is detailed oriented and precise. That's why we work great at the end we were consistent and resilient and the fruit of our effort pays off in an amazing track that we are very proud of.
Saqib: Yes there were quite a few. One was distance; being in different cities makes it hard to work together and projects have to be sent back and forth frequently. It's time-consuming and it's hard to work on the same project at the exact same time. The other major obstacle was that I am a perfectionist and ended up taking this track back to the studio multiple times to fix very minuscule but important things that were driving me crazy (laughter)!
EG: And Sam Jaspersohn's remix of 'Me Mira' adds a unique spin to the track. How did you decide to work with Sam? What was it that made him a perfect Rit to remix 'Me Mira'?
Mau: This was all thanks to Saqib and Nina and the Beats on Time team. They both wanted to bring artists from the label and keep this release 'in-house'. I am so excited to be part of Beats on Time and grateful that someone with the trajectory of Sam Jaspersohn has joined forces with us on the label. I feel is a great combination of tracks from a groovy house original track to a sick smooth techno remix from him.
Saqib: Sam is a super-talented music producer, with releases on some of the sickest labels in dance music including Bedrock. He is also a member of the Beats on Time team, with a very unique musical vision that I highly respect. He brings something very different to the release that I love.
"I'm trying to find tracks that floor me, tracks that I love, tracks that have that ENERGY that I look for as a DJ on the dance floor" – Saqib
EG: Saqib, as the label head of Beats On Time, how do you decide which artists and tracks to sign to the label? What is it that "rings your bell"?
Saqib: It's pretty simple, I think. And goes back to the basics of being a DJ: don't play or collect a track unless you absolutely fucking love it and it's a bomb to you. Like this has to rock your socks otherwise don't care. And that doesn't mean any specific genre. It can be anything. But it must rock the socks. For the label, I feel the same way. I'm trying to find tracks that floor me, tracks that I love, tracks that have that ENERGY that I look for as a DJ on the dance floor.
For the artists? I try to let their music speak for them rather than their appearance!
EG: Mau, you have collaborated with several other artists in the past, including Saqib on this project. How do you approach collaboration and what do you think makes a successful collaboration?
Mau: I feel collaborations are essential to your music career. I've had the most growth in my career through sharing a vision with other like-minded artists. Why settle with one when you can have two brains making creative music right? I believe success comes from having a powerful bonding through friendship through mutual respect and admiration. Effortless communication is a key factor that nourishes these dynamics. I try to collaborate with artists that play instruments and love how they DJ as well. Because they can understand how to deconstruct sounds into a more technical aspect.
EG: Both of you have successful solo careers. How do you balance your solo work with your collaborative projects, and do you feel that collaboration adds something different to your music?
Mau: I try to be more of a hybrid artist. Have an equal combination of solo and collaborative projects. There is so much involved in music projects that I love working with others to learn and see their creative processes and at the same time, I'll try my best to be consistent in developing my own skills and expanding my knowledge into my own projects, to be able to bring more to the table when am in co-creative spaces. Like people say "If you want to go faster go solo, If you want to go further go together".
Saqib: I see studio collaborations as an extension of my solo tracks/career. I hope that every track that I make with another artist has some big pieces or colors of me that you can recognize. I love collaborating because it brings new sounds, places, and ideas into the studio that I would not have otherwise!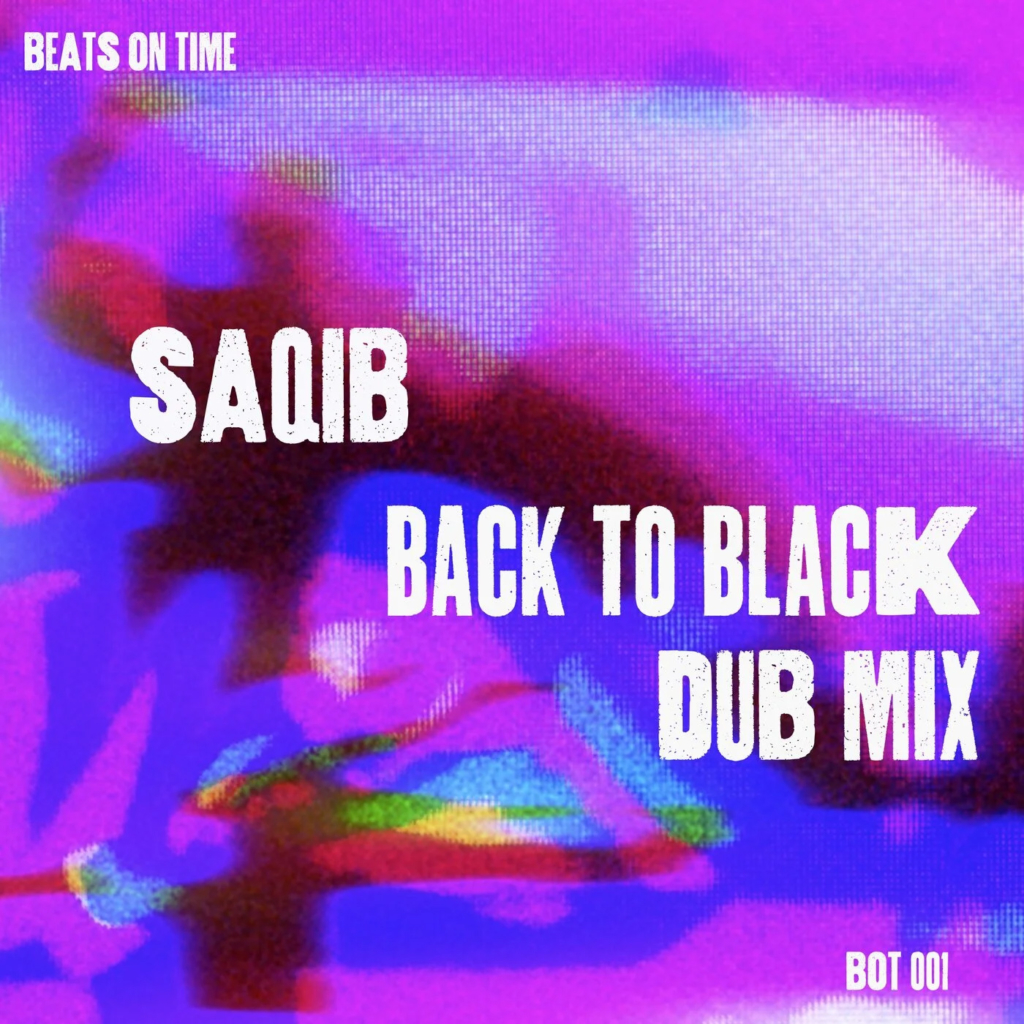 EG: As experienced artists and producers, what do you see as the future of electronic music and the music industry as a whole, and how do you see Beats On Time fitting into this future?
Mau: I feel electronic music is an ever-evolving space, developing your own signature sound will differentiate you from the rest and I see more of it lately in the music industry which can be unpredictable sometimes. I am also happy to see more female faces taking the driving seat in a male-dominated industry. The future is bright for Beats on Time because is a combination of artists from all over the world with so many backgrounds, we are shapeshifters, we are adaptable, we are trendsetters and we love what we do.
Saqib: For me at least, Beats on Time is the sound of the future brought to you today! I see electronic music as something that's changing every single day. it's like an ocean current and music producers are drifting with it, and also adding to the energy of it. There is a constant push and pull in electronic music, I really love it so much because it's hard to predict where it's going.
EG: So, what can we expect from Mau & Saqib in the near future? Where can your fans catch you next?
Mau: More of it all! More music, more projects, more events, and showcases with the label. To all the Miami fan base, you can catch me playing Saturdays for my residency at Selina's, and on May 6th for TRIBU at Casa Florida a new event series am developing and co-creating that involves music, art, dance, yoga, budokon into a whole full experience.
Saqib: Let's seeeeeee! Who knows where the future will take us?!
EG: Thank you so much for your time! We wish you all the best. Take care!
Mau: Likewise, much love to you all and thank you for having us.
Saqib: Thank you so much for having us and supporting us! LOVE YOU!
Follow Mau:  Facebook | SoundCloud | Instagram
Follow Saqib:  Facebook  |  SoundCloud  |  Instagram  |  Spotify