As one of the longest-standing independent record labels in the US, Nervous Records has built its reputation through a willingness to take chances on new sounds and new producers. Nervous was the first American label to sign and release tracks from such dance industry luminaries as Armand Van Helden, Paul Van Dyk and Nuyorican Soul. This spirit has enabled Nervous to build a catalogue of hits that spans the complete range of underground dance and hip hop genres.
Photo credit:  offbrandproject
As the brand is set to celebrate founder Mike Weiss' birthday, EG caught up with him to reminisce about the legacy of Nervous Records, talk about future endeavors, and more.
EG: Hi Mike! Welcome to EG. It's a pleasure to have you here with us. How have you been? Where are you based right now?
Mike Weiss: Hello! Everything is great. Nervous Records is really flourishing right now with lots of releases, and we've been involved with putting together some amazing DJ events. I'm based in my forever hometown, New York City.
EG: So, we've heard your birthday is coming up! You must be very excited. What's the plan for February 24th?
Mike Weiss: In the nightlife industry, birthdays are an especially big deal. I produce and promote events with Benny Soto, and every year we both try to build great DJ events around our birthdays. And luck would have it that this year my birthday on February 24th, 2023 falls during the weekend, and a DJ whom I have known almost since Nervous began and with whom we enjoyed great success was available to play; namely, Josh Wink.
EG: As we're closing in on the date, we thought it might be a good time to reflect on the good times. Did you ever imagine Nervous Records' longevity and impact?
Mike Weiss: We were fortunate to launch in a big big way back in 1991 with some really strong releases and a cartoon character logo that really kind of took on a life of its in terms of representing music and nightlife. So I kind of knew early on our impact would be strong and lasting. But I could have never predicted we would be one of the leading brands 32 years after that initial launch. I think maintaining good relations with people you work with is a big factor in terms of long term success. The great producers I was fortunate to work with back in the early 90's have developed into some of my closest friends. Legendary figures like Louie Vega, Oscar G, Kenny Dope, or Todd Terry. Their music laid the foundation for the label from the start, and I'm still working with them in promoting and releasing their music to this day. Andrew Salsano, our great GM at Nervous, has been with me over 10 years. I've been promoting events with super promoter Benny Soto for over 10 years, and recently we've been working with Jonpaul Pezzo on the event side as well. A long-term business relationship is usually a good one, and that's really been a source of strength for our company.
EG: What was the original idea when you started Nervous Records with your father Sam?
Mike Weiss: Initially, I had re-activated his disco label which was called Sam Records. We picked up a couple of hot club tracks from Europe and were also signing some hip-hop acts. This was the late 80's when there was a lot of new talent bubbling up in the city's hip-hop community. This new version of Sam Records really did not make much impact. Through my father's introduction, I had met and become very friendly with a famous New York City radio disc jockey named Frankie Crocker. He gave me some great advice when he said: "Mike, I know you and I know your father Sam. Sam Records was your father's label, but you're not Sam. If you want to make a name for yourself in this business you have to create your own identity."
And that advice really connected. The word "nervous" back then was a common phrase to identify something that was whack (90's vernacular), so I figured using the worst word possible to represent a label would be pretty funny. And I had always been a big comic book fan growing up, so having a cartoon character for a logo seemed like an interesting idea, and it was something nobody else was doing. So that was the basis for the creation of the Nervous Records label and logo.
"Frankie gave me some great advice when he said: "Mike, I know you and I know your father Sam. Sam Records was your father's label, but you're not Sam. If you want to make a name for yourself in this business you have to create your own identity"
EG: How have the years and the evolution of music affected that original vision? Would you say things have changed for best or worse on a global scale?
Mike Weiss: On the tech side obviously things have changed tremendously. When Nervous first started, the only way to DJ was by spinning vinyl. And that was the basis of sales, along with compact discs and even cassettes back. Now, of course, everything is digital. But in another sense the more things change the more they stay the same. And that refers to the importance of good A&R, good branding, consistency of release schedule, and maintaining positive relations with your staff and people you work with in the industry, and very importantly with the producers and artists you work with. They are the essence of what we do. Without the DJ there is no talent for the nightclub, and without the music there is no content for the label.
EG: Nervous Records has collaborated with some of the biggest names out there…but, is there still something "pending" on your side? Have you missed any opportunities in hindsight?
Mike Weiss: It's not an easy industry, and to stay relevant and active, it's important that you focus on the positive. I'm thankful for the opportunities that have been offered and that I've been fortunate to engage in…whether it be signing records, choosing designs for Nervous merchandise, or setting up line-ups for events. Are there projects I could have signed but passed on…? Sure, absolutely. But maybe if I had signed those then I would not have been open to getting involved with something else that came my way. Bottom line, I think as long as one stays centered within yourself and know you're doing the best that you can, then, whatever happens, is part of the experience of being in this industry, and living this life.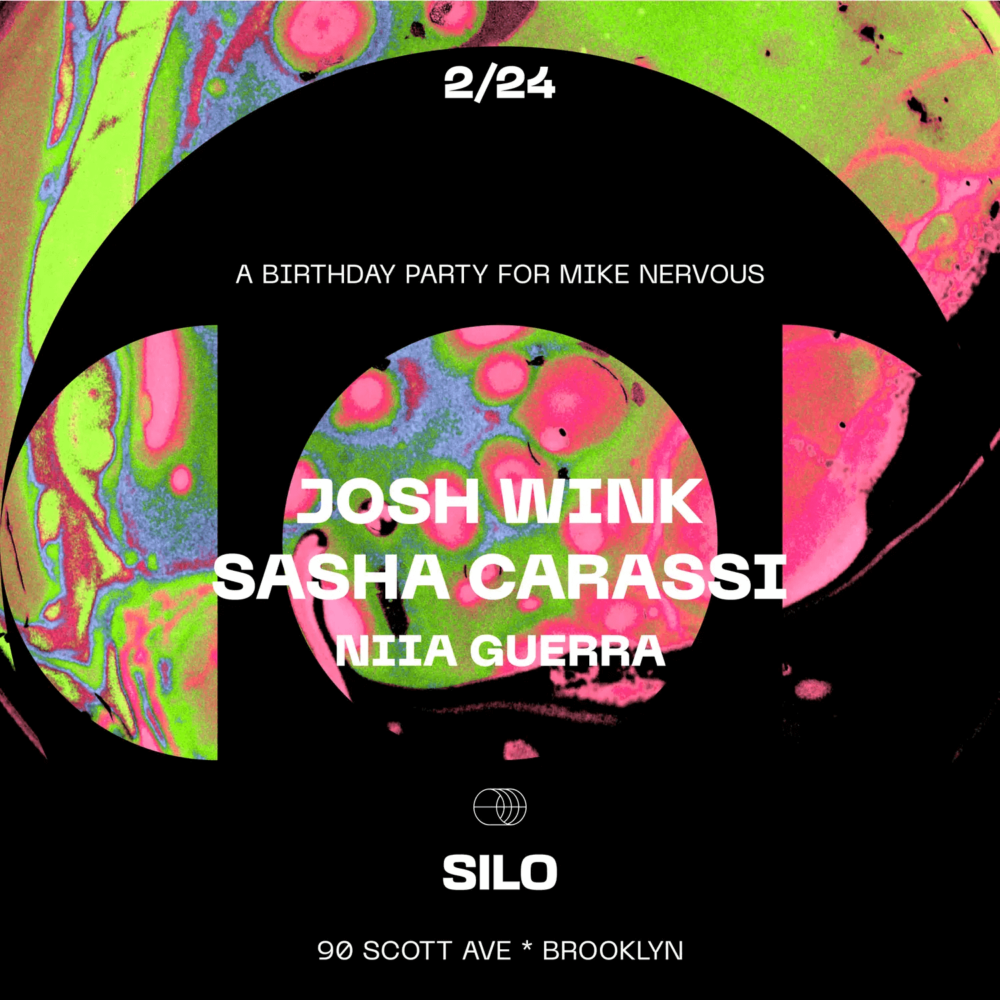 EG: What would you say is the most important thing you learned from your father regarding labels? What would be the best advice you could give to anyone looking to run their own label?
Mike Weiss: The biggest lessons I learned came just from spending time with him and seeing how he conducted himself with people. This a business where relationships and respect count for a lot. Nobody can with 100% percent certainty call a hit record, and nobody can predict with 100% certainty that a weekend in the summer is a good time to schedule an outdoor event (especially not the weather forecasters who always seem to be wrong, and the apps are not much better). All you can do is roll with whatever happens, and know with 100% certainly that as long as you stay in the game, eventually, you'll get that hit record and eventually you'll get that perfect lineup on a beautiful summer day. My father's favorite phrases: "A leopard never changes his spots" – very relevant in this industry where you come into contact with some "interesting" characters. "A hit record is like a tennis ball in the water – no matter what you do it always floats to the top." And, while we're at it, my mother has a favorite phrase that has been the source of wisdom for me – "The green reed which bends in the wind is stronger than the mighty oak which breaks in a storm."
EG: Can you tell us the story behind Josh Wink's 'Don't Laugh' track and Nervous Records?
Mike Weiss: I met Josh in Philly one night when he was playing at this small but really buzzy party that people even in New York were talking about. I forget the name of the venue I just remember the DJ booth was tiny – like literally only one person could fit at a time (amazing how far he has come since then!) He had been playing some of the early releases on the label, and he was just a really nice guy so we hit it off and talked about him doing some releases on Nervous. He was unquestionably at the forefront of the American techno movement, and by then we had already started sub-labels for hip hop and reggae, so we thought it would be cool to start a new techno sub-label with Josh's release. I was traveling to England a lot back then and all the techno clubs would be filled by people asking about getting sorted so I thought that would be a funny name for the label. We did two releases with Josh and both were very well received. I called him one day and asked if he had any new demos I could hear. He said "Well I'm working on this one thing but don't laugh when you hear it." That demo of course ended up being 'Don't Laugh', which became a major worldwide hit.
"The biggest lessons I learned came just from spending time with him (my father) and seeing how he conducted himself with people. This a business where relationships and respect count for a lot"
EG: Can you tell us something about you that very few people know about?
Mike Weiss: In September 1991, Michael Jordan hosted SNL. I knew one of the casting directors and they needed some guys who were decent basketball players to be in a skit with him about the first Harlem Globetrotters team. She added me to the cast for the skit. So I basically spent 5 hours on the indoor basketball court at the 14th Street YMCA with Jordan and cast masters Mike Myers, Adam Sandler, Kevin Nealon, and Rob Schneider. Goes without saying…that was a very memorable afternoon. That skit is available online. There are a couple of shots where you can actually see me. And I still get decent residuals when it shows as a rerun.
EG: What's next for Mike Weiss? What particular milestones are you looking forwards to this 2023? Where can your fans catch you next?
Mike Weiss: The number 1 priority right now is the big party this Friday, Feb 24th at Silo with Josh, Sasha Carassi coming in from Italy, and Niia Guerra. We've also got some really exciting releases coming up. A special limited edition Box Set of 7" singles from Louie Vega's 'Expansions In The NYC' album is coming out in vinyl shops, plus some major remixes of tracks from the album. Plus we have a red hot funk and disco-inspired EP from Anané in production. Teddy Douglas from the Basement Boys is in the studio making a new artist album for Nervous. Oscar G has some major release heat coming both for him as an artist on Nervous, and on his label Made In Miami which we distribute. We have a new remix project from Kenny Dope on the way. A new album from Timmy Regisford is about to be announced. Plus, Andrew Salsano, our A&R don, is constantly discovering the best new producer talents from around the world. We had one of the biggest club hits in the world like year with Mochakk's 'Da Fonk' feat. Joni, and a massive tune coming from Wax Motif X Riordan, plus many more. And then on the event side, we have Oscar G at Kings Hall in Avant Garder on March 11th, Nicole Moudaber's 'In The Mood' event at Knockdown Center on April 1st, The Ritual w/ Anané and Louie Vega at Silo on Saturday, April 8th, David Morales' Sunday Mass event at H0LO on Sunday, April 9th, Victor Calderone's birthday event on April 22nd at Musica, a Nervous Showcase with emerging talents BodySync (Ryan Hemsworth & Giraffage), Sillygirlcarmen and Jack LNDN, and then its about time for summer when we have 12 major events planned at the Sunset Park Roof. Busy and excellent few months ahead
EG: Thank you so much for your time, Mike! We wish you all the best for the future.
Mike Weiss: Thanks and I enjoyed your questions. Thanks very much for this interview.
Tickets for 'Mike Nervous Birthday of February 24th featuring Josh Wink + Sasha Carassi'  are on sale now. Purchase yours here.
Follow Nervous Records: Instagram | Facebook | Soundcloud | Website