There's no need for introductions when you're an artist with the trajectory and achievements like the ones Nick Warren has. As he gets ready to bring The Soundgarden to Miami's Art Basel Week, we had the chance to chat with him about the event and other musical topics.
The Soundgarden at Jungle Island will take place on December 2nd, and you can get your tickets here.
Electronic Groove: Hi Nick! Welcome back to EG! Always a pleasure to have you here with us. How have you been doing? How has 2021 treated you?
Nick Warren: Hey EG great to talk to you again. Everything is hunky-dory here. Good to be back on the road again although it was initially quite a shock to the system after such a long time at home! But I'm enjoying every second of playing again.
Electronic Groove: Congratulations on bringing The Soundgarden once again to Miami! We're really excited. How are you feeling about this one?
Nick Warren: Thanks very much! The Soundgarden is a fixture at Miami Music Week with our annual boat parties and festival stages, but this is our first time at Art Basel and we've teamed up with Wawki who are amazing. We are really looking forward to the event, especially since it's at Jungle Island which couldn't be more perfect for our day-to-night party vibes.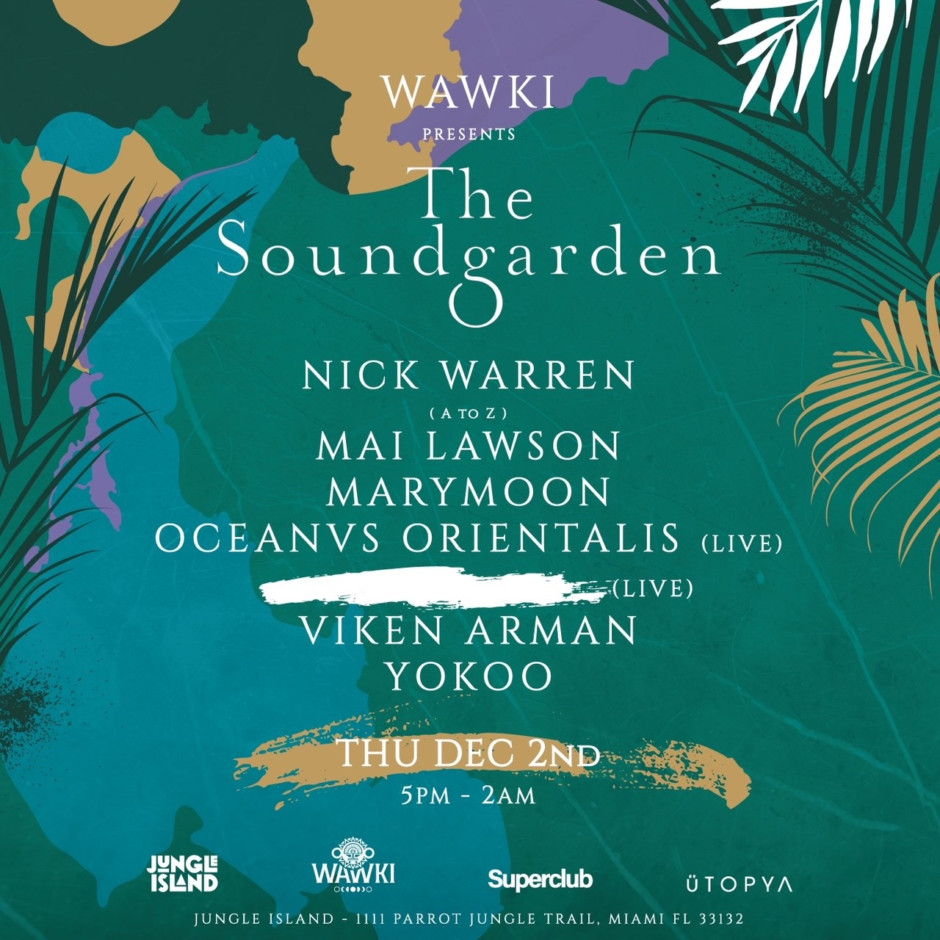 Electronic Groove: What can we expect from this particular line-up and venue? We're quite anxious to learn who that mystery guest is…
Nick Warren: We are super happy to have such a cool lineup for the crowd in Miami. Alongside myself are Yokoo, Mai Lawson, Marymoon, Viken Arman, and our special guest. The secret artist is bringing a live show that will blow people away! And Jungle Island is such a stunning venue with all the greenery.
Electronic Groove: By the way…How was ADE this time around? How was it different from previous editions?
Nick Warren: ADE was great this year! A lot less overseas visitors of course but vibe-wise it was actually one of the best. The Soundgarden annual boat party was really great with an exceptional, up for it crowd. My 8-hour back-to-back with Hernan (Cattaneo) was off the hook too, my favorite of our B2B's at ADE so far.
Electronic Groove: You've recently done a very special Neo/Modern Classical set on Mixcloud Select. How did that come about? What was the experience like? Are these kinds of sets something you do regularly and keep to yourself?
Nick Warren: I am glad you enjoyed it. It is the style of music I listen to at home and I wanted to share those amazing pieces of music with you all.
"I spent several months working through the collection and found gem after gem I had forgotten about"
Electronic Groove: You're also hitting Colorado for the first time with Hernan Cattaneo for a 6 hour back-to-back. How do you prepare differently for these as opposed to a solo set?
Nick Warren: It is always fun to do an open-to-close set with Hernan but to be honest we never prepare in any way. It's going to be a fantastic weekend with Miami and San Francisco as well.
Electronic Groove: We saw you going over your vinyl collection a couple of times during the pandemic. Have you rekindled love with any piece in particular?
Nick Warren: I spent several months working through the collection and found gem after gem I had forgotten about. It's time for someone else to get to enjoy this amazing collection though, more news about this will be announced in early 2022.
Electronic Groove: What's next for Nick Warren and The Soundgarden? What new milestones can your fans look forwards to in the coming months?
Nick Warren: On the label side we have a couple of amazing releases left this year, the next one being a sublime EP by Wassu, and our anticipated Winter Collection will be released in January. I have signed tons of amazing music for next year and we have lots of exciting events planned for next year, so the future looks rosy.
Electronic Groove: Thank you for your time Nick! We wish you all the best for the future! See you on the dancefloor!
Nick Warren: Lovely to chat and see you on December 2nd!
Purchase your tickets for The Soundgarden Art Basel 2021 here. 
Follow Nick Warren: Facebook | Instagram| Soundcloud