In an industry where fast-paced techno and high BPMs reign supreme, Niconé & Dirty Doering's latest album, 'Last Exit Space' via KATERMUKKE, takes a refreshing departure from the norm. With a steady 111 BPM and 11 tracks that tell one captivating story through music, this album showcases the duo's unique blend of electronic sounds, mixing driving beats with intricate melodies and dreamy atmospheres.
'Last Exit Space' is a testament to the power of certain moments when ideas are born – moments that can change the set course. This departure from the high BPM trend is a bold move from Niconé & Dirty Doering, but it is a clear indication of their commitment to their unique sound and their willingness to take risks and push boundaries.
EG caught up with Niconé & Dirty Doering to learn more about the drop of their incoming 'Last Exit Space' LP, their relationship, views on the state of the scene, and more.
EG: Welcome back guys. A pleasure to chat with you today. Where are you guys right now?
Niconé & Dirty Doering: First of all, thank you for having us. We are happy to talk about our upcoming electronica album, 'Last Exit Space'. ​​We are both back in Germany, in Berlin, after spending the winter months in Cape Town, South Africa, among other places. In recent years we have gladly exchanged the gray and dark Berlin winter for the South African summer.
EG: Congratulations on the new album 'Last Exit Space'. What can you tell us about the inspiration behind it?
Niconé & Dirty Doering: The South African starry sky :-) It is incredibly beautiful & very inspirational.
We have a long history together, both privately and musically. Since the early 2000s when we first met in Berlin at Bar25, we've been working together on so many projects, produced countless tracks, DJed together, and toured together for years on years.
Even if sometimes we couldn't be more different musically, there has always been a steady connection that keeps creating joint projects and collaborative EPs or just our signature and energetic back-to-back DJ sets. The beauty of music is that it is so diverse, changeable, adaptable and there are no limits to creativity. And so are we as artists: No straight line, no steady form! We want to always stay open-minded, flexible, and to get inspired by the endless shades & colors of music.
What happens when you put together two producers with different talents, musical preferences, and strong characters? In this case: 'Last Exit Space', which holds a diverse range of musical styles and sounds and has a vision, which we are so happy to have turned into beats, melodies, and vocals.
Don't forget, we are also really good friends, and as such, we also travel together, and one of our favorite spots is Cape Town, where we love to relax and recharge our batteries after an intense touring season. That's where the idea for a joint album was born, one that might slow you (and us) down, unwinds, and creates a seamless listening experience that takes the listener on a journey through different emotions and moods – an album which you must hear from beginning to end – and which you wouldn't ever shuffle :-) maybe the streaming shops will even deactivate this function for us – wouldn't that be something?
EG: Can you talk about the collaborative process for this album? How did you work together to create a cohesive vision?
Niconé & Dirty Doering: As already mentioned, we had the idea of ​​producing an entire album together one fine evening in Cape Town – looking up to the Southern Cross.
That was in early 2022 – and then the creative process took its course. We both already had a lot of sketches and ideas that we contributed and threw into the creative music production mix pot – however, we were always aligned on where to go and which planets we didn't want to fly to :-).
Over the next few months, we had a creative ping pong that we lived out in all sorts of digital and non-digital ways. In the following summer, we went into the studio to pour the sketches and themes into tracks and that was really crazy – suddenly everything was just flowing – 'Last Exit Space' was born in a ridiculously short time!
Funny enough, we only met physically at noon for an hour or two – Early Bird (Niconé) and Owl (Dirty Doering). But actually, that was really efficient as we have a very special way to produce music together :-) but are a very well-established team.
Mixing and Mastering were done by our longtime companion Sascha Cawa – and hey presto, it was ready for take-off!
EG: The album has a very distinct sound and pace. What led you to choose 111 BPM and this particular sound for the album?
Niconé & Dirty Doering: Not only does it look good, but it also sounds really good too, doesn't it? The pace and the sound were not set as we started the project, it evolved and suddenly it opened up like a signpost with 111 BPM on it. Both of us have a slight 80s affinity – you might hear that as well. And then the 11 tracks that tell 1 story rounded off the whole album. Here we go!
"The beauty of music is that it is so diverse, changeable, adaptable and there are no limits to creativity. And so are we as artists: No straight line, no steady form!"
EG Do you envision doing more releases that follow this same idea or style?
Niconé & Dirty Doering: Oh absolutely – an album like this – every eleventh year from now on :-)
No, joking aside – as mentioned before, being so long in the industry, we know how fast-paced it is, and more importantly we as artists. And how many sequels of creative projects are there that flop – except maybe Hangover 1-3? And, sometimes, a one-off is best.
EG: Can you tell us about any upcoming projects or collaborations?
Niconé & Dirty Doering: In fact, we are planning some club remixes of certain tracks. We're in the process of creating these with some really banging artists – truly excited about the positive feedback and commitments. Stay tuned – nothing will be revealed yet!
On top, as we are both jacks of all trades – some single EPs and remixes are planned for 2023 for each of us – those won't be collaborations! Every good relationship needs air to breathe.
Furthermore, as we both run our own labels (Dantze – Niconé I KATERMUKKE, Dirty Doering) our project list is full, as we also really enjoy being the force behind established and rising talents in the scene. The release plan is full and promises lots of great music and artists.
Last but not least, we both have a fully packed tour schedule for the next months – until we finally meet again to unwind and recharge at the Cape of Good Hope.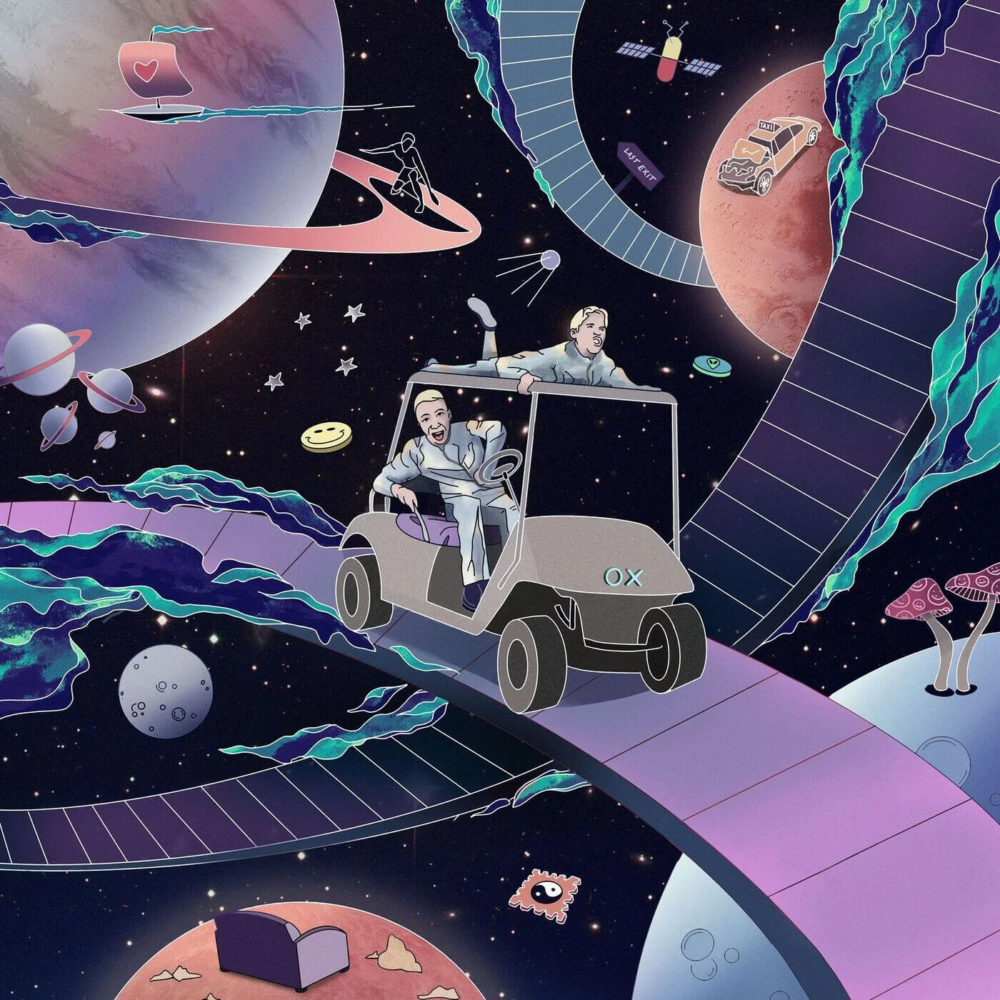 EG: In today's world, social media plays a big role in the music industry. How do you navigate social media as artists?
Niconé & Dirty Doering: Oh yes, that's a hot topic – a blessing and a curse. We both obviously come from a time without mobile phones and social media and the dependence on follower numbers, likes, and views (yes, we were born in the 70s). In addition, in the clubs in Berlin that shaped us, it was forbidden to take photos or film at all – and that's still the case to some extent.
It was all about the music, the people around you, and countless hours of dancing to get lost in the music. And if you are that person who creates such moments, as a DJ, you want to concentrate on your set, want to live the moment 100%, and not have to think about how and when to take the best shot.
It has been clearly proven and the current situation shows that bookings and success in your career are also made dependent on the size of your social media profiles and that if you are successful here, either because you are just simply a really successful artist or creator, or you have very good management and funds, you can become very big very quickly. And one can ask the question, what is the basis for this success?
It is not enough to be a talented producer or DJ, you also have to be a social media and marketing professional, be able to edit and cut videos and finally make sure you frequently post (only very important and viral stuff), otherwise the algorithm is kicking you in the ass. Oh, and don't forget to dance on TIK TOK ( or is this already outdated?)
But enough ranting. Social media is also a great tool to promote yourself, spread your music into the world, and engage with your fans. And obviously, we both, and our labels, can be found on all common social media channels. #followusonyourfavoritesocialdealer
EG: Do you believe that artists have a responsibility to use their platform to speak out on social and political issues?
Niconé & Dirty Doering: Well, everyone has to decide for themselves individually if and how they want to get involved here. And the question cannot be answered in just a few sentences either, as this has to be dealt with in a very complex way and also in completely different ways, depending on the topic. Some artists choose to use their platform and their reach to speak out on social and political issues, while others prefer to keep their personal beliefs separate from their art. We are more the art-driven kind of guys and music can be the key or a messenger, e.g our track 'Let us Be Free' with Eleonora.
Ultimately there might be only one way to survive in this crazy world we live in: 'Last Exit Space'.
"It has been clearly proven and the current situation shows that bookings and success in your career are also made dependent on the size of your social media profiles…"
EG: Lastly, what advice do you have for up-and-coming artists in the electronic music scene?
Niconé & Dirty Doering: Stay true to yourself, and trust that what you do, the sound you produce, has a place in the world. There is nothing worse than the flood of demos that are being thrown out to suit the sound of the label an artist would like to be signed to or are currently 'Top of the Pops'. Stay unique and recognizable!
Create your own style – if you are not able to do that – invest in Social Media :-)!
Lastly – don't forget – everything repeats itself, and trends come back, also in music! The 80s are back! If you are long enough in the business you might even experience your own revival!
EG: Thanks for the time and all the best!
Niconé & Dirty Doering: Thank you EG – We love what you do :-) And happy to be a part.
Please now, enjoy all 'Last Exit Space' – with a little bit of galactic craziness from Niconé & Dirty Doering.
Niconé & Dirty Doering's 'Last Exit Space' will be out on KATERMUKKE this March 31st. Pre-order your copy here.
Follow Niconé: Spotify | Instagram | Soundcloud | Facebook
Follow Dirty Doering: Spotify | Instagram | Soundcloud | Facebook