One of the most exciting talents to emerge onto the European techno scene over the past decade, Polish-born producer, DJ, and label head Noemi Black has got the credentials to rival the best in the business.
Photo Credit: Noemi Black – Official
 Boasting a hugely impressive career discography with original productions and remixes spanning some of the biggest labels in the industry, Noemi has, in a relatively short period of time, managed to carve out a reputation as one of the most industrious, hard-working, and naturally talented artists on the techno circuit.
EG caught up with Noemi to talk about her recent relocation, her debut in Spain, incoming releases, her future presentations, and more.
EG: Hi Noemi! Welcome to EG. It's a pleasure to have you here with us. How have you been? Where are you based right now?
Noemi Black: Hey, thank you for the invitation. I'm pleased to talk with you today. I'm doing well, just a bit busy at the moment. You catch me at Dortmund Airport. I'm traveling a lot between Poland and Germany where I'm playing a lot of gigs this month.
EG: So, you're actually Polish, but have recently traded Germany for Spain. When did you make the move to Palma de Mallorca? Was it motivated by music?
Noemi Black: Yes, I was born in Poland, and after finishing my studies, I moved to Germany to further my DJ career. Last year, in February, I moved to Mallorca. I visited this island serval times before I decided to live there. I was in love with the Spanish lifestyle, the kindness of the people, and of course, the beauty of the island. It has so much to offer. Mallorca has also great connections with almost all European cities. It was very important to me. I was thinking about this step for a long time, but the neverending club lockdown in Germany has hastened my decision.
EG: And you've already had your debut show at Granada's DOMO. What was that experience like?
Noemi Black: I couldn't imagine a better place for my Spanish debut. I didn't expect how big this event would be. I saw some videos on social media, but when I arrived and stepped up to the DJ booth, it was just "WOW!". Huge stage, with a lot of people in front of the scene. A dream for every DJ. There's also a great story behind my gig there. I should have had a free day, but my manager called me around 11:30 am and asked if I was ready to go for a gig in Granada because another DJ got sick. I said yes, of course, and by 2 pm I was at the airport and waiting for my flight. It was definitely my best last-minute gig ever.
EG: Apart from touring, you're heavily focused on studio work right now, right? What can we expect on that front?
Noemi Black: Yes, it's true. At end of the year, I decided to start to produce again a way harder sound, than in the last few years. I just finished four hard techno bangers, and I can't wait to share them with my audience. They should be released around May or June.
"I try to catch the actual trend and the vibe and produce something that will bring the whole club to dance"
EG: How would you say you approach the music you make? Do you tell stories, are they just club tracks, or are they expressions of how you feel at that moment?
Noemi Black: When I start to produce a track, first of all, I think about the clubbers. It should be something for them, not for me. I try to catch the actual trend and the vibe and produce something that will bring the whole club to dance. Of course, I'm trying also to smuggle my personal feelings. But in the first row, I'm thinking always about the clubbers.
EG: As a female artist, what are some of the things you've had to deal with because of your gender? What do we need to work on in the industry as a whole?
Noemi Black: At the beginning of my career, I heard many times that I have gigs just because I have a nice face. No one was talking about my skills and selections. Just about how I look like. Also, many DJ "colleagues" were in this trend. It was not easy for me, but I was working harder to prove to them that I'm playing because I'm simply good.
Of course, I still have to deal with some web heroes who are writing silly comments under my posts on social media. But right now, I'm just laughing at them. These comments are always bringing a smile to my face.
We just need to be nice to the other person. Gender is not important. Important is a smile and a good word. That's all.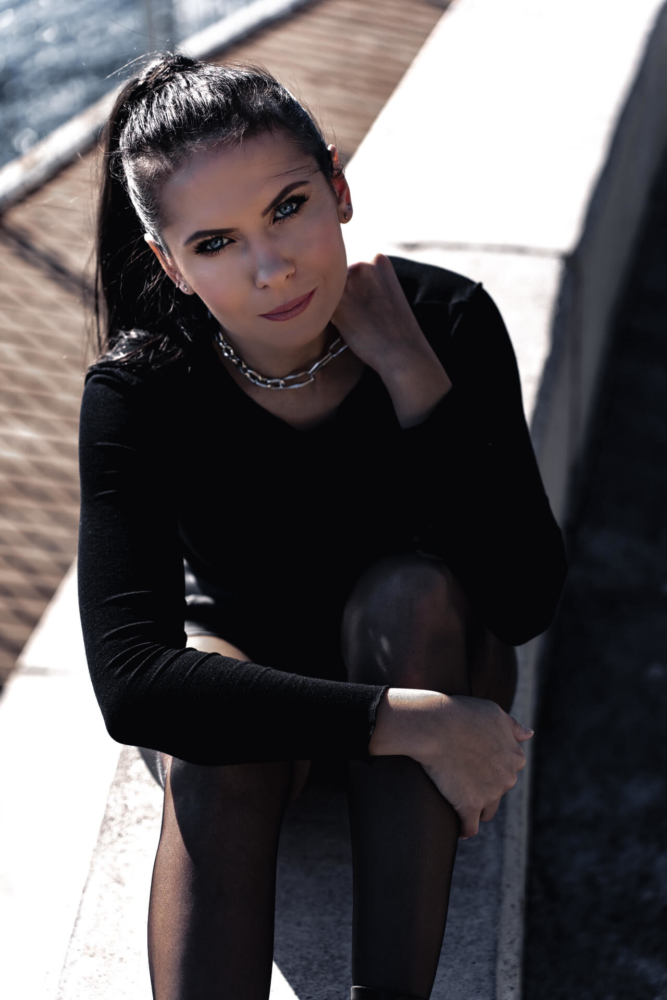 EG: How do you feel about the role of social media in the music industry? Is it drawing us too far away from the actual music? How can we make our interactions with social media serve us better?
Noemi Black: It's a sign of the times. Is it good? Don't know. I only know that social media is a powerful tool if you are using it wisely. You can build hype around your cat, stupid videos, or around your music. I'm working on the 3rd option. It's maybe not the easiest one, but I'm a DJ, and music producer, and I'm posting anything related to my music. Of course, you can post sometimes things from your private life. I'm doing this also, but the main stuff is the music. Everyone should know what is best for them. It's your decision how much and what will you show on social media.
EG: How do you keep entertained when not in the studio? Have you checked out any good movies, series, books, or albums you'd recommend?
Noemi Black: I like cycling and I'm riding a lot when I have a bit of free time. Mallorca is heaven for cyclists. There are many great roads. You can admire the beauty of the and make a small mind reset when you need this.
Besides sports, I'm reading a lot of books. Almost all of them are about self-improvement and economics.
"You can build hype around your cat, stupid videos, or around your music. I'm working on the 3rd option. It's maybe not the easiest one, but I'm a DJ, and music producer, and I'm posting anything related to my music"
EG: Can you tell us something about you that very few people know about?
Noemi Black: Hard question, because nowadays everyone knows everything about everyone :) I was always fascinated by architecture and the construction of buildings. I was studying going in this direction, and now I'm a construction engineer. If you would like to build a house, now you know where to come!
EG: What's next for Noemi Black? What particular milestones are you looking forwards to this 2023? Where can your fans catch you next? (you can discuss tour dates here)
Noemi Black: I'm just about to make my debut in the Netherlands. This spring, I'll make also my debut in the UK. We are also working on touring in Latin America. I have a really busy schedule for the following months. I have confirmed gigs in many countries in Europe. Can't wait for all those gigs. I'm also very excited about my upcoming releases. I hope my fans will like my new style.
EG: Thank you so much for your time, Noemi! We wish you all the best for the future.
Noemi Black: Thank you, it was a real pleasure!
Follow Noemi Black: Soundcloud | Facebook | Instagram | Spotify