Photo Credit: Roberto Brundo
The moment that Nicolas Janco aka Parra for Cuva starts playing his melody-laden electronic tracks, it is as if a murmur went through the crowd: Eyes closed, people fall into movements in rhythm with his indistinguishable melodies. Interrupted through occasional sounds of cheering and clapping, everything seamlessly blends into a tapestry of sound and people and one hopes for this wonderful musical experience never to take an end.
Indulging in his relentless fascination for sound and harmony, Nicolas commenced his quest for music at a very young age. Starting with classical piano and taking stops in jazz, pop, and indie music, the young artist soon developed a strong passion for electronic music that made him leave the countryside and move to big and creative Berlin. Using musical instruments, synthesizers and digital music editing, the audio designer masters the art of creating intelligent, intertwined music pieces from melodies, soft beats, and sounds that he records in daily life.
Parra For Cuva will be performing at 2022's Art With Me Festival in Miami on November 26th and 27th. We caught up with the artist to talk about his upcoming performance, recent gig in Burning Man, his studio setup, next projects, and more.
EG: Hi Nicolas! Welcome to EG. It's a pleasure to have you here with us. Where are you based right now? How have things been going this year?
Parra For Cuva: Hey, so happy to have you here at my apartment in Berlin on a super sweet Autumn Day in October. I have just come home from a 4 day run of shows and it feels good just to sit on the couch for once and drink coffee as this year has been the craziest year for me in terms of traveling and touring.
EG: What was your summer like? Any particular highlights?
Parra For Cuva: Well, this summer was all about touring and seeing the world. We have been all over Europe and the US. I have been touring for the last few years, but this year has broken every record.
It's not easy to point out any particular gig because most of them are fun and special. In this case, I had the chance to play at Burning Man, it was my first time there on the Mayan Warrior stage and it was very special. The location is in the desert. The people, the setting – everything was perfect. The gig was filmed and we will upload it on YouTube soon.
EG: Sounds great, by the way, congratulations on being a part of this year's edition of Art With Me Miami! You must be very excited. What can your fans expect from your show?
Parra For Cuva: I will play an uptempo set. I have many songs which are downtempo too, but I will play the ones you can dance to.
EG: Are you a fan of anybody else on the roster? Are you looking to catch any set in particular?
Parra For Cuva: Yes! I have to admit that the lineup perfectly matches my music taste. There are so many good and interesting artists out there: Four Tet, Floating Points, Moderat, and Mount Kimbi, to name a few. I am really looking forward to meeting my friend Henry Green from Bristol, we spent one lovely week together in Italy earlier this year and wrote some music together, which hopefully will be released next year.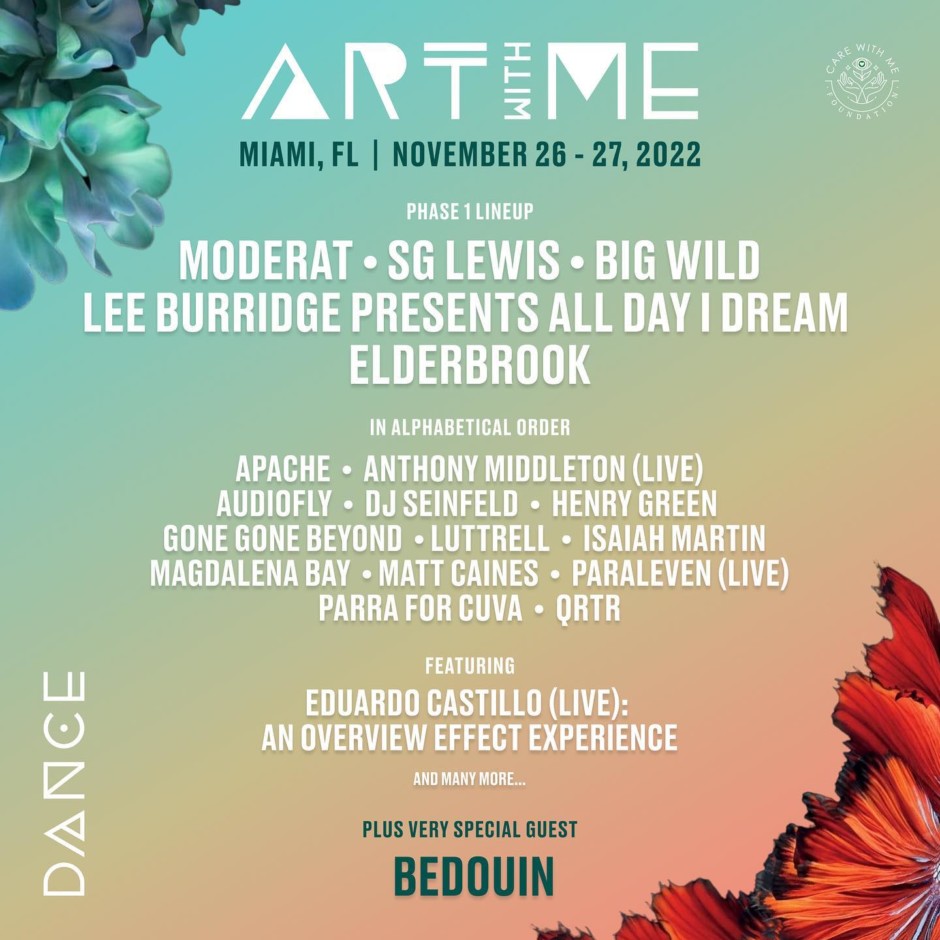 Grab your tickets for Art With Me Festival Miami here. 
EG: Now, let's step inside your studio for a bit…what does your setup look like at the moment? Have you picked up any new soft or hardware you'd recommend?
Parra For Cuva:  My studio is hardly used these days as touring takes up a lot of my time. I am looking forward to having a quiet evening to rig all the gear back together and write some music. At the moment, I am working just on my laptop as I have everything that I use to make music on it. I sample stuff from Youtube or Instagram and record sounds with my iPhone. A tool I can recommend these days is the website LaLaLai. It's a cool tool that filters out vocals from a song or any other instrument such as percussions. If you use it, make sure to upload a song in good quality like .wav.
EG: How did you come across electronic music? Was there a record or gig that pushed you down the rabbit hole?
Parra For Cuva:  My first record was from the Bloodhound Gang with their single The Bad Touch. I started producing music when I was 17. My friend from school used to produce music on Cubase and Ableton. After school, we went to his place to make music, drink filtered coffee and smoke a lot of cigarettes. The songs and ideas were very influenced by minimal house music. There were artists like Kollektiv Turmstrasse or Minilogue who we used to listen to a lot. I found my music style through Bonobo's record Days to Come, which blew my mind. It was so interesting in its arrangement and out-of-the-box ideas. Most importantly, you can hear multiple instruments/ sounds if you listen closely. I wanted to copy that immediately and it took me over 10 years to make it work in my own music.
"I have to admit that the Art With Me lineup perfectly matches my music taste"
EG: What's next for Parra For Cuva? What particular milestones are you looking forward to now?
Parra For Cuva: I am releasing an EP that is just Piano music, so that's definitely a different approach to what I am used to. I am also writing a new album but I have just started the process, I am trying to find an interesting new direction.
EG: Thank you so much for your time, Nicolas! We wish you all the best for the future.
Parra For Cuva: It has been an honor!
Parra For Cuva will be performing at Art With Me Festival on November 26th & 27th, 2022, alongside Moderat, Bedouin, Lee Burridge, and many more. Grab your tickets here. 
Follow Parra For Cuva: Facebook I Soundcloud I Instagram I Spotify  I Twitter