Detroit based photographer and artist Patricia Lay-Dorsay aka Grandma Techno has had an incredible trajectory creating awareness of living with a disability.
Her latest book "Falling Into Place" became part of collection of the Metropolitan Museum of Art library in NYC. Here we sat down with her to talk about her past, inspirations, photography, Detroit's Movement Festival, and of course, techno!
Cover photo by Jennifer McClure
Electronic Groove: Hi Patricia, thanks for taking the time to chat with us. You're originally from Washington DC. What brought you to Detroit?

Patricia Lay-Dorsey: It was September 1965 and I was in my second-year field placement working towards my masters in social work from the Smith College School for Social Work in Northampton, Massachusetts. My field placement that year was at Lafayette Clinic in Detroit. I met Ed Dorsey, a local psychiatrist, at a dinner party in January of 1966. We fell in love and married in October 1966 after I had received my MSW from Smith. We have now lived in the Detroit area for 51 years. Detroit is my home and I love it.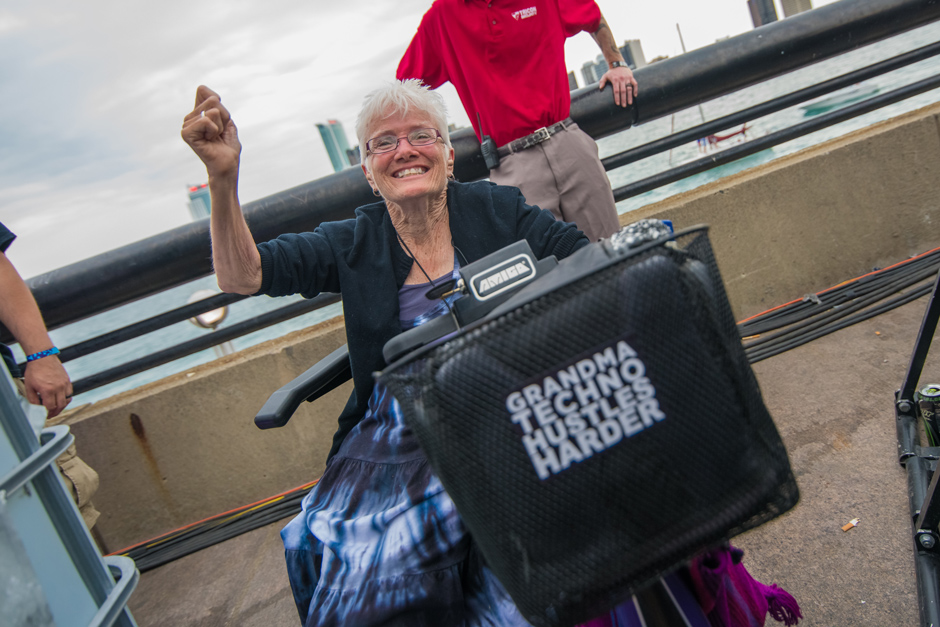 Photo by Stephen Bondio
Electronic Groove: You've seen the city come and go. What do you think has kept it together?

Patricia Lay-Dorsey: When I think of Detroit, I think of the people. Detroit has faced – and is currently facing – many challenges but it is always the people who transform those challenges into opportunities. Detroit is a city of social activists who never give in or give up on their community.
"We must not let our business interests override our commitment to humanity."
Electronic Groove: We've seen some mild gentrification around. Is this just natural evolution and progress? How do you feel about these changes?
Patricia Lay-Dorsey: Gentrification always has two sides: who comes forward and who is pushed back. In Detroit we see a current emphasis on downtown and midtown development. This is good for business, good for the economy. It is not necessarily good for the people who have lived in the neighborhoods for generations. At the same time that we bring in higher paying positions and the resultant housing and office space they require, we need to be conscious of and plan for the people who are being displaced. We especially need to look out for the city's children and young people, their education and opportunities for growth. At the same time we need to be taking care of our elders. We must not let our business interests override our commitment to humanity.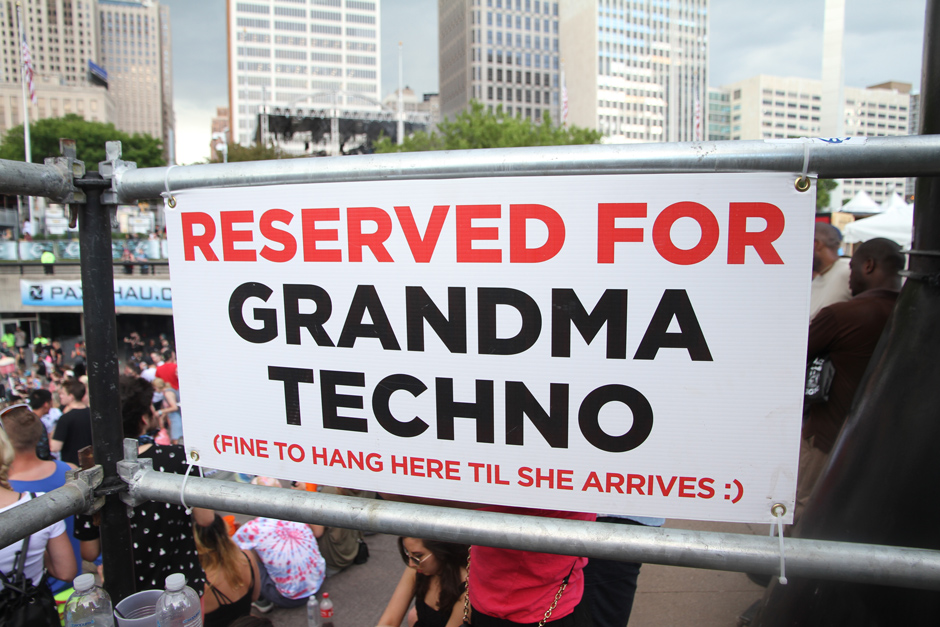 Photo by Amy Hubbarth. Sign by Paxahau
Electronic Groove: Tell us about your photography work. When did you start taking photos and why?

Patricia Lay-Dorsey: In the 1970s I discovered I had artistic talent as a painter. That led to me to study at a local art school and become deeply involved in Detroit's artistic community. Fast forward to 2000 when I started keeping an online daily journal. This was before we even used the word blog. For six years I documented my daily life in words accompanied by photos taken with a point-and-shoot camera. By July 2006 I was tired of words and just wanted to take photos so I bought a Canon DSLR camera, took some classes and became obsessed with photography. As a former social worker, it's not surprising that my favorite subject has always been people. And today I am more obsessed with photography than ever!
Electronic Groove: Was photography the reason how you got interested in dance music, techno to be more specific?

Patricia Lay-Dorsey: Not at first, but once I started becoming a regular at Movement Detroit I always brought my camera so I could take shots of the young people around me whose energy and excitement was contagious. That soon evolved into the ongoing photo project, 'They Call Me Grandma Techno.'
"So we went across the street to a hotel, bought earplugs and went back. We stayed for hours, dancing and loving every minute of it. I have not missed this festival since then."
Electronic Groove: When was the first time you went to Movement Detroit?

Patricia Lay-Dorsey: It was Memorial Day weekend 2005 that my friend Pat Kolon and I decided to go to this festival we had never attended before. That year it was called Fuse-In and for the first time they were charging an entrance fee. I think we paid $10 for a one-day pass. The minute we got into Hart Plaza, we realized we had to do something to protect our ears from the extremely loud music! So we went across the street to a hotel, bought earplugs and went back. We stayed for hours, dancing and loving every minute of it. I have not missed this festival since then. Movement Detroit 2017 was my 13th fest in a row.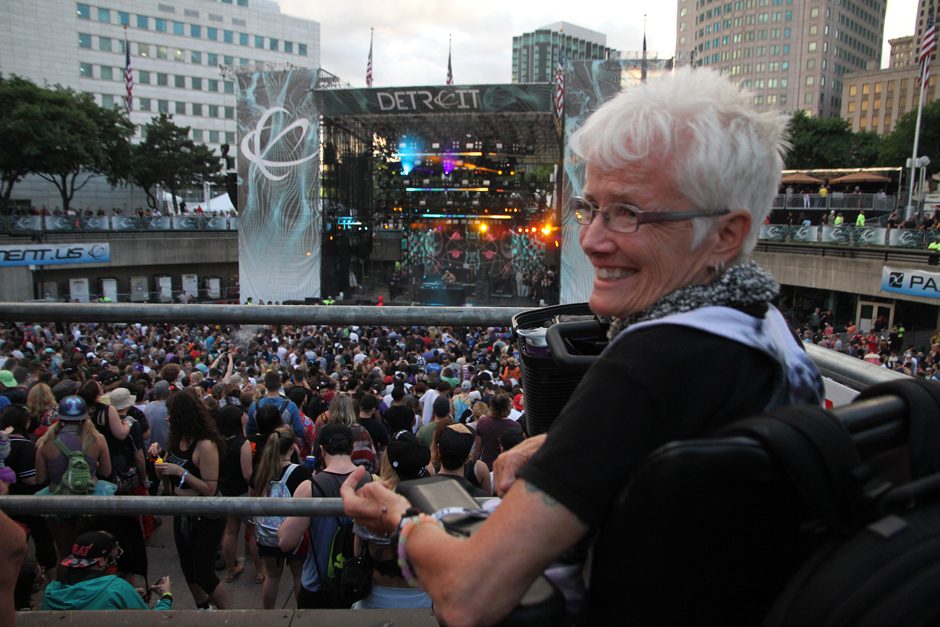 By Emily Swank

Electronic Groove: Have you been to other music festivals? How do they compare to Movement?

Patricia Lay-Dorsey: Although I have been encouraged to attend other EM festivals, I have not done so. As a woman with a disability who gets around in a mobility scooter, traveling to a festival in another city would just have too many challenges to overcome. Besides I am very happy in Detroit. Everyone knows Grandma Techno. The producers – Paxahau – take good care of me, as do all of the festi-goers and DJs. There's even a wonderful young man named Patrick Alejos, Jr. from Austin, Texas who has designated himself my "bodyguard" for the past three years. After the Grandma Techno video went viral on social media in 2014, it got crazy and I really did need a bodyguard just so I could go to a stage, hear some music and even eat a quick dinner without being mobbed by loving fans who wanted to take selfies with me. I love them dearly but I do need to breathe!
Electronic Groove: I guess you've heard some great stories during the festival. Do you have any worth mentioning that comes to mind?

Patricia Lay-Dorsey: I can tell you the story of how I got the name Grandma Techno. It was Movement Detroit 2007 and I was standing at the barricade right under the stage dancing at the old Beatport Stage. There was DJ that I wanted to hear who was scheduled to appear at a different stage, but I was so hemmed in by the crowd I didn't see how I could possibly get out. A security guard was standing near me and I asked if he could help me and my mobility scooter get through the crowds. He started walking in front of me, trying to gently push people to the side so I could get through. Suddenly a loud voice came from the back of the crowd yelling, "Get out of the way, it's Grandma Techno! Let her through!" The whole crowd started yelling, "Grandma Techno! Grandma Techno!" And that was how it started. I've been Grandma Techno ever since.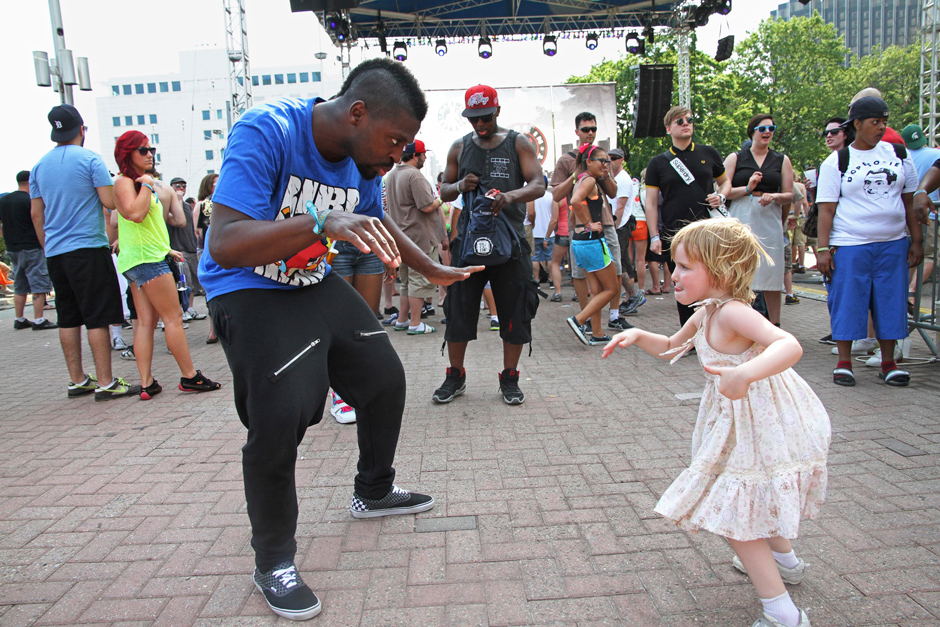 By Grandma Techno
Electronic Groove: So people know you as Grandma Techno. Is this something that happens just during the festival days or is this a full-time position?

Patricia Lay-Dorsey: Back before Grandma Techno went viral on social media in 2014, I was pretty anonymous except for hardcore EM lovers here in Detroit. I would get hundreds of requests for selfies every year at the festival, but it was rare for people to recognize me on the street. But now? Heck, I went to New York for a photo festival in September and strangers were coming up to me crying out to their friends, 'It's Grandma Techno!' Of course they all wanted selvies of us together. Now part of that might be due to the 18-minute video, 'They Call Me Grandma Techno', that was filmed by the Detroit videographer and EM lover Clarence Johnson at Movement Detroit in 2012 and released in 2013. That video also features photos from my ongoing photo project of the same name. I like to show this video when giving interactive presentations about disability awareness to university and high school students, community groups and organizations like the Multiple Sclerosis Association. It's my way of showing that being disabled does not keep you from having a full life!
Electronic Groove: What have been the best performances you've seen since you started coming to the festival?

Patricia Lay-Dorsey: That's a tough one to answer! I have seen so many fantastic performances that it's hard to name just a few. But special favorites that come to mind are Claude VonStroke, DJ Minx, Benny Benassi, Dubfire, The Belleville Three, Sassmouth, Kraftwerk, and Carl Craig and the Versus Synthesizer Ensemble.
"I've come to a time in my life when I like to be surprised."
Electronic Groove: Whom would you like to see at Movement 2018?
Patricia Lay-Dorsey: You know, I've come to a time in my life when I like to be surprised. I have found that the folks at Paxahau do such a good job of blending less well-known talent – especially from our own Detroit – with world famous DJs that I just leave it up to them. They have never failed me yet!
Electronic Groove: Thanks for your time Patricia. Looking forward to sharing some time with you this year.

Patricia Lay-Dorsey: Thanks for this opportunity to connect with you, Mauricio. I look forward to seeing you in May.
Follow Patricia Lay-Dorsey
www.patricialaydorsey.com
www.instagram.com/patricialaydorsey