If you listen to techno then you know exactly who Pig&Dan are, they have been gaining much recognition year after year after a fantastic string of smash hits. Never failing to regenerate and produce a sound which is always current yet with their own signature twist.
After many years touring and producing they still are all about the music, they have a recognisable sound which has no boundaries, groove is the key with some old school inspiration for this year's releases, leaving their fans with a smile on their face time and time again.
We caught up with Pig&Dan to chat about their new fabric London residency, Odyssey.
EG: Hey guys! Congrats on the launch of the new event series at fabric! Can you tell us more about the name 'Odyssey', does this have a meaning to you both?
Pig&Dan: Thank you very much guys we are super excited. We chose Odyssey because we wanted to create a concept where a night goes through different genres of music with varying intensities starting with deep, minimal, tech house and building up to basically industrial techno taking you through a musical voyage of well-programmed music rather than just having a lineup of Djs who just play music in any order. We believe the progression of music through the night is very important rather than just having a linear experience. We also wanted the artists that we select each night to combine well together playing at the right time, each being a master of his own style.
EG: How did you come to choose fabric as the place to do your first event series? Does your upbringing have a special connection with the club or London?
Pig&Dan: We had a really great relationship with the WetYourSelf! crew who usually did the sunday events in the past where we played several times, and when they came to us and offered the possibility we totally went for it as we love the aesthetics and sound of the club.

EG: We hear the live show is only going to be at the launch on the 7th October. We have never seen you do a live set before, so what's the composition of this?
Pig&Dan: Well the composition of our live performance is going to be a bit of everything, we will have some old school classics, some of the current releases as well as loads of new fresh music to surprise our audience. We also have some amazing graphics and a bit of a smoke and light show to provide more of a visual impact, and of course, there will be us playing with our synths and Pig doing some vocals.
EG: Why did you choose now, in 2018 to make a stand and do your first event?
Pig&Dan: We needed to have the courage and maturity to get to this stage, although it might seem easy to create an event, there is a lot of work and risk involved so you really need to have the right team and experience to pull it off, the music industry is a very tough one so it can take time to move forward with big steps like this one.
"We want people to come to Odyssey and have a great musical experience
where the music is the most important element and its programmed
in a way that it will take you on a voyage"
EG: Do you think it's a challenge these days to start your own branded events? If so, how do you plan to make sure that Odyssey is going to be a success?
Pig&Dan: Like we said before you need a great team to work with you and that believe in your brand, you need good music, support and respect from fellow artists because it's not easy to fill those lineups with quality acts, so it takes a long time to forge friendships and relationships. It also takes time and maturity to create your own musical vision. We want people to come to Odyssey and have a great musical experience where the music is the most important element and its programmed in a way that it will take you on a voyage.
EG: Can you tell us a little about how you are choosing the lineups for each month?
Pig&Dan: They are artists that we deeply respect and have a great relationship with for years, they are real artists that produce their own music and have a lot of experience behind the decks, playing music is all about the psychology and these guys have it.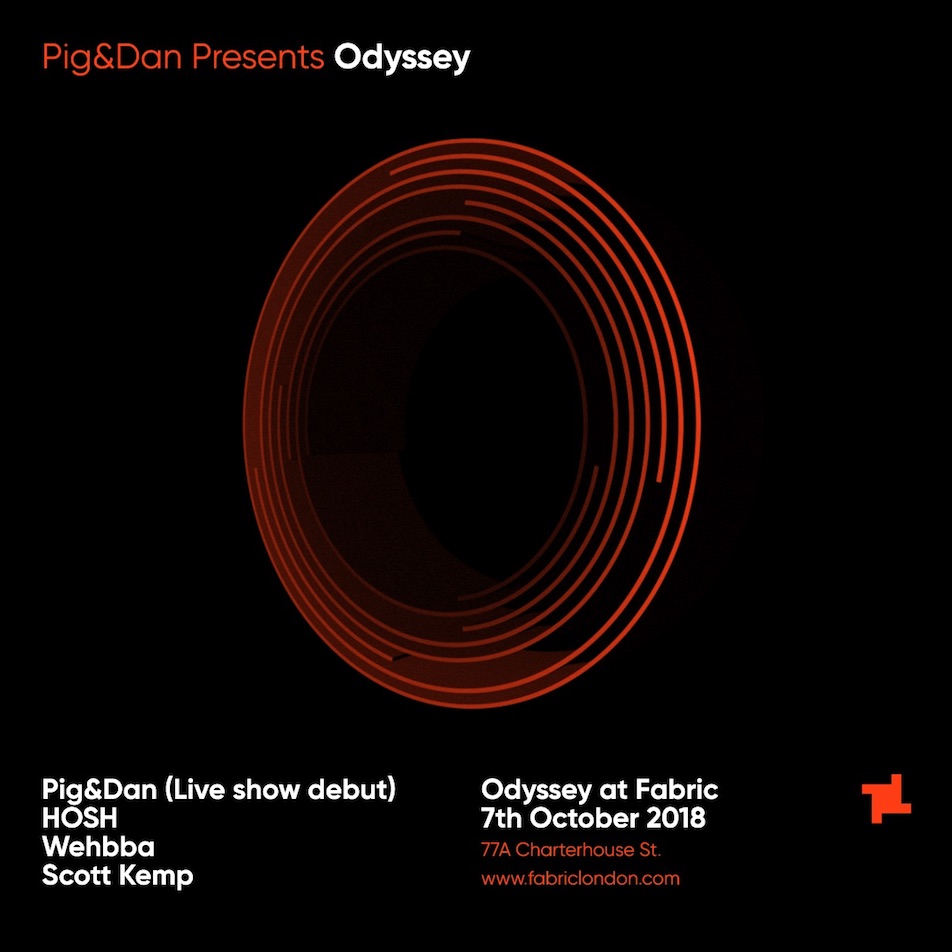 EG: After 13 years hiatus, you just released a track on Cocoon, and we hear you have an EP out in November. How does this feel to be back on the label?
Pig&Dan: It feels great, it feels like coming back home, it was amazing to grow with Cocoon on their beginning, but we also needed to leave that comfort zone in order to grow as artists and producers, now many years later all fell into place to be back with them again and it all happened very organically like things are supposed to happen.
EG: Finally, you are touring in the USA on September – including playing at the CRSSD Festival in San Diego. Would you think about bringing the brand to the US in the future? Is there a venue that you think 'Yes, that would work great there'?
Pig&Dan: Absolutely, it would be our dream to take Odyssey globally and of course we would to take to the states in the future…We would love to start our concept at Output New York, we love the sound system, size and ambience of the club, it doesn't get better than that.
Grab your tickets here for Pig&Dan's debut at fabric on October 7th.
Follow Pig&Dan: Website I Facebook I Soundcloud I Instagram