Risen from the deep & dark woods of the Harz in Germany, Pretty Pink made her way through the steaming and raging international club zone to manifest her belief into the most intimate basement raves and the biggest festival stages – ultimately settling into an exclusive group of DJs that have the skill to work both levels of the scene. Her unique performances cultivated a great following across Europe and continue to broaden the horizons of dance music. Pretty Pink never shies away from a challenge as she continues to grow and evolve in her career and in her sound.
For now, with her upcoming releases, studio sessions, an ongoing radio show to residential performances, record label, and a packed tour diary, Pretty's showing signs of becoming a unique individual artist. Pretty pink blends a tasteful sound with a twist of madness that elevates the crowd to new heights. With years of experience under her belt, the multi-talented workaholic has created a brand built to last. She will stop at nothing to continue cultivating and developing her sound. Time may pass and trends will fade, but Pretty Pink's sound will never cease to impress. Her massive accomplishments only mark the beginning of her future conquests.
We had a conversation with Pretty Pink to talk about her current musical projects.
Electronic Groove: Hello, Pretty Pink, it's great to have you one more time with us…What a rollercoaster of a year. How have you handled the whole pandemic and lockdown?
Pretty Pink: Hello all. It was a really intense experience for me, especially in the beginning. I had to completely put my already planned USA tour on hold this year, for example. Also, gigs at Tomorrowland and other international and national gigs and festivals have all been canceled. And as everyone knows, this takes a big chunk out of an artist's income. However, I'm pretty self-sufficient and don't have many fixed costs, so I'm sure it's hit others much harder. Still, it's not easy and you have to learn to deal with this whole pandemic situation first.
I've used the now free weekends for sports, friends but also extra hours in the studio at the controls. And still, I can't wait to play in the club again sometime and party with the people.
EG: Personally, what would you say have been the most positive and negative things about it?
Pretty Pink:  I am a very communicative person and enjoy spending time with people. So, in addition to the economic losses, contact with family and friends also suffers. I am also concerned about the health of my family, friends, and fans. On the other hand, I now have more time for sports, studio and working on my labels. I am running my own music label Wanderlust for a long time now and have launched a second label called Deep Woods in the course of the year. Because of the corona situation, I can now spend even more time on it.
In addition, I do a weekly radio show with the same title 'Deep Woods' on sunshine live, which can also be heard in Australia, Ibiza, and the USA. On top of that, there is a monthly video live stream of the mix to keep the fans close to the music. I think that's what a lot of people are missing.
EG: Now moving into your music, you've had a busy year in the studio with multiple releases and remixes. What's your routine every time you enter the studio?
Pretty Pink: A regular daily routine is particularly important for me. I get up early in the morning, work out, then from 9 to 5 in the label office and in the evening I go to the studio.
I always have a concrete idea from which I start. Usually, it's a melody that I try to capture on a few initial loops. The interplay of bass, drums, and synths is very important to me. No doubt, I also always try to work effectively in the studio and use my time resources as sensibly as possible.
EG: Your latest one, 'Taste your Love' just came out on Found Frequencies, what can you tell us about the track? What was the inspiration behind it?
Pretty Pink: In this track, I tried to capture contrasts and combine them harmoniously. Deep groove and bass interact in combination with bright keys and soft smooth synths. In addition, The Element's voice, processed with filters, gives the track additional drive. Also very important to me were warm FX sounds and an uplifting dynamic that touches the body and mind.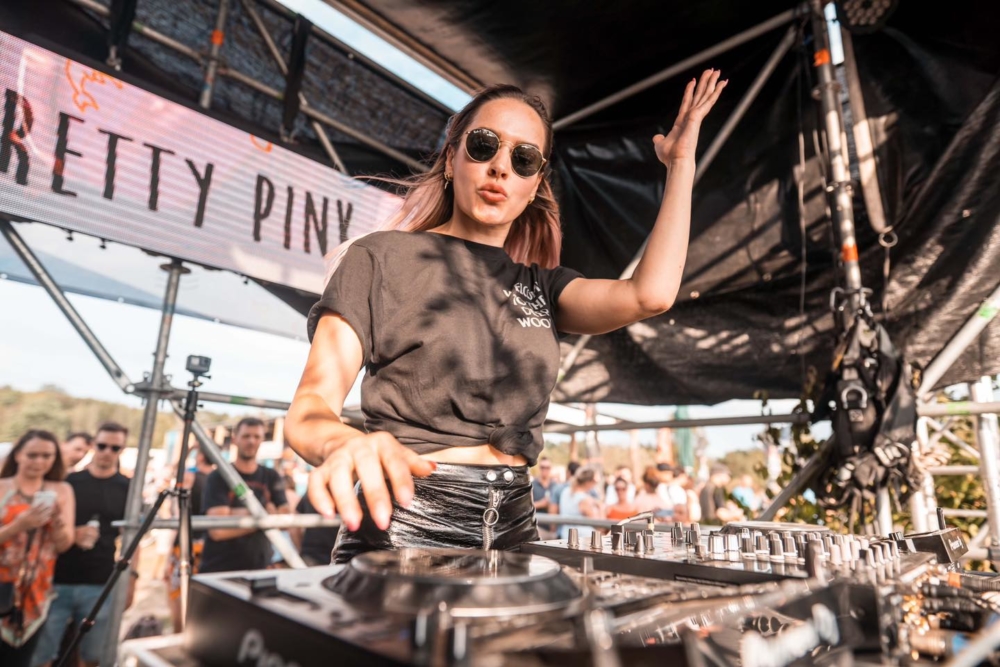 EG: What's your set-up like? Do you favor physical gear over digital?
Pretty Pink:  In fact, I love a tidy workspace. I need it clean and structured to be able to work creatively. That's why I also prefer digital gear. As a DAW, I have been using Logic Pro since the beginning. For my monitor setup, I rely on KRK, which for me personally are simply very pleasant and don't tire my ears too much when it gets longer in the studio. I love discovering and using all kinds of plug-ins. Arturia, U-He, and others do a really good job and offer me the best possible emulations of the legendary synths. And it doesn't matter whether I'm on the road or in the studio.
As a DJ, I work with two to three Pioneer CDJ-3000s and as a mixer, I usually use the Pioneer DJM 900 NXS2. I also have the 3000s at home, which I use for my live streams, among other things.
EG: You also recently released 'Till The End'. Is there a meaning behind the track's title?
Pretty Pink: The title alludes to the vocals in the track. It is about absolute love. A love that is free of demands but is driven solely by pure emotions – until the end. I think almost everyone has been in the situation of loving a person with all their heart. The track picks up on this wonderful feeling. I remember working in the studio very well, it was a very empowering process – especially working on the synths. I still get goosebumps whenever I listen to the track.
Pretty Pink's 'Taste Your Love' is now available. Stream and buy here. 
Follow Pretty Pink: Facebook |Instagram | Soundcloud | Spotify