Rakastella is not only a soul-enriching musical experience, but it is also a festival that is doing things right on an environmental level.
This year the cultured Miami gathering, in partnership with Ascendance Sustainable Events, has added two Climate Action initiatives for the first time, which will include a baseline carbon emission assessment and a food rescue program that will donate leftover food to Miami Rescue Mission. They also invest in their very own reusable cup system and are a single-use plastic and Styrofoam-free event.
The event goes down in the historic and picturesque Virginia Key Beach Park in Miami on Saturday, December 3rd, 2022 with three stages headlined by AceMoMA, Dixon, TSHA, Diplo b2b Carista, DJ Boring, DJ Tennis b2b Seth Troxler, Sofia Kourtesis, Moodymann, Jennifer Cardini, Or:la, Trikk and more.
Here we speak to Ascendance's Founder & Sustainability Director Vivian Belzaguy Hunter, and Sustainability Coordinator Emily Milton, about their efforts on sustainability and climate action around the festival.
The last remaining tickets for Rakastella 2022 are available at rakastella.com
EG: Hi guys! Welcome to EG. It's a pleasure to have you here with us. You must be very excited about this year's edition of the festival!
Vivian Belzaguy Hunter: Yes, we are so excited to be back at Rakastella! To have seen this festival grow from its very first iteration back in 2017 to what it is today has been inspiring. Rakastella's production has consistently been taken to new heights each year, and their commitment to sustainability has grown hand in hand with that. I'm so proud of the team and it's an honor for us at Ascendance to be a part of it.
EG: So, apart from boasting a stacked lineup, you guys will also be implementing some eco Initiatives as well. This time around, you'll be implementing some 20 different initiatives, which is a great improvement from the 3 or 4 implemented back in 2018. What do these entail?
Vivian Belzaguy Hunter: That's right! Our 'Keep Her Wild' Sustainability Program has added initiatives each year, with its biggest jump last year adding 6 initiatives and another 3 new ones this year. The initiatives fall under multiple objectives including plastic and waste reduction, pollution prevention, nature conservation, community engagement, and climate action. I will let our Project Manager, Emily Milton, tell you more about the initiatives!
Emily Milton: Thanks, Vivian! Rakastella has been a 100% single-use plastic-free event since 2019 and this is one of my favorite initiatives because plastics are among the most commonly-found litter items and major sources of emissions. The festival's reusable cup program, which allows attendees to bring their own cups or purchase souvenir cups on-site, represents a major reduction in the amount of waste generated, putting less pressure on our local waste management systems and our climate.
Recycling at Rakastella goes beyond simply placing bins throughout the grounds. Since last year, the team at Lady Green Recycling hand-sorts all waste to recover recyclables and ensure uncontaminated recycling that will be accepted at our local facility.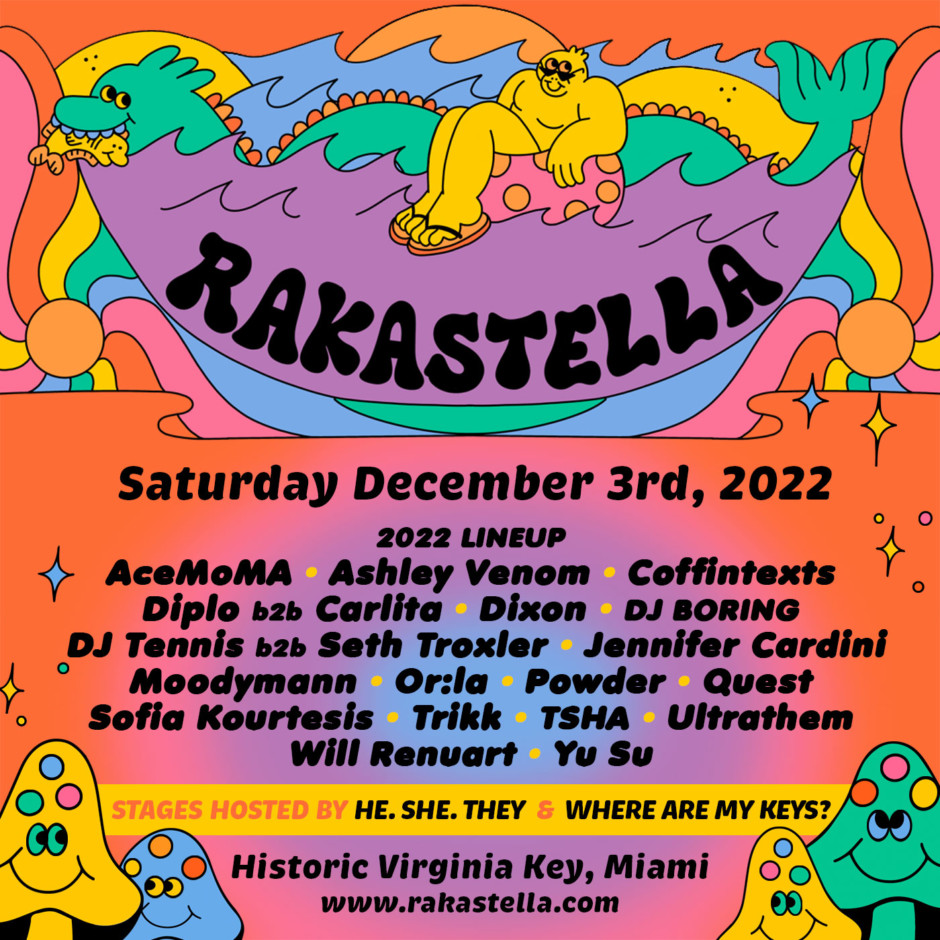 Rakastella's unique location – a scenic barrier island home to sensitive coastal dunes, tropical hardwood hammock and federally-protected wildlife – gives people who work at or attend the festival an opportunity to learn more about this ecosystem and what they can do to protect it. Our volunteers get an inside look at our nature conservation and pollution prevention initiatives by helping us keep an eye on sensitive areas and handing out pocket ashtrays to prevent cigarette litter. They also help lead our signature 'Dance n' Cleans', assisting cleaning crews with hard-to-access areas on dance floors and encouraging attendees to join in on the fun without ever missing a beat! Signs throughout the grounds also remind everyone to 'Leave Only Footprints' and all are welcome to sign up for our post-festival beach cleanup with Debris Free Oceans.
Not all of our initiatives are attendee-facing, however. There's so much going on behind the scenes to keep the festival as sustainable as possible! All of Rakastella's main teams, and some of the outside staff and vendors, are provided with sustainability guidelines and training. This provides a foundation of environmental knowledge that they may be inspired to carry on to other projects, and hopefully, into their personal lives!
"At the core of it all, sustainable behavior is a cultural issue and music festivals are celebrations of culture" – Vivian Belzaguy Hunter
EG: How important is it for festivals to grow in every aspect, including the ones that might seem "far away" from the concept of music?
Emily Milton: I think people – maybe more now than ever before – realize that the current issues we are facing related to the environment and climate change are not separate from our daily lives. In fact, the music and events industries can play an important role in helping attendees "connect the dots". If we recognize that music festivals are powerful platforms for human connection, self-expression, and creative collaboration, then we must recognize that these core values are cheapened when our environment and our planet are disregarded in the process.
From this perspective, I think the gap between music festivals and environmental action is shrunk down to size. Some festivals, like Rakastella, have solidified sustainability into the foundation of their event over the years, however, it is never too late for any festival to begin building a program like this!
Vivian Belzaguy Hunter: Agree, 100%. At the core of it all, sustainable behavior is a cultural issue and music festivals are celebrations of culture, aren't they? They represent the perfect opportunity to inspire the cultural shifts we need to sustain the health of our planet.
EG: The big news this year is that Rakastella has added two Climate Action initiatives for the first time. What can you tell us about this?
Emily Milton: Yes, we are so excited to be launching these new initiatives that have an impact beyond Rakastella's home in Miami! The first is a baseline carbon emissions analysis. We will be calculating carbon emissions from 6 key aspects of the event's operations and providing an internal report with recommendations for future emissions reductions. This is a first step toward understanding broader climate action that Rakastella could take in future years!
Secondly, we are implementing a food rescue program, through which vendors may donate any unused food to a local homeless shelter, Miami Rescue Mission/The Caring Place. Food waste is both an environmental and social issue – with uneaten food filling our landfills while people in our own communities are experiencing hunger and food insecurity. This new initiative gives back to those in need while reducing food waste – a leading source of the greenhouse gas emissions that cause climate change.
"Sustainability is the future of our industry. There is a sweeping movement of artists and attendees that are creating demand for these changes. We see large and small-scale festivals making positive strides" – Emily Milton
EG: What would you like to see more festivals doing? Where do you think the future of our industry lies in that sense?
Emily Milton: Sustainability is the future of our industry. There is a sweeping movement of artists and attendees that are creating demand for these changes. We see large and small-scale festivals making positive strides… and while it's definitely not the "norm" yet in the US, there is powerful momentum! When we recognize festivals as a microcosm of society, essentially a temporary city, we can start to envision the opportunities. All signs point to sustainability being incorporated across the board so that organizers can create positive environmental and social impact while enjoying the many benefits this can bring to both their brand and their bottom line.
Festivals starting out can first focus on protecting their immediate environment by protecting natural elements and preventing pollution. This may include physical barriers for debris, light and sound pollution, as well as eliminating pollution at its source by banning effects and materials that inevitably become litter. Cleaning crews can also be trained to have a keen eye out for micro litter and other onsite teams can support cleaning crews by being proactive about managing their trash and not creating litter in the first place. Reducing waste generated through food and beverage services has a massive impact as well by shifting away from plastics, ultimately towards reusables! After unnecessary waste is eliminated, festivals can assess where else they can minimize climate impacts and harness their platform for positive change.
Because sustainability initiatives require significant oversight and organizers are extremely busy with everything else coming together, festivals can follow suit of many other industries who bring on a team of sustainability professionals to manage these programs. Artists and attendees can also amplify festivals that show their commitment by preferring events that operate more sustainably and sharing their support on social media. This creates a positive feedback loop that will hasten the advancement of more sustainable events.
Vivian Belzaguy Hunter: I love that idea. It really feels great after putting in the hard work these programs require to get a bit of public acknowledgment. It encourages the whole team to keep doing the work.
I would add that sustainability is the necessary future of every industry, not just ours. I see the future of sustainability for all industries being circular, where we find ways to turn our own waste into resources needed within our local communities. We already see artists around the world turning trash into treasured art installations… What if we took it a step further and made our staging, merch and decor out of material from previous events?! Festivals in Europe like DGTL Amsterdam are already fully circular, so they have shown the world it's possible and now we can follow the lead of these ingenious trailblazers!
EG: Thank you so much for your time! We wish you all the best.
EM: Thank you for highlighting the hard work of all involved in Rakastella's Keep Her Wild program – it is an honor to be a part of this movement!
Vivian Belzaguy Hunter: Yes, thank you so much for shining the spotlight on sustainability. Our industry and the world needs it to have all the hype it can get!