One of the most exciting and authentic outfits in the current electronica scape, German-Syrian live act Shkoon is changing the face of underground music in the Arab world. Building bridges between Middle Eastern tradition and modern club culture, the duo have served to unify numerous demographics through their richly eclectic productions and ethereal track selections. Now, reimagining one of the most widely celebrated Arab Pop hits of the past forty years – 'Ya Rayt' (1986) by regional superstar Ragheb Alama – the duo navigates a new and progressive path for the region's vibrant music community.
EG caught up with Shkoon to learn more about the drop of their take on Tagheb Alama's 'Ya Rayt', their background, evolution, chemistry on stage, and much more.
EG: Hi guys! Welcome. It's a true pleasure to have you with us today. How have you been? How's your year going so far?
Shkoon: Hard to give a proper answer on how we are doing at the moment with all this mess going on in the world right now. We are both in Hamburg trying to cope with it while working on some new music in our studio right now. But we are really looking forward to starting touring again, as soon as Ameen has his new travel documents ready.
EG: Congratulations on the release of your stunning remix of Raghab Alama's 1986 Arabic Pop classic 'Ra Rayt'! What has the initial reception been like so far?
Shkoon: We really took care not to play the song in our shows since it was finished, as we wanted everyone to have the chance to listen to it at the same time. But of course, a few people have heard it already and the feedback so far is great.
Electronic Groove: Why did you choose to take on this particular track? Is the original version close to you?
Shkoon: 'Ya Rayt' is such a beautiful song and all of our generation in the Arab region grew up with it. I guess we all have strong childhood memories connected to it.
EG: And what was the process of remixing 'Ra Rayt'? Did you know which elements you'd use right off the bat? Did you have to go deep and explore?
Shkoon: This remix was quite a journey for us. When we decided to remix 'Ya Rayt', a song from the 80s, we didn't consider the fact that we wouldn't be able to get the recordings of each individual instrument and the vocals separate, as only the master tape of the song exists nowadays. So no, we didn't have any idea how to do this in the beginning. But these difficulties made the whole process a lot more exciting in the end.
"Artistically, we have always been super lucky how people all around the world have accepted our music and us"
EG: How would you describe your music by now? Is it what you initially thought you wanted to make? How has it evolved since you first started producing?
Shkoon: To be honest, we never knew what kind of music we wanted to do. We always went with the flow. And of course, there are certain styles and elements that we feel comfortable with, that appear over and over again in our working progress. In the first lockdown, off touring and crowded places, we had a phase where we were reflecting on our musical journey and decided to return more to our musical beginnings. Go back to the deeper sounds, more storytelling again. But in the end, who knows what's really gonna happen next.
EG: What challenges have you had to face as artists that bridge Middle Eastern tradition and modern club culture?
Shkoon: Artistically, we have always been super lucky how people all around the world have accepted our music and us. Being based in Germany and depending on traveling to countries outside of Europe is more of a challenge, as Ameen doesn't hold a national passport that he can travel easily with. We should stop giving people layers and categories, just because of how they look, where they are from, who they love, or what they believe in.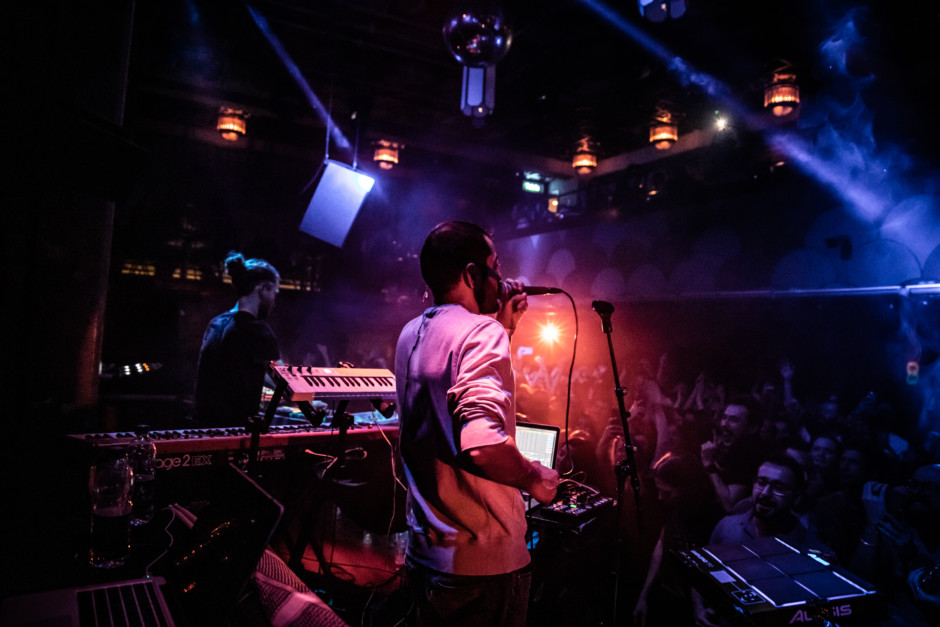 EG: Let's step into your studio for a bit. What's your dynamic like in there? How long have you guys been together as Shkoon? What are your individual strengths and weaknesses?
Shkoon: As we are not living in the same city at the moment, our dynamics changed a lot. But we actually enjoy working remotely a lot at the moment. We always send each other ideas and bounce them back and forth. And then, once we feel we can't get any further with this mode, we meet for a few intense days in our studio in Hamburg to finish the process.
EG: And when playing live? How do you guys read when to improvise, who's going to lead, etc?
Shkoon: In the beginning, we were almost always following our script, like in a jazz band. Everyone knows when to do what and when it's time for who to play his solo. Through the years we started playing a lot more freely. We look at each other and we know what's gonna happen.
"To be honest, we never knew what kind of music we wanted to do. We always went with the flow"
EG: What else can we expect from Shkoon in the near future? What new milestones are you looking out for in the coming months?
Shkoon: Well, we are super excited to start touring again and really hope for the best that festivals this summer are gonna happen more freely again. Besides that, we are gonna release a live album at the beginning of summer this year.
EG: Thank you so much for your time guys! We wish you all the best for the future!
Shkoon: Thank you for having us over! Take care!
Shkoon's Re-Imagination of Ragheb Alama's 1986 Arab pop classic 'Ya Rayt' is out now via WTR / MDLBEAST Records. Purchase your copy here.
Follow Shkoon: Instagram | Facebook | SoundCloud | Spotify