Hailing from Ukraine, SHMN is a master at melding the gamut of styles and sonics across the spectrum of electronic music. His productions glue myriad moods, genres, and stylistic tricks but they all carry one consistent quality which is passion. Now – in a huge step forward for the multi-faceted artist, SHMN presets his debut LP which is due to be released on his own self-titled imprint 'SHMN'. This platform is the soil upon which he can truly allow his productions to grow – a fertile platform that will form the basis of the inflorescence of a truly talented musician. His 'Interstice' LP demonstrates the versatility of his productions: cinematic breakdowns, a variety of beat structures, astute sequencing across all tracks, and a true sense of narrative throughout result in a highly accomplished body of work.
EG caught up with SHMN to learn more about the drop of his debut album 'Interstice', his workflow, how the current state of global affairs is affecting him, and more.
EG: Hello SHMN! It's great to have you here with us today. How have you been? How's the year going so far?
SHMN: Hello! Thanks for having me. This year has started promising with my decision to release my debut LP, 'Interstice', as an independent artist. Apart from that, I have already started exploring new sounds for my future projects. However, everything came to a halt when I woke up in the middle of the night on the 24th of February and was told that war has started and that the Russian army had invaded Ukraine. It's very hard to accept the harsh reality because no one would have thought that something like this could have happened in today's world.
EG: Congratulations on the release of your debut LP, 'Interstice'! What has the initial reception been like so far?
SHMN: So far the reception has been great. Sonically this project has a lot of diversity and at this point, I'm happy to see that people have their own personal favorites on this project. So far 'Interstice' has been supported by the likes of Adriatique, Joris Voorn, Eelke Kleijn, and more. I am stoked for so much positive feedback on my debut LP and can't wait to share it with the world.
EG: You must be really proud to pull off this monumental effort. How long has 'Interstice' been in the making? Is this your first attempt at an LP?
SHMN: The bulk of this album has been around 6 months in the making. However, a couple of tracks took longer to complete. This project is in fact my first attempt at producing an LP which I'm proud of.
EG: What's the story behind 'Interstice'? Is there an underlying theme connecting all the pieces together?
SHMN: "You have been in the dark for way too long… It's time for you to step into the line." This sentence describes this album and my artistic journey at this point in time. 'Interstice' is an invitation into a new sonic universe for people who might be new to my sound, as well as the loyal listener who's followed my journey from day one. In regards to my artistic journey, this project marks a new chapter for me as I have decided to release this LP independently to have creative control as well as build a closer relationship with my audience.
""You have been in the dark for way too long… It's time for you to step into the line." This sentence describes this album and my artistic journey at this point in time"
EG: And sonically? What will your fans find on this record?
SHMN: Sonically, this LP has a lot to offer. However, it's grounded in the sound of melodic techno and house. There are also elements of Indie Dance present on the record with guitars and all that good stuff. Essentially the process of writing this record was very organic and there was no specific framework I had to follow. I have focused a lot on emotive melody lines and compelling riffs for this LP. Apart from the sounds the listener knows me for, there are also instances where I delve into Electronica, which is a new genre for me. A genre which I found a liking for it and planning on exploring in the near future.
EG: What does your studio look like at the moment? Have you found any new gear or software that caught your ears during the recording of 'Interstice'?
SHMN: This LP was mostly written in the box, with some instances of Moog Sub-37 used for writing baselines and synth lines. There was a lot of emphasis on sound design for this project. Some of the most frequently used virtual instruments and plugins would be Native Instruments – Massive & Massive X, Sylenth, a variety of Soundtoys plugins, and Valhalla reverbs to name a few.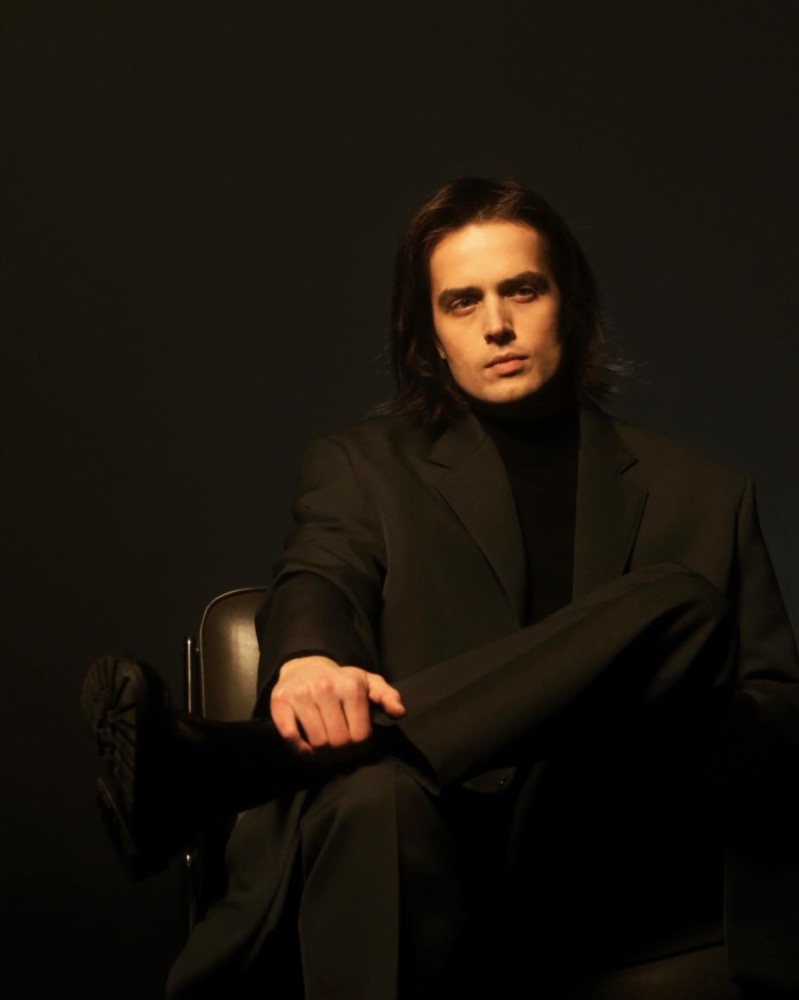 EG: Does the whole process get easier as the tracks come along? Or is there more pressure knowing that you need to create a certain type of piece in order for the story to develop?
SHMN: Frankly speaking, this LP came together naturally as I was exploring sounds in the studio. The process definitely got easier when I noticed tendencies of musical direction when producing in that period of time. Essentially, one track lead me into another. I can highlight a couple of compositions that have had an influence on my new sound, which I am planning on exploring in my future projects. One of them would be the opening self-titled track 'Interstice' – my personal take on electronica which I have found liking for. Another track would be 'Abyss' – the closing track of the LP, which is influenced a lot by my love for soundtracks. A symbiosis of an electronic dance track and a soundtrack, a track that can be received well on a dance-floor as well as listened to on a regular basis.
"The process definitely got easier when I noticed tendencies of musical direction when producing in that period of time. Essentially, one track lead me into another"
EG: What else can we expect from SHMN in the near future? What new milestones are you looking out for in the coming months?
SHMN: During such tough times for all the people of Ukraine, including me and my family – there's a lot of uncertainty. It's very hard for me to say at this point what can be expected from me in the near future, but I can assure you that before the war started, I had been working on a new sound and there's almost enough material for a new project, which will definitely be a milestone for me as an artist when finally the war stops and everyone can slowly resume their usual life. Most importantly, what I'm hoping for at the moment is that the war in Ukraine stops as soon as possible and the people of Ukraine and the world can unite to rebuild an even stronger country because I believe it deserves it for its heroism.
EG: Thank you so much for your time, SHMN! We wish you all the best for the future!
SHMN: Thank you for having me! I was happy to reflect on this project with you and delve into the concept and some of the details of how this LP came together. Catch you later.
SHMN's debut LP, 'Interstice', is out now via his own SHMN imprint. Purchase your copy here.
Follow SHMN: Instagram | Facebook | SoundCloud