SYNC24 is the solo project of Daniel Vadestrid from Carbon Based Lifeforms. From the very beginning of his career, Daniel has written tracks by and for himself. He wrote two self-released albums under the name TiN. But for the most part, he was busy with CBL, Thermostatic, and the lesser-known acts T.S.R. and Arius. In 2005 he decided to start a solo project when he happened to have a few tracks that didn't quite fit the CBL sound space that Ultimae Records, who were releasing CBL's material at the time, wanted to release. Sync24's debut album 'Source' was released in 2007 and was followed by 'Comfortable Void' in 2012. The same year Daniel started the label Leftfield Records and released 'Ambient Archive [1996-2002]', a collection of old and unreleased tracks, some reaching as far back as his first solo project TiN. Since 2014 Leftfield Records is the main digital label for CBL, Sync24, and T.S.R. The same year Sync24 released two singles. 'Eadgyth', inspired by a sound piece his 10 months old daughter did on a circuit-bent Casio SK-1 and 'Everything Will Be Ok' featuring two more uptempo tracks.
We caught with Sync24 to talk about his new LP 'Acidious'.
EG: Hello, Daniel, and thanks for the time. Let's dig straight into your latest album, 'Acidious'. What can you tell us about the inspiration behind it?
Sync24: Hi, thanks for having me. When I started out many years ago my influences were acid, techno, and breaks. Since a few years back I've been wanting to do a more uptempo album, and when I found Moa Wallin, who did the original artwork for 'Omnious', I got the idea of doing a two-album concept. 'Ominous', the ambient one taking place at dawn, and 'Acidious', an acid influenced album taking place at dusk. So in a way, the artwork was the biggest influence
EG: How long did it take you to produce it and what were some of the obstacles along the way?
Sync24: I'd say it took about two years in the end. And there were plenty of obstacles, to be honest. As tracks progressed, I realized that I'm not comfortable doing harder tracks in 130 BPM or faster. I'm very proud of 'Nightbreed' because it represents exactly what I love about the genre, but I threw away 4-5 good tracks that I couldn't finish because I lost faith in them. So, during this 2-year process, I struggled to find the right tempo and style and I finally found it with tracks like 'Ouroboros', 'Bunnies on Acid', and 'Feet n the Water'. All of which felt more like Sync24.
EG: The LP touches various peeks and forms of the acid genre. How did you visualize the whole concept of the album? Did you produce the tracks in any order?
Sync24: I had to re-visualize it several times because I felt that I was heading in the wrong direction. But the cornerstones stayed the same. Eight tracks which all had to feature at least one acid bassline. 'Nightbreed' was the original defining track and then I threw away a lot as my vision changed. The only two tracks that survived were 'Nightfall Bounce' and 'Creatures in Motion'. When I wrote 'Feet in the Water' I realized that I wanted a more laid back groovy feel to it all and slowed everything down. 'Kill Your Darlings' is a fitting saying here. So the other four tracks were written this year. As for the tracklist I started out with the track that had the most in common with previous albums, and I alternated uptempo with more downtempo groovy tracks, ending with a sort of ambient one. This way it sorts of ties the two albums together.
EG: Who made the cover design and did you have any input on it? In your own words, what does it represent?
Sync24: A very talented fellow Swede called Moa Wallin, that I found during my search for someone who could visualize my thoughts. She did the cover for 'Omnious', where I described my vision and referenced some of her earlier work. She really tuned in and did only three revisions from idea to final artwork. That's how good she is and how well we match. She also did the cover for 'Nightbreed' where I referenced to a Batman image and pitched the idea of the glow on the bunny. She tried out a few colors and we agreed on the acid colored glow. So the cover for 'Acidious' was no match as we had the concept all drawn already. I gave her a short brief and again she delivered the highest quality. The bunnies are the guardians of The Source, in this case, represented by the classic acid face, which in my opinion is happiness and the feelings you get when dancing to your favorite tune. In my case, I got the strongest feelings from acid parties back in the '90s.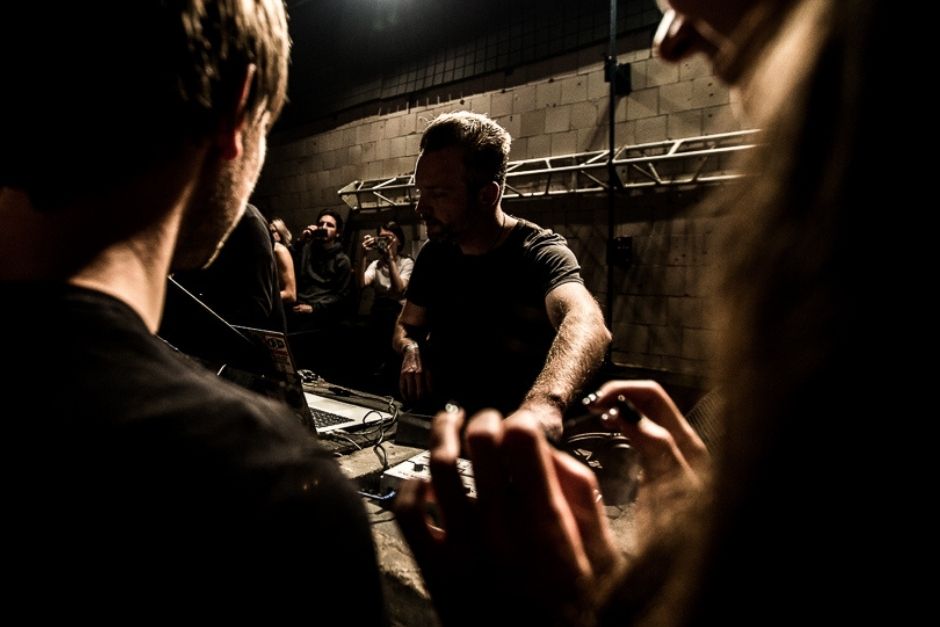 EG: What would you say are some of the most influential artists in your extensive career? Could you also mention if you had a mentor and if so, what would be the most important learnings you got taught from him/her?
Sync24: For this type of music it's definitely Hardfloor, Dj Misjah, Underworld, and Prodigy, just o name a few. On the ambient side of Sync24, there are the old heroes like Kraftwerk, Jarre, F.S.O.L., K.L.F, and Air. The list goes on but these are a few that came up now.
I never had any mentor, it was rather learning by doing different types of situations. This was before YouTube and all sorts of websites with tutorials so when we started we were three computer nerds exploring the world of synthesizers and MIDI.
EG: What recommendations can you give to the young producer out there who are venturing into the music world?
Sync24: Dissect your favorite tracks and learn how they were done. Don't go for the 'make your own Avicii track in 3 minutes' fad. Find your own recipe by studying your heroes.
EG: Talking about these times of uncertainty, how has the COVID-19 virus affected you? Can you mention any positives and negatives?
Sync24: The obvious negative is that I haven't toured at all. And this was the year that CBL was going to enter the main stage of a huge festival called Ozora, this time as a full band of five people with drums, bass, and guitar. The positive is that thanks to our wonderful fans, who keep on listening to Spotify and other streaming services, there has been no change in that income which saved me as I'm a full-time musician now.
EG: What comes after 'Acidious'?
Sync24: Finishing the next Carbon Based Lifeforms album :) I also have a few ideas for ambient releases in the future. And I hope I get to play live again by 2021.
EG: Thanks for the time and stay safe!
Sync24: Thanks, you too!