POPOF x Space 92 Present: Turbulences is a relatively young project that debuted worldwide last summer on the Resistance- Ultra festival Tokyo stage.
Created by iconic French producer POPOF and best-selling Techno artist Space 92, Turbulences is a dynamic, hybrid/live act. It features exclusive tracks by both artists, and custom-made classic tracks re-edited to fit the performance's spirit.
As the Ultra Music Festival gears up for its 23rd edition, RESISTANCE is set to take the stage with some of the biggest names in underground techno and house music. The gathering will take place from Friday, March 24th to Sunday, March 26th, 2023, with the festival returning to Miami's Bayfront Park.
EG caught up with POPOF & Space 92 to learn more about their new Turbulences live project, their upcoming performance at RESISTANCE Miami, future plans, motivations, and more.
EG: Hi guys! Welcome to EG. It's a pleasure to have you here with us. How have you been? Where are you based right now?
Turbulences: Hello to you too, thanks for having us. We're currently on tour in the United States, answering your questions from San Diego where we're about to perform for the CRSSD Festival! And on a daily basis, Alex (POPOF) lives in Paris and Mathieu (Space 92)  lives in the South of France, near Toulouse. We've managed to unite the North and the South with this one!
EG: So, congratulations on your upcoming performance as Turbulences at RESISTANCE Miami! You must be very excited about this one. What can your fans expect?
Turbulences: Thank you so much, we are indeed so excited to play at RESISTANCE Miami! Our fans can expect the very best, that's for sure. We're going to merge a bunch of original tracks with completely crazy and new edits. We're intending to leave a trail of fire behind us, haha!
EG: Your debut as Turbulences actually took place at the RESISTANCE stages of Tokyo and Seoul, right? Any memories from that first experience?
Turbulences: Absolutely, Turbulences debuted on RESISTANCE Tokyo's stage and it was absolutely insane, we're not exaggerating one bit. We performed at Womb; it was explosive and the feedback was so positive. The Japanese crowd gave us so much love… For us, it was both validating and reassuring. Then Korea happened and it was crazy as well!
EG: How did the Turbulences project come together? Did you have any second thoughts about Turbulences with you guys already having extremely successful careers as POPOF and Space 92?
Turbulences: Our project Turbulences was born kind of naturally, organically. We already got along so well since we shared the same passion, ideas, and beliefs when it came to music. We also have the same manager, so we spend many a night hanging out at the same events. So, at some point, we were like, "let's do something productive together, we're both completing each other so well". We never had a second thoughts – simply because we're not that type of person. We don't sit around discussing career strategy PowerPoints, if you know what we mean.
"This is something you can only hear at our shows, and not at a POPOF or Space 92 gig. And we have a blast doing it"
EG: How would you say a Turbulences set is different from what you do on your own? How would you describe it?
Turbulences: Turbulences is a completely different project from what we individually do because our act is a hybrid blend of mixes and live music. Also, we only play original tracks that we've created for this project, in addition to special custom-made edits especially made for the occasion. This is something you can only hear at our shows, and not at a POPOF or Space 92 gig. And we have a blast doing it.
EG: Are there any plans for Turbulences to become something more than just a live side-project? Where do you see it a few years from now?
Turbulences: Our ultimate goal is to make people dance to quality techno while allowing them to discover and experience new music every single time. Of course, we intend to see this project grow to the max and reach the biggest stages and festivals around the world. Now, do we want it to become more than just a live side project? For us, Turbulences' sole reason to be and purpose is to be an amazing live act. We don't think there's a need to do anything else. We do hope that, in a few years' time, we'll be able to have our own stages with our own lineups within some big events, but that's it for now.
>PHOTO
EG: By the way, are there any other names on the lineup for Miami that you are excited about? Do you usually make time to check out other acts that interest you?
Turbulences: So many of them but since Ultra/RESISTANCE's lineup is so huge, that would take an entire paragraph to list every single artist we wanna check out (laughter). We always take the time to go listen to and watch our peers, and connect. Preserving the human aspect of this business is extremely important for us because we're all on the same ship and we need to support each other.
EG: How do you keep entertained when not in the studio? Have you checked out any good movies, series, books, or albums you'd recommend?
Turbulences: Usually, whenever we're not working in the studio we keep perfecting our sets and working on the road. The preparation for Turbulences is intense and takes a lot of time, so in the end, we don't have that much time left. This being said, we're not machines, and watching a good movie or series doesn't hurt.
Space 92: I'm completely obsessed with The Last of Us (the series – an adaptation of the eponymous video game featuring the internet's beloved Daddy, Pedro Pascal). Episode 3 got me in tears, man.
"Preserving the human aspect of this business is extremely important for us because we're all on the same ship and we need to support each other"
EG: Can you tell us something about you that very few people know about?
POPOF: My middle name is Dick (laughter).
Space 92: I cannot compete with Alex when it comes to middle names but, uh, one lesser-known fact about me is that I'm a huge "mate" fan (mate is a traditional South American herbal drink). People always ask me questions about the weird cup I drink from in my videos – now you know!
EG: What's next for Turbulences, Space 92, and POPOF? What particular milestones are you looking forwards to this 2023? Where can your fans catch you next?
Turbulences: Turbulences has a bunch of gigs planned around the world for the rest of the year! You can catch us at RESISTANCE Miami, Ultra Brazil, Ultra Peru, and at Vertigo in Nice, France. There's more to come so check out our socials! Individually we have a ton of upcoming projects – the both of us together or remixing stuff or collaborating with other artists.
POPOF: I've just released my 'Linear Damage' EP featuring a remix by Reinier Zonneveld on Filth on Acid; I've got another EP out in April on Factory 93. Space 92 and I have a couple of collabs planned with Carl Cox and CamelPhat as well.
Space 92: I recently released my 'Gravity' EP on Filth on Acid and I'm very proud to say that it fared really well on the Beatport techno charts ('Gravity' is currently #1, 'Cooper' is #3, 'Reaktor' is #7). Otherwise, I've got several upcoming collabs with Hardwell, Reinier Zonneveld, Hi-Lo, Charles D, Eli Brown, and UMEK in addition to what Alex just mentioned.
EG: Thank you so much for your time, guys! We wish you all the best for the future.
Turbulences: Thank you very much as well, catch ya on the road!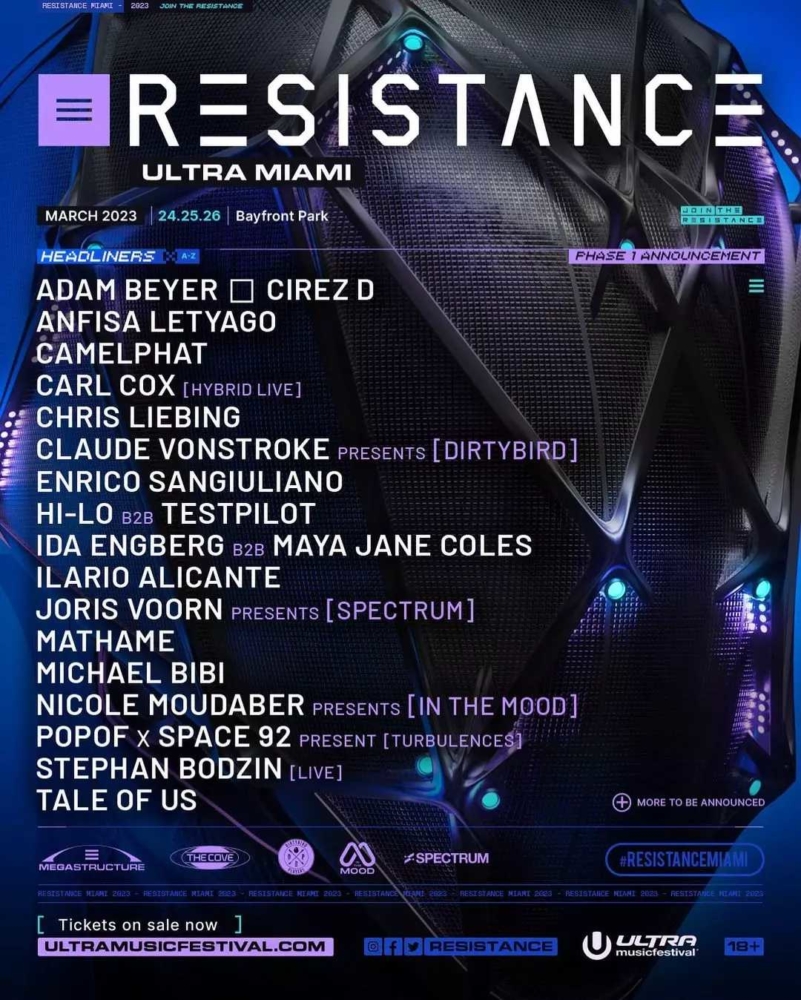 Turbulences are set to perform at RESISTANCE Miami on March 24th, 2023. Purchase your tickets here.
Follow POPOF:   Facebook  |  Soundcloud  |  Instagram  |  Spotify 
Follow Space 92:  Facebook  |  Soundcloud  |  Instagram  |  Spotify