Originally hailing from Cork, Wukah aka Gavin Desmond now lives in London teaching music production as well as supply teaching at schools in deprived areas. His music is immediately inspired by his environment, both in subject and sound. UK and Future Garage influences are blended with Breakbeat, Nu-Jazz, and Neo-Classical tones.
Now, Wukah makes his debut on Dealt With Records with his latest piece of work, the Jazzy, Deep House, 'Fred Hampton EP'. Utilizing his inherent talents as an educator, film composer, and music producer, this body of music highlights a particularly poignant moment in history. A highly emotionally charged place in time, the civil rights era, Wukah tells two stories that are thematically linked with the emotive 'Fred Hampton EP' that if not known already, will hopefully enlighten these stories for future generations.
EG caught up with Wukah to learn more about the drop of his 'Fred Hampton' EP, his perception of sound, views on the current state of the scene, and more.
EG: Hi Wukah! Welcome to EG. It's a pleasure to have you here with us. Where are you based right now? How have you been?
Wukah: So I'm currently based in London, not far from the Kensal Rise area, and I've been permanently based in London since the beginning of 2018, but I've moved around a lot in the city. My day job for the first 2 years was as a supply teacher, often sent to very troubled schools, so between clubbing and collaborating with other producers and DJs, the actual day job has been a grind! I can't complain too much about lockdown, because at that point I was permanently employed part-time so money was coming through, so I'm glad to have been able to stay here because the music scene is hard to beat!
EG: So, what has your summer been like so far? What have been some of your favorite highlights?
Wukah: Artistically, seeing the release of my 'Flesh' album and hearing the response has been very exciting. Also, from a business perspective, to see that Hollow Ground Productions has been keeping me very busy, with a lot of business and growing clients, makes it an exciting time professionally, as I plan on this developing into my full-time job. Musically, I have been to a few Lab LDN gigs, seeing DJs like LALA, and AMEME, which is in an intimate boiler room space and is always a great start to the weekend. I've seen a lot of good acts, like Joe Turner and Lawrence Hart at Peckham Audio (one of my favorite venues, because you feel that the crowd is very oriented towards interesting electronic music production, and It really feels like my crowd!! I also got a chance to DJ at a micro-festival called And So We Rise in Oxford shire, and that festival was a total laugh!
EG: Congratulations on the drop of your new EP, 'Fred Hampton'! What has the reception been like so far?
Wukah: From what I gather from what my label promotors are telling me, it's getting a really positive response. I really would like to hear the track being played in the right kind of venues, whether it be here or on other shores.
EG: Of course, one can assume the title is a nod to Fredrick Allen Hampton, a renowned American activist. How does it tie into the music? What inspired you to portray the notions embodied by Hampton to music?
Wukah: I had of course been familiar with the story of Fred Hampton from school, but I think it was when Netflix fan the movie 'The Trial of the Chicago 7', in combination with the tumultuous period in London during the BLM movement, that brought this story back into my radar. It seemed to make sense to me that he was a voice that would still resonate with people today, and I felt that jazzy deep house was a really good musical fit for the samples.
"Even though I am very visual, I tend not to "see" the music. I tend to "feel" it. What I see when I hear music is much more concrete; it will be specific memories in my past, scattered images from dreams, scenes from movies, specific parts of the world, different types of weather, nature, etc"
EG: The B-side to 'Fred Hampton' is called 'Chicago 7', which again, has a powerful political connotation, referencing the notorious 'Chicago Seven' (or the 'Conspiracy Seven'), as you just mentioned. In your eyes, what is the importance of politics on the dancefloor? Is there an aversion to politics on the dancefloor, when compared to rock music, for example?
Wukah: My honest answer to that question is that in an ideal situation, music and politics would never have to meet. I feel that music allows people to feel free, and ideally, the dancefloor is a safe space where people should be free from judgment. The reality is that from a DJ's perspective, we want to be able to create excitement on the floor by any means, largely because it's a competitive industry, and we know that generating maximum energy and excitement is how you get re-booked! This inevitably means often using statements and samples in your music that may well resonate with a crowd that is looking to get fired up on the floor. But I only want it to be hinted at in the music. I would like people to them be encouraged to do "further reading" on the theme the next day…well, after the headache is seen to!
EG: Musically speaking, what can your fans expect to find on your 'Fred Hampton' EP? What was the recording process like?
Wukah: Generically, they can expect deep house, with dusty, lo-fi processing on the drums, and a lot of jazzy elements, including brush drums, and solos from the Rhodes keyboard, piano, and trumpet. This particular EP was very much sample-led. In order to work around the limitations caused by lockdown and not being able to collab with studio musicians (which is time-consuming and expensive, although very much preferable where possible), as a producer you need to learn how to be resourceful and creative, and to seek out audio samples from any source possible. My favorite 3 sources are real-world recordings on my Zoom microphone, old vinyl, and YouTube (film clips, obscure instrumental solos). On the latter, the trumpet and piano solos were found somewhere on YouTube, as part of much longer instrumental solo videos, and I chopped and screwed them into place. I performed the Rhodes and synth lead samples myself (which I also prefer to do on piano, but I was not happy with the sound of my piano VST, so a sought a sample of a similar piano performance on a vinyl record, which had the sonic texture that fit the track and the genre.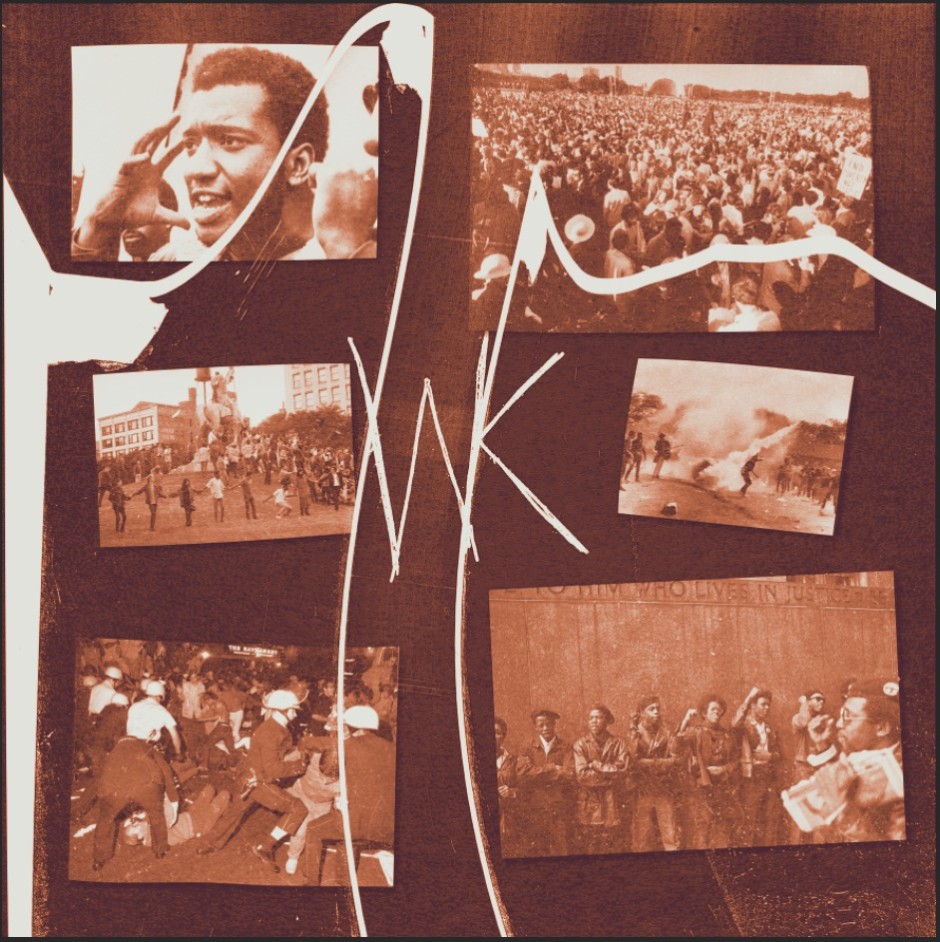 EG: You're also behind your own video production company 'Hollow Ground Productions'. How's the company at the moment? What does the future of video production look like to you given all the recent technological advances and changes in formats?
Wukah: Well, I have been tutoring on and off for years, but ultimately decided to get out of the Fiverr rut and reach out to YouTube to expand my clientele, so I figured that as I learned both music production and became an intermediate video editor, I figured I would take a stab at starting a YouTube channel. It started in November 2021, and I am close to 10,000 subscribers, and getting fairly regular clients now looking for 1-on-1 workshops and custom tutorials, so I'd say that it is going encouragingly well! I was thinking the website would just remain obscure because of the competition, but it seems to have struck a chord and is still growing. In the future, I hope for it to become a full-time thing for me in a few years. Taking on board recent technological advances, I assume that one inevitable avenue as the business grows would be to design an online production course, which producers who get their own equipment can register to and follow. As music production software is becoming more accessible, and basic hardware is becoming relatively affordable (as long as you are avoiding going deep down the modular or analog route, in which case you'll need to take out a few loans!), it is becoming more and more doable on the cheap. Again, the key to all of this is knowing how to be resourceful, and it just takes being exposed to many different styles of music and being open to new ideas.
EG: Dealing both in visual and sonic mediums…Do they 'seep' into each other during the creative process? Do you 'see' the music when composing?
Wukah: Certainly, the way I edit music and videos are very closely linked. But whether one seeps into the other I am not sure. Simply because of the workflow, I usually don't begin making a video (be it a music video, or one of my Youtube instructional videos) until such time as the music itself is fully formed. I would only consider them seeping into each other if, off the back of a video edit, I choose to go back to the music and edit it. In truth, I make the videos to aesthetically fit the music as appropriately as possible, but it's a very linear process (again, workflow ultimately demands this).
As for "seeing" music…funnily enough, the condition of synesthesia is something I teach about as part of my Year 5 curriculum (my current day job as a music specialist and music department lead in a primary school in London), and I do teach 2 children in the school who I believe may well have it (unofficially diagnosed, however). I believe that Jon Hopkins once said in an interview that he sees his music quite clearly in different colors. As for myself, even though I am very visual, I tend not to "see" the music. I tend to "feel" it. What I see when I hear music is much more concrete; it will be specific memories in my past, scattered images from dreams, scenes from movies, specific parts of the world, different types of weather, nature, etc. I feel and anticipate the natural resolution of music very strongly. The easiest version of tension and resolution that most music listeners will know is your typical club drop. They know from the way the music rises, that the music and room will soon explode euphorically (so out come the phones!!!). To apply that to how I think, when I am putting loops or ideas into my DAW, it isn't long before I start to hear the rest of the track form in my head. The intro, the outro, and the main apex of my tracks are the things that come to me first, almost fully formed in my head. It just takes a little playing around with simple ideas at the beginning to inspire me, like waiting for the scissors to catch and then slide all the way through the page!
"I think my issue with an over-reliance on explosive and cheesy drops of ever-increasing aggression, and less confidence in the long journey in the live musical experience is not so much a new problem as something that I think is becoming gradually more and more ubiquitous"
EG: What are your thoughts on the current state of the scene? What would you like to see more and less of?
Wukah: Currently, on a positive note, I think it's great that as the world has opened up again (relatively speaking), working artists are able to get out on tour again to spread their music and to make a living, and as a fan, I have been enjoying a return to the clubs to search out the music that speaks to me. I think my issue with an over-reliance on explosive and cheesy drops of ever-increasing aggression, and less confidence in the long journey in the live musical experience is not so much a new problem as something that I think is becoming gradually more and more ubiquitous.
I would like to think that there is a scene for everything, but there are certain scenes, that were once the norm, that are ultimately becoming more niche, such as UK Garage, Old-School House, Ambient House, and indeed Jazzy Deep House, rather like my EP, and the music that inspired it. It seems to me that If you want to see more obscure genres being played live and with the freedom to allow for long periods of tension building and emotion, then they need to be held on the shoulders of well-regarded touring artists like Four Tet, Jon Hopkins, Bonobo, Leon Vynehall, Floating Points, Tourist, Ross From Friends (there are many to choose from)…these are guys who will casually alter between abstract Ambient, Glitch Techno, Future Garage, Euphoric Techno, Melodic House, Breakbeat, with great fluidity and dexterity, and without losing their audience. They have the trust of the audience. Building and maintaining the trust of your audience seems to be getting a bit more challenging.
EG: What's next for Wukah? What particular milestones are you looking forwards to now?
Wukah: Well, the promotion of this EP, and my 'Flesh' album, will likely continue well into next year. At the same time, the Hollow Ground Productions channel takes up a lot of my time, and frankly, pleasure, as it appears to be an audience that actively engages with me, whereas the Wukah fans out there (those few precious disciples!!) are more elusive! One real milestone for me is the point where I am given a deal for my 2nd album, and there will be a certain amount of anticipation driving me. Yes, most artists make their art (whether it's music, poetry, cinema, etc) because they NEED to do it, and it's necessary for them to get it out of themselves. However, true cathartic joy comes when you share it with other people, and it affects them and stays in their memory. This is something that I always look forward to.
EG: Thank you so much for your time, Wukah! We wish you all the best for the future.
Wukah: Go Raibh Maith Agat (hats Irish for "Cheers, mate")
Wukah's 'Fred Hampton' EP is out now via Dealt With Records. Purchase your copy here.
Follow Wukah: Facebook | Instagram | SoundCloud | Spotify