The Life and Death and Innervisions collaborative party Rakastella goes down at the picturesque Virginia Key Beach Park, Miami on Saturday,  3rd  of December, 2022.
It is more than just a musical gathering as, in partnership with Ascendance, it celebrates the planet with sustainable parties, eco-initiatives, and a ban on single-use plastic. New for this year is a food rescue program that will donate leftover food to Miami Rescue Mission.
This year's lineup features AceMoMA, Dixon, Diplo back-to-back Carlita, TSHA, DJ Boring, DJ Tennis back-to-back Seth Troxler, Sofia Kourtesis, Moodymann, Or:la, Trikk, Ashley Venom, Will Renuart, Coffintexts, Powder, Quest, and Yu Su, who all play multiple stages.
Jennifer Cardini also plays and is the Correspondant and Dischi Autunno label boss who has been bringing cultured electro and techno sounds to the underground for years. She is soon to release Kendal's new track, coming out on Dischi in early December, and which is sure to be a standout at Rakastella.
Here, Jennifer Cardini provides some of the vibes you can expect to hear at Rakastella 2022.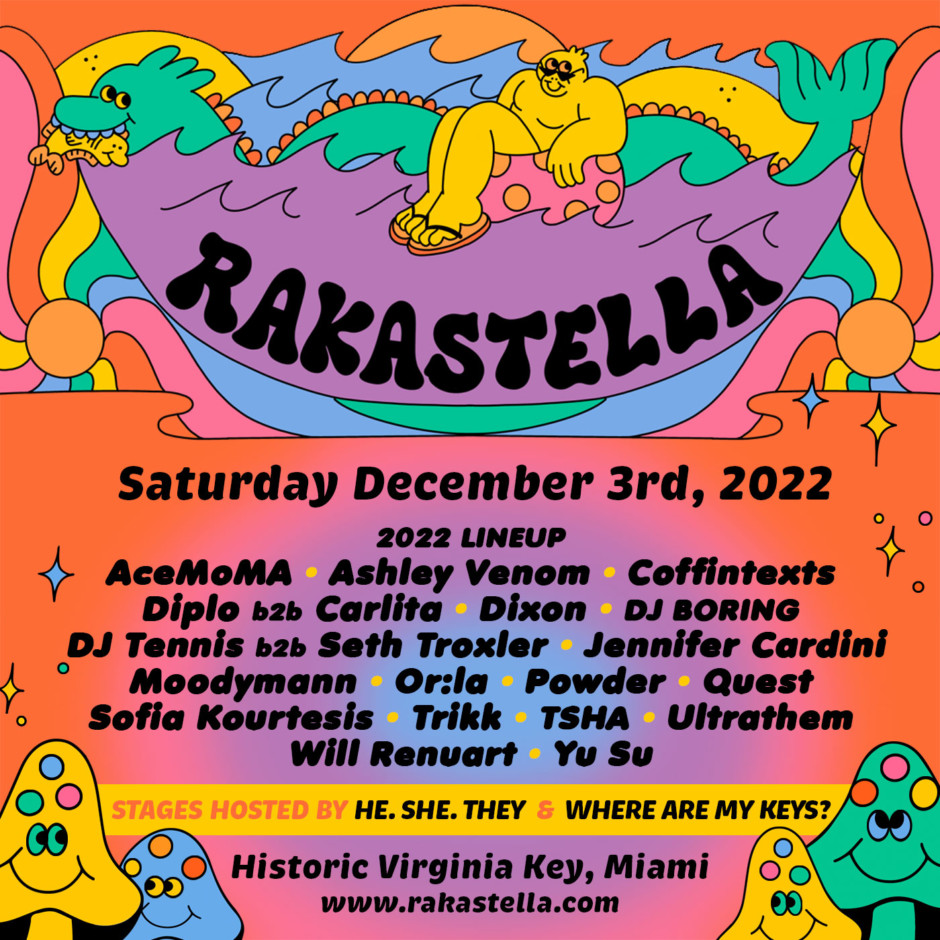 1. Ambassade – Palette
"I'm a huge fan of Pascal Pinkert, we released his beautiful album 'Holy Ghost People' under his Dollkraut alias on my label Dischi Autunno. Such a beauty, one of my favorite albums. I love the tension in 'Palette' and I'm happy to see he landed on one of my favorite labels, Optimo Music."
2. Curses – Miriam
"This is the first single from Curses' second album on Dischi, an ode to Cathrine Deneuve's iconic character in 'The Hunger'. Jordan Hemingway directed the video for 'Miriam', we still can't believe it!"
3. Rotvic – Please The Algorithm
"Cormac's label Polari is on fire, I've been playing each release. This is taken from the label's first compilation. Also really love Budino's track, but Rotvic's nasty groove gets me, it's hot!"
4. Boy Toy – Touch My Body
"Will I ever get over New Beat? The answer is no."
5. Pablo Bozzi – Ghost Of Chance
"Nothing can stop Pablo, I'm so happy to have him on Dischi. Our little family is growing strong, make sure to check Kendal's new release coming out at the beginning of December."
6. The Exaltics & Helena Hauff – Futuros
"It's part of my DNA, my sets would not be complete without a nasty electro track here and there. I could go for Privacy, DJ Overdrive, or DMX Krew, but I love this one and I love Helena Hauff, she's so fucking cool."
7. Hammer & DART – Tint (Maruwa Remix)
"Love Maruwa's remix. I've been playing this one non-stop. I love the energy, perfect Panorama Bar Sunday tune!"
8. Man/ipulate – Eternity (Alex Kassian's Ode To Sunshine Mix
"Alex Kassian is one of my favorite producers and remixers out there. It's been so refreshing to play his music, but also Clint's or Paramida's. I love their nostalgic 90s touch and at the same time it's definitely modern house music."
9. Maara – Forget The World
"So trippy, in every set of mine. She's killing it!"
10. Rilla – Magatama
"My best friend sent me this and I've been obsessed since, SVBKVLT is such a sick label!"
Catch Jennifer Cardini alongside Dixon, Powder, Seth Troxler, DJ Tennis, TSHA, Yu Su, and more in Miami's Rakastella on December 3rd, 2022. Final tickets are available here.
Follow Jennifer Cardini:   Instagram  | Facebook  | Soundcloud  | Spotify