Scotland's leading soul artist, Joseph Malik, has built an impressive music career spanning decades, earning recognition for his soulful vocals and exceptional songwriting abilities. Starting with his debut release, 'Miles Out Of Time,' in 1994 as MF Outa National alongside Calvin Nuttal, Joseph has made a lasting impact on the music industry.
Photo credit: Joseph Malik – Official
He gained even more acclaim with the successful launch of his award-winning club night, 'Lizard Lounge,' at Café Graffiti, featuring renowned performers such as Gil Scott Heron, Rueben Wilson, The Blackbyrds, and the Last Poets.
Now, Joseph is excited to unveil his highly anticipated fifth studio album, 'Proxima Ebony,' on Ramrock Red Records. This release marks the beginning of a thrilling new chapter in the music career of this acclaimed and inspiring talent from Edinburgh.
'Proxima Ebony' is a carefully crafted album by Joseph Malik and Daniel Walls from Edinburgh. It seamlessly blends genres like soul, R&B, disco, Afro-boogie, and old-school hip-hop, reflecting Joseph's Nigerian and Scottish heritage.
EG caught up with Joseph to explore further details about his latest album, 'Proxima Ebony', and his upcoming projects.
EG: Hi Joseph! Welcome to EG. It's a pleasure to have you here with us. How have you been? Where are you right now?
Joseph Malik: Thanks for the invite. I'm in Edinburgh, just relaxing after my launch gig for 'Proxima Ebony' at the Voodoo Rooms – what a night!
EG: First of all, congratulations on the release of your 'Proxima Ebony' studio LP! You must be very excited to share this one. What has the initial reception been like so far?
Joseph Malik: Insane! After the gig, people in the crowd were coming up to me and just being so complimentary. There's been amazing radio play from Craig Charles, Kev Beadle, and Colin Curtis, and I've enjoyed giving lots of interviews, including this one. Everyone is very surprised at the standard of the music and the array of international guests. I'm very happy right now.
EG: So, what can your fans expect to find on 'Proxima Ebony'? Is there a concept or thread interconnecting these tracks?
Joseph Malik: The concept is Afro-futurism and I become different characters. If you listen to 'Adult Contemporary' and 'Hollywood Africans', I become those alter egos and you can hear the influence continuing through the other tracks.
EG: 'Proxima Ebony' is fused with a cross-pollination of cultures from your Nigerian and Scottish heritages. What was this process like? Did you "reconnect" with anything in particular?
Joseph Malik: I went back to my teenage years when I worked in the Sub Club, Glasgow where I watched DJ Harri work his magic on the decks plus, I saw a Who's Who of world-famous DJs who visited and performed at the club in the late 80s/early 90s. This was like my high school education. I reconnected with my Nigerian side to honor my father and I'd like to be regarded as a role model for young, black kids in Scotland.
"I reconnected with my Nigerian side to honor my father and I'd like to be regarded as a role model for young, black kids in Scotland"
EG: To celebrate the launch of 'Proxima Ebony', you performed live with your band at The Voodoo Rooms, Edinburgh, on September 8th, 2023. What were your fans treated to at this particular performance? Was the concept of playing the songs live in your mind as you created each piece?
Joseph Malik: No, it wasn't! On the night of the gig, I showcased material from my repertoire including 'Diverse Pt. 2' and 'Diverse Pt. 3' and then the big reveal of tracks from 'Proxima Ebony'. There was a full band plus DJs Natasha Kitty Katt (F*CLR), Shuya Okino (Kyoto Jazz Massive), and Ramrock boss, Jo Wallace.
EG: 'Proxima Ebony' is your 5th studio album. How does it compare to your previous outings? In which ways have you grown since your last one?
Joseph Malik: With each album, I have learned how to improve my studio craft and production skills and I'm incredibly proud of the results on 'Proxima Ebony'. The sound, the guest artists, the programming – it's all fantastic.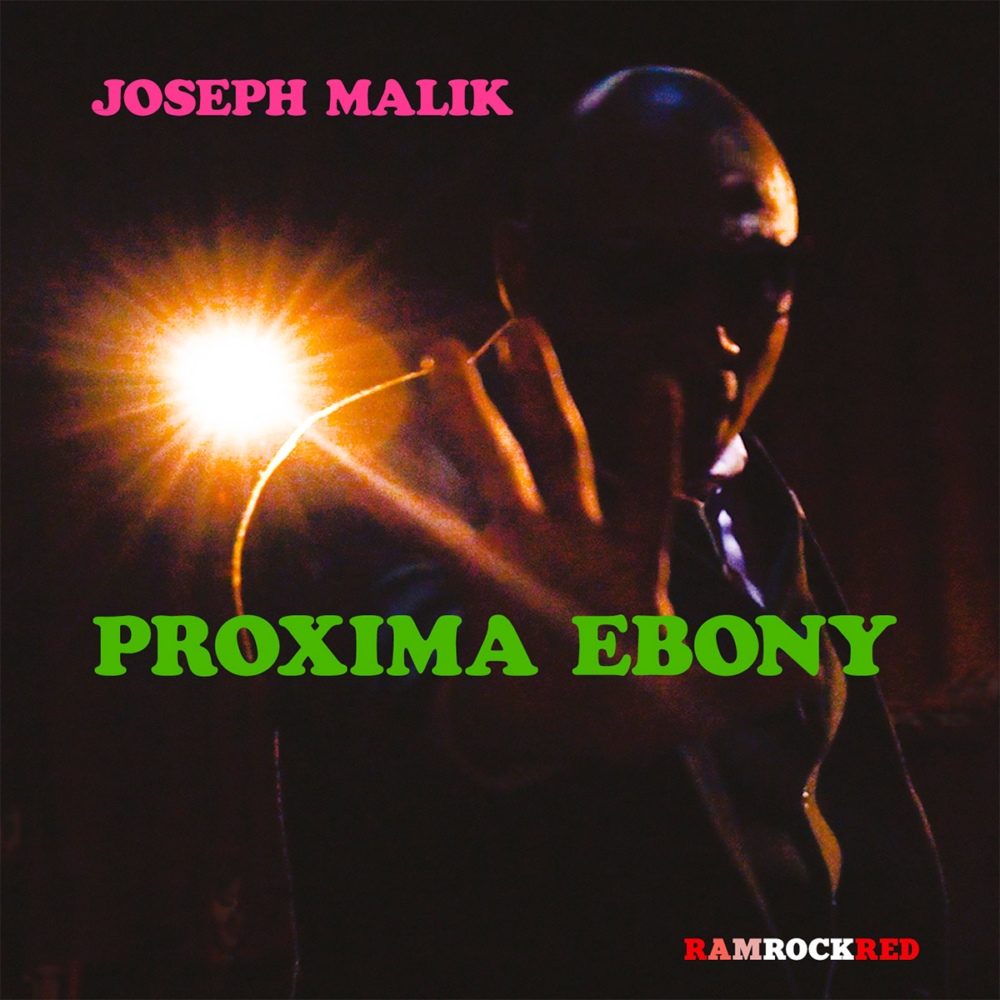 EG: Now, stepping away from the studio for a bit…Have you found any good books, movies, or albums lately that you'd recommend? Where do you tend to find inspiration?
Joseph Malik: I've just watched the documentary on Biz Mark E. It's called 'All up in the Biz' – it's about his incredible life story. People mocked him about his looks and he overcame all of this to become a Hip Hop Legend. It truly inspired me as I have returned to my Hip Hop roots with Capitol A and Kameelah Waheed's tracks on the album.
EG: Right now, social media seems to play a completely prominent role in the development of an artist's career. What's your stance on this? Is this bringing us closer than ever, or is it drawing our attention away from the actual music?
Joseph Malik: I think it does bring us together as I have had fans reach out to me directly after I've posted something on Facebook or Instagram. Social media platforms have helped me get my music into people's feeds directly where they can be introduced to what's coming.
"With each album, I have learned how to improve my studio craft and production skills and I'm incredibly proud of the results on 'Proxima Ebony'"
EG: What's next for Joseph Malik? Where can your fans catch you next? What new milestones are you looking forward to in 2023
Joseph Malik: I'm going to take a much-needed rest after 5 years in the studio. I will be spending time with family and loved ones. There will be singles and remixes from the album going into 2024 and another video directed by myself for 'Only Fans'…..watch this space.
EG: Thank you for your time, Joseph! We're excited to see what's in store for you. Take care!
Joseph Malik: Wonderful. Thank you for the interview.
Joseph Malik's 'Proxima Ebony' is out now. Download here.

Follow Joseph Malik: Soundcloud | Spotify | Instagram | Facebook