All Day I Dream events began on a Brooklyn rooftop back in 2011 and have since become an international sensation. Around the world, crowds continue to be drawn to the experience and to become a part of its community. Spurred on by the music of Lee Burridge and his unique roster of artists, each brings his or her own emotive musical vision to the daytime party. Sounds that are all too rare in the current electronic music scene.
As All Day I Dream gears up for its first festival ever, we catch up with Lee Burridge to learn more about the origins of the label and its ethos, the drop of their 'Winter Sampler', learn about some of the cornerstones on the label's catalog, and more.
Electronic Groove: Hi Lee! As always, it's an absolute pleasure to have you here with us. How have you been? What have you been up to?
Lee Burridge: Hi everyone. It's always a pleasure to chat with EG. I've been working really hard on my first All Day I Dream Festival weekend. It's taking place in California in mid-May. I know there are plenty of festivals out there already but I really wanted to build one around the whole ADID ethos and vibe. It's going to be a beautiful musical weekend of experiences and tired legs from so much dancing.
Electronic Groove: Exciting news, looking forward to living the experience. So how's the label at the moment? Was it hard to navigate through the past year?
Lee Burridge: Actually it's the best it's ever been. There was plenty of uncertainty through Covid times, but I felt that the music we make was much needed then and now. I get that for a lot of artists it's really about how the tracks perform out on the dance floor, but there's a whole other legion of fans who actually love this music so much in other moments of their lives, be that out hiking, having a cuddle with their partner, or in the bath (laughter). Yes, we are big in the late-night bathing scene apparently.
Electronic Groove: Looking back, can you tell us how All Day I Dream was born? Was there a particular 'eureka' moment? What is its original mission?
Lee Burridge: Matthew Dekay and the music that he dreamed up with me sitting around peeling oranges really set the whole thing in motion. I'd been collecting a few tracks here and there that I felt told the story I wanted to tell, but there wasn't really anything coming out regularly on one particular label that I remember. Matthew innately understood what I wanted to create as it was really him at the core of the label's birth. He's my musical midwife. I think as 'Lost in a Moment', 'Fur Die Liebe', 'Gemini Spell', and Audiofly's track found their way out of the studio and into sets I was playing, especially as the first two years of All Day I Dream on the rooftop in Brooklyn happened, it all just made sense. I was remembering just yesterday that we were discussing what to call the sound of the party. No one else played this way and the music was spread across different genres. We came up with 'melodica' and 'romantic techno' (laughter). Eventually, a few years ago, Beatport called it 'organic house' and decided to throw in 'downtempo' for good measure, just to confuse everyone and make the techno fans feel like we are a sleepy house sound (laughter).
Electronic Groove: How would you define the sound of the label by now? How has its vision evolved since its inception? Must one evolve in every aspect to make it in today's ever-shifting landscape?
Lee Burridge: The heart of the music will always be emotion. The thing is I get sent a lot of music that tends to sound like a lot of other music and really it's rare to find a new artist who's been influenced by one of the more established artists in the scene, but doing it so well that it feels fresh. Instead of making a photocopy of a photocopy until there's basically nothing left, I like to try to push the edges of our sound outward. I don't want to play it safe with what everyone knows already. Most recently I'd say Dim Kelly's release did that. We aren't particularly known as a sound that's energetic, and I think there are some people who think our vibe is 'elevator music' (which by the way is hilarious, and if it were, I'd totally go ride those elevators all day haha). In reality, the parties are always pretty rocking without relying solely on energy as the driving factor. Nothing is ever banging, per se, but the reaction of the crowd is intense and powerful at the peaks. I loved Dim's music so much when I heard it and initially thought about putting him on my other label Trybesof, but decided to push the edges of ADID once again by releasing his double EP. It's old-school house vibes with a little Burning Man at times but still with true emotion at its core. Check out his tracks 'Display', 'Voile De Chine', and 'Nocturna Animal' to find one edge of ADID. On the other edge, last year I was blessed to release Powel's album. He's one of our original artists and someone I adore and love so much and his sound is more delicate and detailed, but same as Dim's, it has emotion at the core.
"Matthew Dekay and the music that he dreamed up with me sitting around peeling oranges really set the whole thing in motion. I'd been collecting a few tracks here and there that I felt told the story I wanted to tell"
Electronic Groove: Congratulations on the release of All Day I Dream's 'A Winter Sampler IV'! Another smashing collection of tracks, no doubt. And with some stellar names to boot. What has the reception been like so far? What is the process that you go through when selecting the tracks like? Is there a 'storyline' of sorts in your head?
Lee Burridge: There's always a balance in there for sure. This latest release was the biggest yet, but the range really spread out in multiple directions. It's funny, as it's spread across four vinyl, I always try to imagine who might be mixing what together, so I try not to put things on the same side of the vinyl that people might want to mix together. The 'Winter Sampler' always feels a little different from the 'Summer' one. Crisper, less sunny, if you want to give a weather-based analogy to the overall sound I've tried to create. I try my best to showcase new artists to the label here first but have in recent years added in tracks from some of the fan favorites. There's definitely a story to be told across all the tracks, but that's for you to make up the way to play them and the time you chose to play them. I guess there are many stories to be told.
Electronic Groove: What about new music? How do you guys go about selecting which new submissions to sign? What do you generally look for? Is it just you making the final decision about what gets signed or are there others involved?
Lee Burridge: Well, first off, "you guys" is actually just me. I do the A&R for all my labels. This makes it very personal, but at the same time super annoying for some producers as when I am short on time (like now due to the festival) I don't reply very fast. I feel awful, as people pour their heart and soul into their music and send it out with the hope it'll be heard. My inbox fills up fast and I get quite behind sometimes (sorry everyone!!!). Genuinely it really is just a feeling thing though that draws me to the tracks. I know pretty much always if a track has something to it.
Electronic Groove: We know that most times, it also has to do with the artist behind the music. What do you look for there? Do you take 'names' into account?
Lee Burridge: I love getting to know new artists and again you just feel if someone is authentic or not after speaking to them. I've had a few artists that initially needed a little guidance as to how the family of artists and people who work behind the scenes at ADID think, act, and work, but mostly, producers and DJ's trying to grow their careers are very, very kind-hearted, sweet and talented people. You know who's humble and who's not the right fit. Names aren't important to open the door, although I'm always happy to chat with everyone.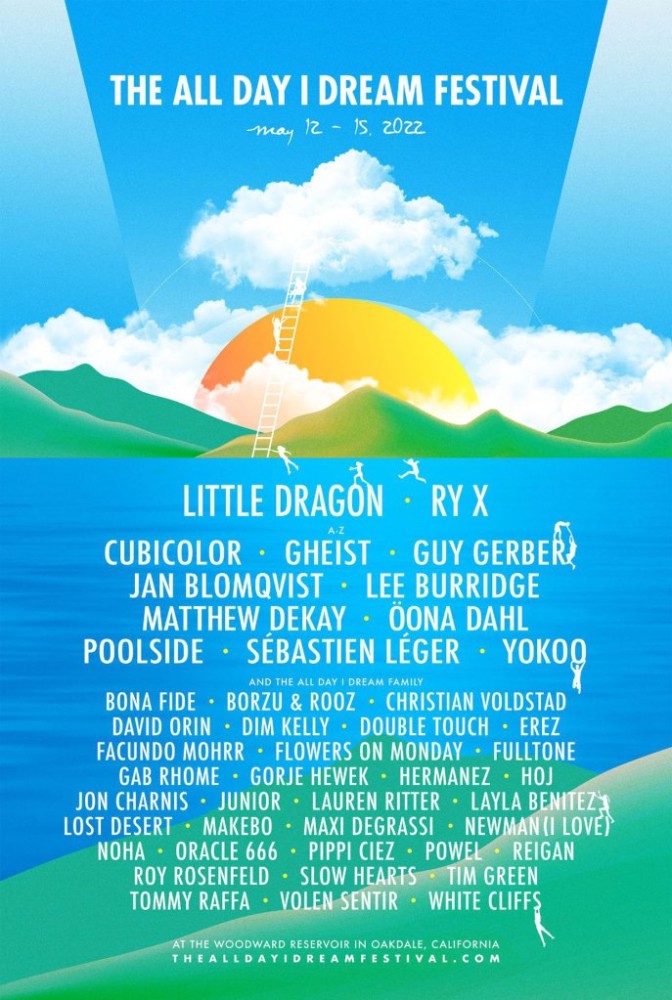 Electronic Groove: How have your latest releases been fairing? Any personal favorites?
Lee Burridge: As I mentioned earlier everything is doing great. I think last year every release but one hit the number one spot in new releases and most were at the top of the chart. It's impossible to pick a favorite as they are all favorites but Tim Green and Pippi Ciez are still in rotation and Sebastien's track 'Feel', and 'Open Form' by Lost Desert and Reigan are classics for me.
Electronic Groove: How hard is it to grow while balancing the financial aspects of running a label and also trying to stay true to that initial artistic motivation that led to its foundation?
Lee Burridge: I guess It depends on the motivation for having a label. Whether it's to only make money or whether it's more for the scene or the art. There are plenty of ways to run a label. I prefer to help grow the artists' profiles, so I like to leave three to four weeks between releases. I understand that buying music is in some ways a luxury as people only have a certain amount of money to spend each month. In terms of the vinyl, I always wanted the clouds (each release) to be something people wanted to collect, so consciously keep the release amount in control. If I was just trying to keep making more money, I think it would be easy to overload the system. Tracks and/or artists get lost in the sheer number of releases coming out and eventually no one benefits long term. I always hoped my and others' music would be pressed onto vinyl, so am pretty nostalgic when it comes to that. It was always one of the motivations to start the label. The distribution company insisted we actually pressed more vinyl in the past two years as we sell out right away for every release. I kind of love the fact that it's still super in demand.
Electronic Groove: In which ways has ADID grown as a brand since its conception? What has been the importance of promotion behind this growth and in which ways have you applied promotion strategies?
Lee Burridge: The first three years, I refused to do anything other than word of mouth for the events as I wanted the crowd to grow organically via a network of friends. After that, I continued to roll things out slowly and still not force ourselves into the musical universe by using PR. I think organic growth was key to the overall ambiance and feel of the brand. The timing was right and allowed a new event as well as the sound to develop and add a new lane to the musical landscape, and if you add in the connections to the Burning Man sets, as well as certain key releases on the label, it all added up to momentum. Once I'd found the right team to help me, we felt confident to build on that, which is when promotion really started to play a role in the project development. To be honest, the strategy really was to not chase the money and do every gig we were offered. To carefully pick places where we believed we could plant a seed and grow the community of dreamers/fans. Coming back multiple times a year to our home cities like New York and San Francisco, while at the same time hosting Summer seasons in places like Scorpios in Mykonos and Cova Santa in Ibiza, as well as one-off events in Warung in Brazil and in Bali, allowed the name and the experience to just keep growing. A lot of people used to focus solely on Europe but I always felt the US had so much room to grow and was deeply important to create a community in. Over the past ten or so years it's just kept on growing and the crowd is amazing. I don't think promotion really was the driver to the success of the brand. I actually think being patient and consistent with the experience while allowing it to grow at an organic pace was much more important.
"To be honest, the strategy really was to not chase the money and do every gig we were offered. To carefully pick places where we believed we could plant a seed and grow the community of dreamers/fans"
Electronic Groove: If someone new to the ADID catalog is looking to dive into it…What pieces would you recommend? Which of your favorite ones encompass the musical vision of the label?
Lee Burridge: Just start from the beginning and take the ride :) Try some Matthew Dekay, Powel, Lost Desert, Sebastien Leger, Double Touch, Lauren Ritter, Yokoo, Facundo Mohrr, and Roy Rosenfeld with your bath ;)
Electronic Groove: What advice would you give to someone looking to set up a 'self-sustainable' (profitable) label?
Lee Burridge: That's tough as it really wasn't my intention. It was more so my hope and belief and actually wanting to give artists a home where they got their music noticed and actually got paid their royalties. Labels still don't make a great deal in the big scheme of things and really should be considered 'passion projects', unless you're trying your best to just release commercial music. Getting noticed is the hardest thing initially. Perhaps focus on quality over quantity. Try to be consistent with the sound of the label. If you release a banging techno track then an ambient release then a dubstep track, you'll likely not have people coming back each and every time. It's about building a core following around a smaller number of artists and hopefully releasing four to six quality releases a year. Maybe this is me, but if it's a single release and not a compilation, I personally give up sometimes when there's eight versions of the same track. Different remixes, etc. Hearing the same track slightly different over and over is somewhat exhausting mentally. Also, have a few releases ready to go so you can be consistent.
Electronic Groove: What else can we expect from Lee Burridge and All Day I Dream in the future? What plans are in store for the brand?
Lee Burridge: Festival, festival, festival!!!!! ….and, maybe, some merchandise, as people have been asking ( laughter). Oh, and I just remixed Elderbrook and Rüfüs Du Sol, BUT they didn't say they liked the tracks yet, so who knows…maybe you'll just have to come hear me play to hear the remixes!
Electronic Groove: Thank you so much for your time, Lee! We wish you and All Day I Dream all the best for the future!
Lee Burridge: Take Care! I'm off to take a listen to banging techno in an elevator to see how it sounds.
The All Day I Dream Festival will take place from May 12th-15th, 2022 at Oakland's Woodward Reservoir. You can learn more and purchase your tickets here.
Follow All Day I Dream: Website |  SoundCloud | Instagram | Facebook
Follow Lee Burridge:  SoundCloud | Instagram | Facebook