Representing the unique sound of one of Russia's prime clubs, WARPP has introduced itself on the progressive house scene as one of the most intriguing new labels around. Purveyor of deep, hypnotic, and fascinatingly entrancing cuts, the label has already seen contributions to its expanding catalog from Dmitry Molosh, Anton MAKe, Zankee Gulati, Tantum, Bondarev, DJ Ruby, and more. Singlehandedly run by Danil Bondarev, WARPP is poised for a solid 2022, and looks to the future with aplomb as it seeks to leave a mark in the progressive world.
We catch up with Danil Bondarev to learn more about WARPP, the origins of the label, its latest releases, how it is curated, its plans for the future as a brand, and much more.
Electronic Groove: Hi Danil! It's an absolute pleasure to have you here with us. How have you been? What have you been up to?
Danil Bondarev: Hi guys! I am also very glad to be here with you! To be honest, I am your long-time reader. I have been living in Goa, India, for the last few months, namely since November 2021, and will be here until March 30th. India has become my second home during the winter cold in Russia (which I can't stand). Here I perform a lot at various parties all over the country.
Electronic Groove: Let's talk about WARPP? How's the label at the moment? Was it hard to kick the label off the ground during these 'pandemic' years?
Danil Bondarev: The label feels great. After only 6 releases (we release 1 EP per month), we have already proven ourselves in such a short period of time and already occupy a place in the Top 20 Hype Progressive Chart and Top 100 in the main Progressive House Chart. Our label started very well thanks to our music (thanks to Anton MAKe and Dmitry Molosh for this), and the knowledge that we had been accumulating for several years and saw the light in the form of our label.
Electronic Groove: So, how did the label come together? What does it mean to represent the sound of one of Russia's premier nightclubs like WARPP? What is the original mission behind the label?
Danil Bondarev: The idea of the label was born a year after the opening of our club (yes, we have our own offline platform where we do cool events), but it came to life thanks to the pandemic. We understood that the club would close sometime and it was decided to create a label that would be recognized not only in Russia, but also far beyond its borders, where the music of our residents and invited artists that played at our parties would be released, and all this would be accompanied by parties from our brand first in Russia, then around the world. We have big plans :)
Electronic Groove: Right now, the label is behind its sixth release, but there has been a very clear sonic thread uniting all the releases. How would you define the sound of the label by now?
Danil Bondarev: Our goal is not to be tied to one genre, but the bias will be in hypnotic, progressive music for prime time. In general, the music that is danced to in our club. Including the warm-up music and the one that plays at the after-party, it turns out that our label, like the club, consists of several levels: Pre-party, Warm-up, Prime Time, and After-party.
"We understood that the club would close sometime and it was decided to create a label that would be recognized, not only in Russia but also far beyond its borders"
Electronic Groove: By the way, congratulations on the release of DJ Ruby & NOIYSE PROJECT's 'Cosmic Alto'! What has the initial reception been like so far? Who have been the biggest champions of the WARPP sound?
Danil Bondarev: Thanks guys, we are happy to have onboard these amazing artists and our friends. 3 days after the release date, the album has already hit the Top 10 Releases Chart in Progressive House, and we are very happy about it! It is very difficult to single out one of our artists, because they are all very talented and have their own contribution and style. So I will say that they are all champions :-P
Electronic Groove: What about new music? How do you guys go about selecting which new submissions to sign? What do you generally look for? We know that most times, it also has to do with the artist behind the music. What do you look for there? Do you take 'names' into account?
Danil Bondarev: As I said at the beginning – we have big plans! We have closed the demo reception from the very beginning, we choose the artist with whom we want to work and he does not necessarily have to be famous. We have a bunch of examples of super talented musicians with very cool sounds, but unfortunately, they are not appreciated by society yet due to various factors. Music and sound quality are above the ranks – this is the main rule.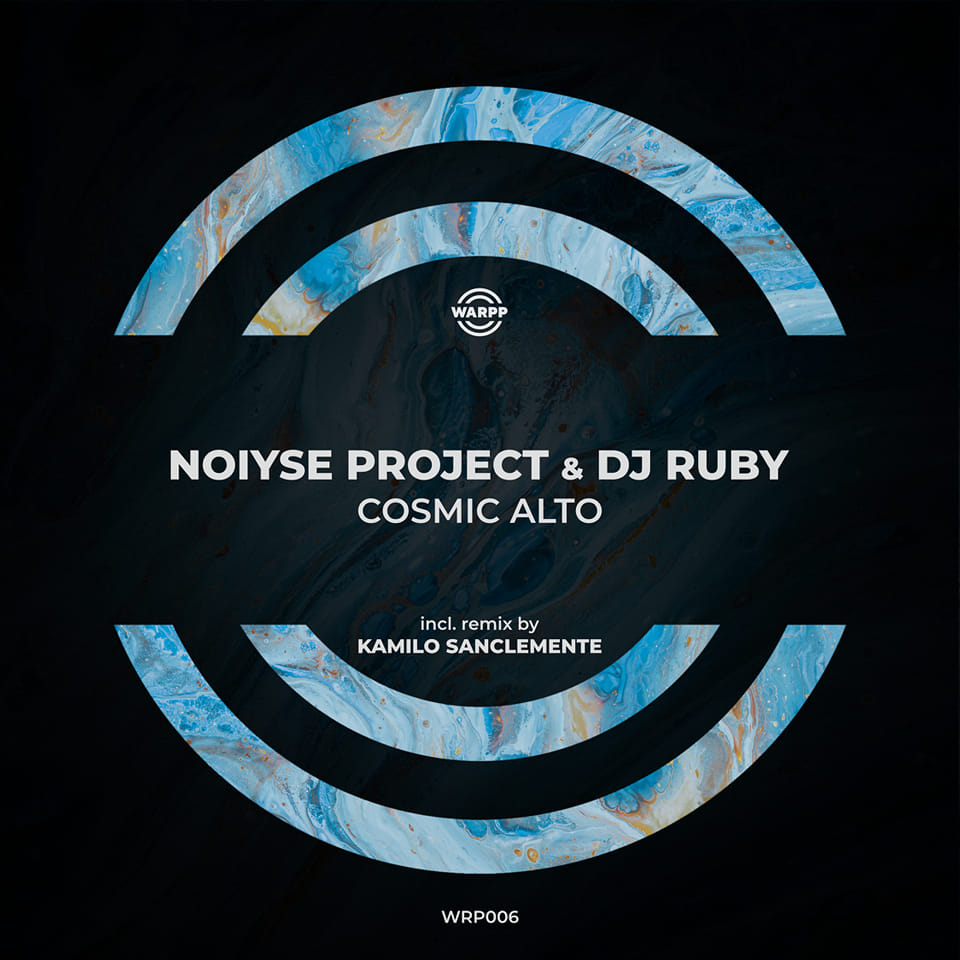 Electronic Groove: Right now, you're doing a phenomenal job taking on every aspect of the label on your own. Did you have an idea of just how much work it would be? Did you talk to other label owners before setting WARPP up? Are you considering expanding your team?
Danil Bondarev: Of course, I had no idea, but at the time of the creation of the label, I already had enough knowledge and a concept of how this should happen. If I delved into this from scratch, I think I would have gone crazy (laughter). Of course, I was interested in many questions from my colleagues and friends, including Alex, the head of the famous and cool Mango Alley label, as well as my old friend, producer, and chic marketer Pavel Ivlev, who runs the Baikonur Recordings label, and of course his own curiosity. Now that all the information is freely available, you can study anything, the main thing is a sincere desire and self-belief. I certainly plan to expand the team, but it will take some time to find exactly the right people.
Electronic Groove: Which release would you recommend to someone looking to get into the sound of WARPP? Any personal favorites?
Danil Bondarev: To be honest, to get acquainted with the label, you can listen to all 6 releases. Each artist manifests himself in his own way and has his own sound, you will appreciate everyone, I am sure.
"We have a bunch of examples of super talented musicians with very cool sounds, but unfortunately, they are not appreciated by society yet due to various factors. Music and sound quality are above the ranks"
Electronic Groove: How hard is it to grow while balancing the financial aspects of running a label and also trying to stay true to that initial artistic motivation that led to its foundation?
Danil Bondarev: It is very important to understand about us that there was no goal to earn money from the label and there is not. This is not an area where you can expect it, at least in our genre. The main thing for us is to create something that will leave its mark in this world in the form of music and unforgettable impressions from our parties, where a warm and family atmosphere always reigns.
Electronic Groove: In which ways has WARPP grown as a brand since its conception? What has been the importance of promotion behind this growth and in which ways have you applied promotion strategies?
Danil Bondarev: Well, starting with parties in a small bar for a maximum of 150 people, we have grown to a two-level club with a total capacity of 400 people, excellent light and sound system, gathered a chic team of residents, among whom half writes music and is published on well-known labels like The Soundgarden, Balance Music, Sudbeat, Radiant, Souksonic, Balkan Connection, Mango Alley, and many others. Bondarev, Ewan Rill, K Loveski; we've brought more than 30 amazing musicians and DJs from all over the world, of course; we've successfully launched our label and we just started <3
We have a vision of what a good product should have: quality graphic design, SMM manager who understands our industry and, the main part, music and emotions.
Electronic Groove: What else can we expect from Bondarev and WARPP in the future? What plans are in store for the brand?
Danil Bondarev: Personally, I am preparing several releases this year, most of them will be in collaboration with my good friends and colleagues, whose tastes I like. The music always turns out interesting and different. I can't tell you all the names whose releases are being prepared, but I promise that they will all be of the highest level.
Electronic Groove: Thank you so much for your time, Danil! We wish you and WARPP all the best for the future!
Danil Bondarev: Thank you very much! We wish prosperity to your team! It was an interesting interview! I would like to thank everyone who listens to our music, follows our parties and especially attends them. There are a lot of surprises waiting for you this year, stay in touch via our social networks.
You can pre-order our new release 'Bondarev & Tali Muss – Octopus (incl. Dmitry Molosh Remix)' on February 11th via Beatport.
WARPP – from Russia with love <3
Follow WARPP: SoundCloud | Instagram | Facebook | Website
Follow Bondarev: SoundCloud | Instagram | Facebook | Spotify