Funk conductor, eclectic savant, and master of good vibes: this is Lonely Boy.
His talents are omnidirectional, spanning a Master's Degree in Jazz Studies, television commercials, bike building, sausage making, ice dancing, and tour gigs on every continent (except Antarctica). Under his new alias, veteran DJ/Producer Joshua Heath has released with such labels as Futureboogie, Culprit, Desert Hearts and Armada Deep, as well as forthcoming releases on Kitsuné and Bunnytiger.
We had the chance to speak with him ahead of his gig at Minimax's Secret Garden 8-bit Edition to be held this November 12th. Here's what he had to say…
Electronic Groove: Hi Lonely Boy, it's a pleasure to chat with you. To get things started tell us about where does the name "Lonely Boy" come from?
Lonely Boy: I hate to say it, but it came from the TV show 'Gossip Girl'. The show, (about a regular guy from Brooklyn who wants to fit in with the elite kits of Manhattan) used to be a guilty pleasure of my wife's, and as such I also watched it. The narrator of the show would regularly finish each episode with a quick recap, often speaking about the Brooklyn kid, who was left out yet again, saying 'Oh Lonely Boy…….' Anyhow I had gone through three potential alias names, none of which really resonated with me, and when I heard her say the line one night, it struck me as a perfect cheeky alias, so I went with it.
Electronic Groove: You're a regular at Desert Hearts. How did you got involved with the gang and their festivals?
Lonely Boy: I attended my first Desert Hearts up in Apple Valley during a snow storm, and besides nearly freezing, really enjoyed the overall experience. Not long after that, a tune of mine which had previously been signed by Lee Burridge for his label Get Weird, ended up back in my possession. My manager ended up giving it to Mikey Lion, who took it to Burning Man, where it became his secret weapon. After the burn, Mikey contacted me about releasing it on their label, to which I agreed. The record was a success for both me and Desert Hearts, and the following spring they invited me to play the festival. I've played every festival since then, become good friends with the whole crew, and couldn't be happier about it!
Electronic Groove: You are playing in Miami on Nov 12th at Minimax Secret Garden's 8-bit edition. Is there any special preparation behind your performance?
Lonely Boy: I'll be playing my live show, so preparation will include auditioning new material to incorporate into the show, and rehearsing the set once I decide on what's going in. Also have to practice my leg kicks in the mirror.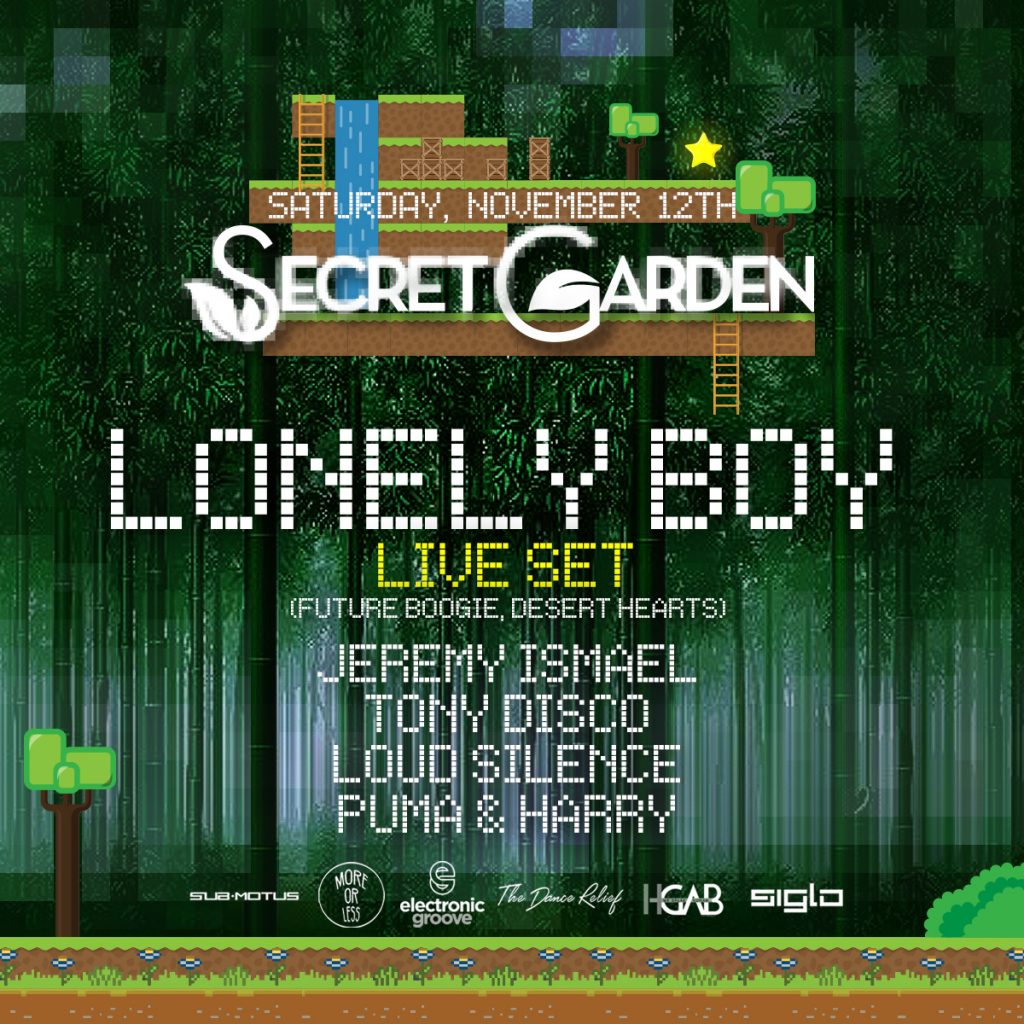 Electronic Groove: The event has a unique theme that will showcase tons of old video game memories. Are you fond of video games and what was your favorite one from back in the day?
Lonely Boy: I'm not a gamer currently, but was into them when I was younger. We got the original Nintendo for Christmas when it first came out, and I loved games like Legend of Zelda, R.C. Pro Am, Contra, and Tecmo Super Bowl.
Electronic Groove: Do you play your own material or is there a mix of different productions and styles?
Lonely Boy: The live show is a mix of my original songs, and other producers music which I have edited and written top lines for. Everything is edited for me to play, sing, vocode or leg kick over.
Electronic Groove: What do you find more fulfilling? Playing live or your studio time?
Lonely Boy: I find both equally fulfilling and challenging. Both have their highs and lows, and are essential parts of my artistry.
Electronic Groove: You're based in LA. What can you tell us about the scene down there in comparison to other US cities?
Lonely Boy: I have been in Los Angeles since 1997, and have seen 'the scene' grow and change in many ways. It's had ups and downs like anywhere else, but over the last five years or so, has really gotten hot! There is great art and music to see/hear on a regular basis, and great talent young and old, consistently injecting their effort and passion into the city. There are great cities and scenes all over the world, but I do love it here!
Electronic Groove: Do you think "real" instruments are compatible with House and Techno? To what extent do you think the machine element and atonality are part of the whole aesthetic?
Lonely Boy: Is this a trick question? Yes, obviously, 'real' instruments are not only compatible, but essential to house and techno. Whether you prefer live instruments, synths or drum machines is totally up to you as a creator or an appreciator. The same goes for atonality or perfectly harmonic music. It's all available and you can choose what tickles your fancy.
Electronic Groove: Can you share with us what do you like to listen when you're chilling out and unwinding?
Lonely Boy: I try to listen to everything. Another great thing about LA is our local listener supported radio station, KCRW. I discover so much great music listening to their DJs. Vinyl Williams is on the radio right now, Jungle is in the CD player of my car, John Coltrane's 'Crescent' is sitting on the turntable, and Dire Straits, Led Zeppelin and Hector Lavoe are all in the queue. Never stop listening!!
Electronic Groove: Thanks for the time! Looking forward to your gig in Miami…
Lonely Boy: Likewise!
Click here for Secret Garden tickets and info