A tropical oasis in the heart of the Nevada Desert.
What do DJ artists Oona Dahl, DJ Three, Brian Cid and Miyagi all have in common? You could have seen them all play at the inaugural Miki Beach Camp at Burning Man last year. We've taken a closer look at the growing sound camp and the minds behind it. A tight-knit diverse group of New York and Miami friends, who feel more like family than friends, now known collectively as MikiMau.
Like the beginning of a classic epic or heroic scale, MikiMau started with a journey abroad. The setting was in Ibiza, Summer of 2013, where a group of unique friends danced until dawn at nightclubs and partied all Dayton the island's white sandy beaches. The escapade was more than just another party, it sparked an idea: and the metaphorical seed was planted.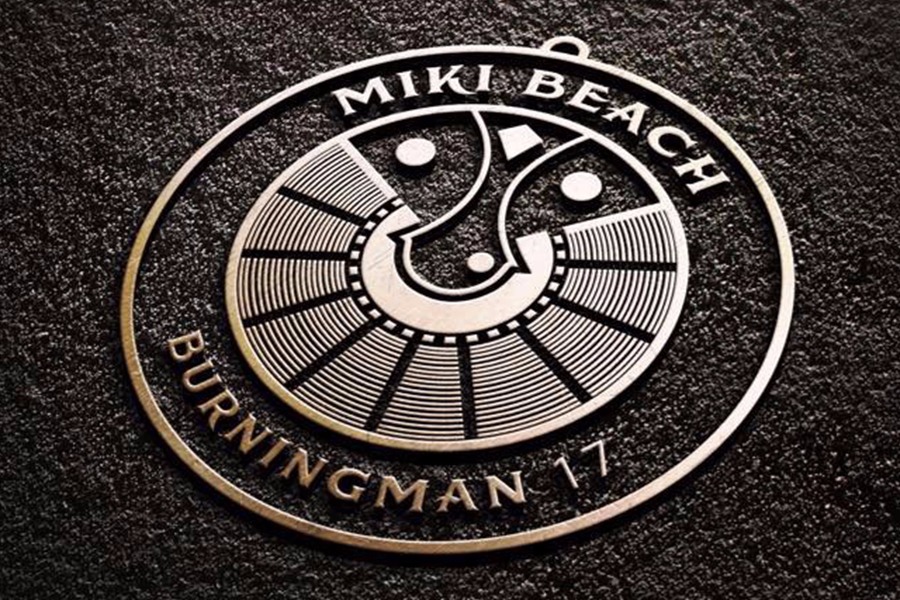 Miami couple, Dan Ruiz and Sandra Rodriguez were among the very first creators of the MikiMau concept. Drawing from the energy and good vibes of Ibiza, they ventured to throw the first event of their own. An intimate boat party that took place on an exclusive forty-two person catamaran during the 2014 Miami Winter Music Conference. After the success of Miami, The Playa became their next dance floor as they journeyed to Burning Man that same year. The community began to grow genuinely and natural, as like-minded people came together from all avenues, leading up to Burning Man 2015 where the idea of the camp was created.
We believe Miki Beach is a true reflection of its leaders and founders. The amalgamation of the heat, spice and passion of Miami with the hustle and grit of New York City is a result of a truly profound camp culture, and, in our opinion, part of the camp's "special sauce" or DNA. While the leaders and founders are from Miami and New York, members of the community hail from all over the vast globe, including Switzerland, Germany, Brazil, Lebanon, Cuba and many more culturally rich destinations. They believe this beautifully eclectic and diverse community is what makes Miki Beach distinctive and special.
When we try and describe the camp's culture, three things come to mind: Sincerity, passion and a go-with-the-flow attitude all contribute to this unique cultivation. The latter reflects two mottos commonly referenced in the Miki Community. "Don't do too much" and "It's probably fine".
There is a silliness that oozes from this collective, but do not let that mislead you- this is one of the most hardworking and dedicated group of individuals we have seen on the Playa. The community will leverage the cohesion and creative bond they've formed to the growth of the camp and enable valuable to strength for the MikiMau community.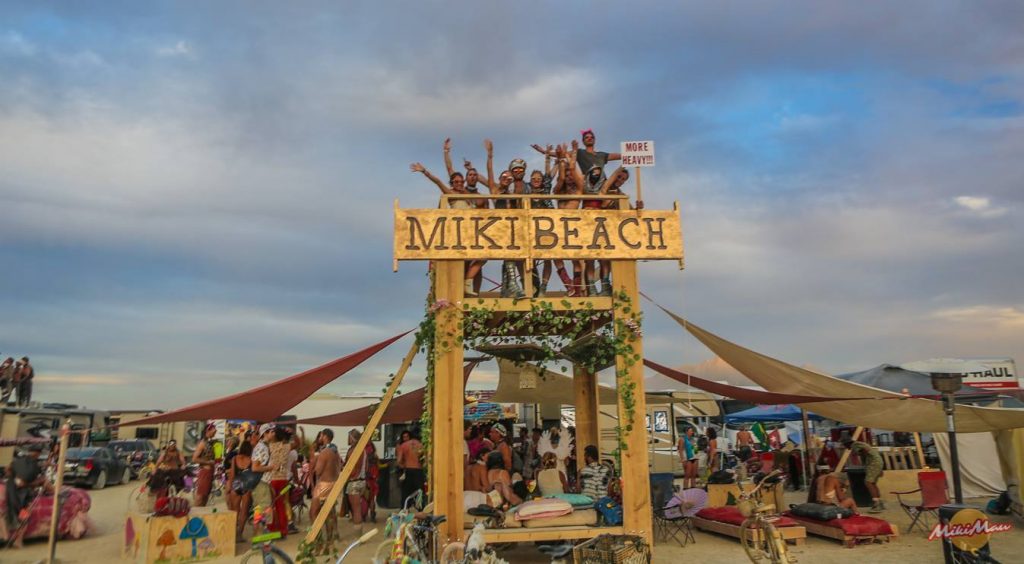 Their mission for Miki Beach is savvy and simple- to create an inclusive community that will continue to inspire collaborations between music lovers, DJs and artists while celebrating the 10 Principles of Burning Man. In celebrating this mission, members expect MikiMau's sophomore Miki Beach camp will be a place to absorb out-of-thisworld dynamic vibes in a fun environment for everyone. (The camp takes radical inclusion, one of the 10 Principles, to heart).
'Sound' is their main feature and contributions the Playa that may initially catch your attention, (they are, after all, 'sound camp'). Miki Beach will be hosting several parties throughout the week and the camp will utilize premium sound equipment, which has been enhanced from last year's setup with a brand new 'sound' activated lighting system. The lineup of artists will not be released prior to Burning Man, however, last year the decks were shared with the likes of Oona Dahl, DL Three, Brian C, Miyagi, Gab Rhome, and Alex Cecil and many renowned others. We would expect to once again procure a stellar lineup for the Playa 2017.
While music might be the common thread and first love amongst many members, the camp embraces and is dedicated to participation, (another of the 10 Principles), on the Playa beyond it's well established music and gatherings. This August, campers and passers-by can assert a wide array of Playa interactivity, including Floridian palm oil hand massages, Caribbean inspired beverages, sun block giveaways, essential oils, sunrise breakfasts, yoga, fun activities involving existential questions like "hot dogs or legs", (yes, seriously) and so many other FUN surprises.
We have found that our interaction and experience with the MikiMau Community has been more than memorable, fun and exciting! We most certainly are looking forward to what is ahead for Miki Beach in 2017. We hope that you decide to come help ignite some magic with us as well. The Mikimau epic is still just beginning.