Today marks the 20th anniversary of one of Global Underground's landmark mixes from one of its main headliners during the turn of the millennium: GU 018 Nick Warren – Amsterdam. True to the British artist's style, the set is a statement in class and expertise, masterfully selected and mixed, that stands on its own, which is by itself an impressive feat given the quality of his previously released Prague, Brazil, and Budapest brand mixes. This time, the music focuses on deeper vibes and pushes further into progressive territory than in previous outings, though a rousing, peak-time track pops up here and there from time to time. Memorable by all accounts, Nick Warren's Amsterdam mix really is one of the building blocks of today's worldwide electronic music scene, and aging quite well I might add, an essential listen for anyone seeking to gain a deeper appreciation of dance music culture.
Bristol DJ and producer Nick Warren was one of the mainstays of the early mixes of the Global Underground series, a roster that included the cream of international DJs at the edge of the new millennium including Sasha, John Digweed, Dave Seaman, Paul Oakenfold, Danny Tenaglia, and the late, great, Tony De Vit. Before his Amsterdam mix, Warren had already released three previous collections for the imprint, one each year starting in 1997 with his classic Prague set. Needless to say, the series left a lasting imprint on the electronic music scene and became the benchmark for many aspiring DJs, clearly influencing the sounds that were to come.
Following his magnificent Budapest mix, Warren took a turn towards the progressive in his Amsterdam set, based on his gig at the Melkweg club. Never one to stick to any particular style, he crafted a session that begins deep on part 1, building up to the Way Out West track 'Intensify', after which, true to its name, things get intense and the groove turns to a peak-time house vibe, then slowly descending again to finish with the melodic 'States of Mind' by Soul Driver.
Part 2 grabs hold right away with 'Groove Attack' by H-Bomb and DJ Gogo's 'Ajuna' leading the way to the anthemic 'Sparc' by Futureshock, a solid combination that energizes the atmosphere and lays down the no-holds-barred attitude of this portion of the set. Afterward, the melody takes over while keeping energy levels intact, going in and out of progressive sounds and harder-edged club tracks and featuring huge cuts like Zenith's 'Swarm', Sonic Infusion's 'Reformatted' and Nick Hook's 'Enhanced'. The BPMs are set to high and the tracks drop like bombs in what truly is a dancefloor-destroying mix, expertly guided by Warren's deft hand, who makes the music ebb and flow, back and forth, up and down, entrancing us and taking us through a unique journey even 20 years later.
GU 018 – Amsterdam gives us a glimpse at Nick Warren's progression as a DJ through the last 20 years, which is in a way a glimpse at dance music's progression as well, given the instrumental nature of Mr. Warren's contributions to the genre. When compared with his previous GU mixes, this set marks its own territory with a deeper, edgier sound. When viewed by itself, it's an inspiring work that includes many unforgettable tracks in a tight, precise mix that, at least for me, stands as one of the greatest ever.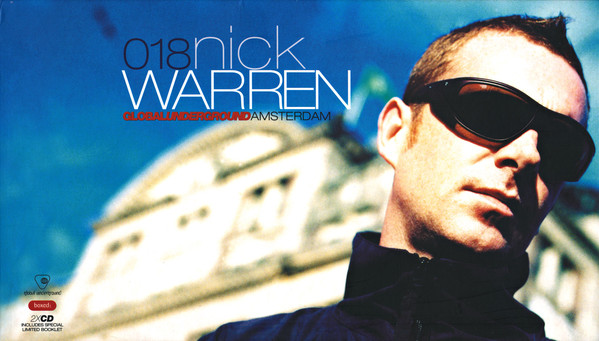 Follow Nick Warren: Facebook | Instagram | Soundcloud | Spotify