For the occasion, the brand will host 13 parties around the world.
'fünfzehn', the name chosen by Osgut Ton for the celebrations, will be held in 12 selected cities, across 13 parties that will be taking place this year, from May 1st to December 5th. Venues like New York's Basement, Contact in Tokyo and Brussel's C12 are some of the highlights of the tour.
The largest event will take place at Essen's Mischanlage/Kokerei Zollverein, a UNESCO world heritage site, known previously as a coal processing plant. For their annual Ostgut Ton Nacht, the imprint will be taking over Berghain's floors, Panorama Bar, Garten, Lab.oratory, and Elektroakustischer Salon.
Each 'fünfzehn' line up will remain unrevealed, but the label announced that they will feature members of their roster from their 'past, present, and future'. 
On another note, the label also teased two releases to mark the occasion. They will be available in April and August.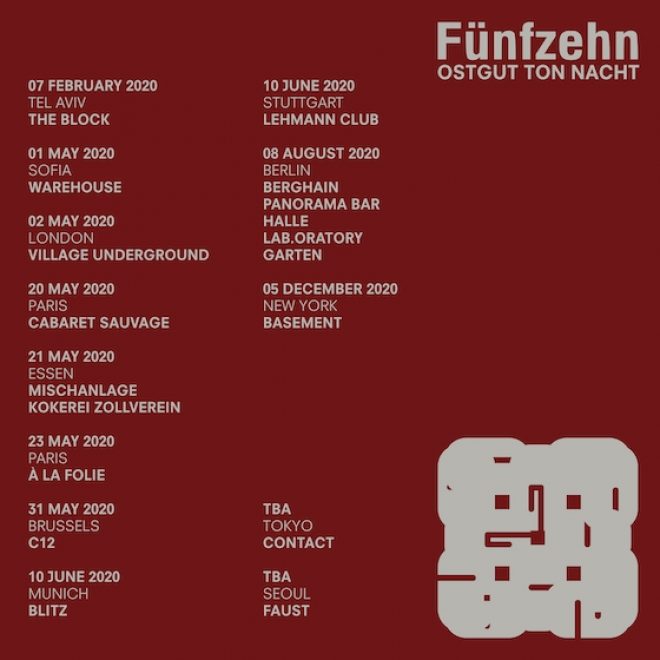 Tour Dates:
Feb 07  Ostgut Fünfzehn, The Block, Tel Aviv
May 01  Ostgut Ton Nacht, Sofia Warehouse, Bulgaria
May 02  Ostgut Ton Nacht, Village Underground, London
May 20  Ostgut Ton Nacht, Cabaret Sauvage, Paris
May 21  Ostgut Ton Tag / Nacht, Mischanlage, Dortmund / Essen
May 23  Ostgut Ton Nacht, à la Folie Paris, Paris
May 31  Ostgut Ton Nacht, C12, Brussels
Jun 10  Ostgut Ton Nacht, Lehmann Club, Stuttgart
Jun 10  Ostgut Ton Nacht, BLITZ, Munich
Aug 08  Ostgut Ton Nach.., Berghain | Panorama Bar | Säule, Berlin
Dec 05  Ostgut Ton Nacht, Basement, New York