Peter Gregson is a renowned composer, cellist, and Deutsche Grammophon recording artist set to release his fifth studio LP, 'Patina'. His music is regularly sought out by the most exciting choreographers and dance companies in the world, recently including the Theaterhaus Stuttgart / Gauthier Dance, Joffrey Ballet, PA Ballet, Dutch National Ballet, and Ballet BC.
'Patina' is his most expansive and expressive work to date, featuring an astonishing array of analog electronic instruments, a string ensemble, and his unique solo cello, brought together to explore the theme of absence. The upcoming record is the world's first album specifically recorded and designed for Dolby Atmos audio.
In celebration of the release of Peter Gregson's 'Over', the third single from his forthcoming 'Patina' album, he shares 5 tips that have worked for him in the studio.
1. Listen To Everything
If you aren't already inclined this way, try making a habit of listening to music far and away from your 'base' genre. Things we take for granted in the 'classical' world, for example, may not even be 'applicable' in the rap or electronica worlds at first glance… you can learn so much by challenging your listening tastes, which lead me to realize just how narrow our references and inspirations are by listening to 'home' music: it's like an echo chamber, where all pianos sound alike, all strings have the same texture… the hierarchy is usually pretty similar. But what happens when you bring sonic references from synthwave to core classical string writing? There's a whole world to discover!
2. Say Yes
I'm a huge fan of collaborations, whether it's remixes/reworks, performing on other people's albums, film scores, composing for other people… I love it all. So many amazing opportunities have come about years after saying yes to something less glamorous. The truth is, I just like being busy, and finding other musicians and musical veins very inspiring.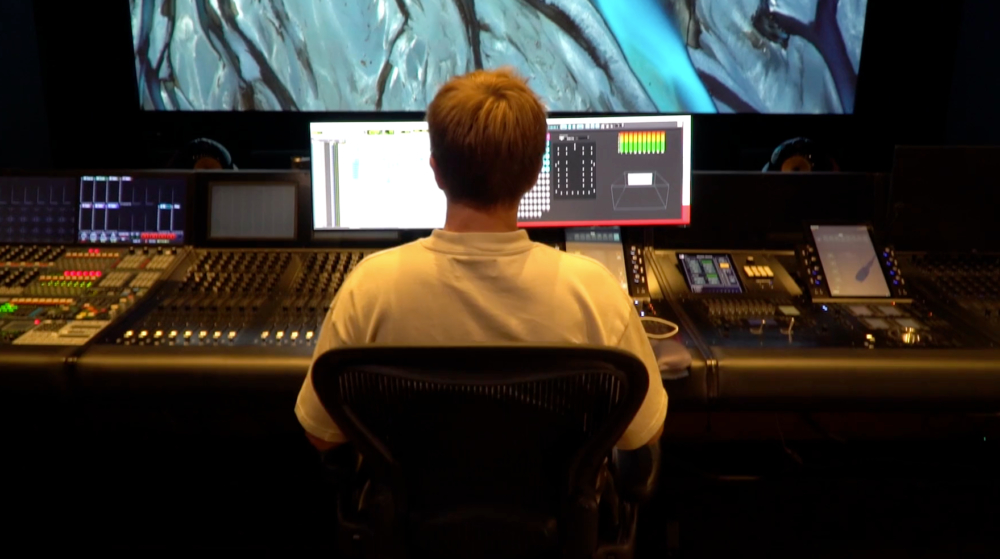 3. Understand Space
Music can be defined as the 'organization of sound in time'. I'd like to add 'space' to that – in this context, I'm referring to reverb. Instruments and voices make a different sound when played in different rooms; players respond differently to their instruments in different spaces and different contexts. To me, it's just as important to consider what room the music is being performed/recorded in as the arrangement itself. I think by really considering the change brought about in these different spaces, we can create something special, and challenge ourselves to listen differently. I rarely use one reverb to splash over my music, it's always made up of lots of small moments and different types of reverb. I'm a real sucker for analog reverbs, but even more, I'm a huge believer in re-amping synths in specific rooms to achieve specific sounds. A Juno arp re-amped in a church hall, for example, takes on special new properties that an electronic instrument cannot possess – and in that process, it becomes an acoustic instrument, bouncing off the walls of a building before hitting our ears. Much more human! I'm on a mission to really control the sound of my cello, not in the way that a classical cello sounds, but to consider it more as a vocal – an identifiable sonic fingerprint in the way that Kanye West is identifiably different from Jay-Z, or Billie Eilish distinctly separate from Dua Lipa. Often, the cello is recorded in the way the cello is recorded because that's how it's done – and the sound is halfway back in a big concert hall. And that's fine, most of the time. But what if the 'concert hall' has changed, and the space we are hearing music in now is much more intimate…Does it still need to transport you to the concert hall? Or could this be an opportunity to use the sonics of the recording to tell more of the story? That's the position I'm taking, and spent months A/B-ing large-diaphragm condenser mics, pre-amps, AD/DA converters, etc, to find the right chain for my instrument. I settled on a Telefunken ELAM251, GML 8304 pres, and Burl AD/DA to really create a tactile sound which I feel conveys my sound the best. This then goes into an AMS RMX16 Ambience for the main sound, then fed into two Tegler Raumzeitmaschines: one a dirty, dusty room sound, and the other a lush Hall sound with lots of character. If I'm looking for a more 'real' sound, it's either Bricasti M7 'Large & Deep' or Eventide SP2016 Stereo Hall, both of which just bed in really nicely.
4. Creative Reverb
More reverb chat! I just think it's such a misunderstood dimension to composition/production. There's a stock Pro Tools plugin called D-Verb which is fabulous for creating textured, relevant effects which don't obstruct the central musical idea. I like to use it like this: extract a small element of audio from, say, a vocal…render it 100% wet with the reverb time set to 'infinite'. It ends up making a mad-sounding thing as long as you've set the region (this effect stands up in any DAW, you just need to replace out the stock reverb plugin, the dirtier the better!) which is then ready for bedding in. I love cutting the low end off it, leaving a bright memory of the sound you first extracted, then fade it up and down around the supporting elements to have it float and create this subtle memory-style reverb. If you do this a few times you can create really subtle chordal elements which just bed in really well!
5. Distortion
It doesn't always have to be an aggressive sound. I love exploring bit crushing (Spectre is a terrific plugin for this) and rectifying audio as a way to heighten contrast, or make us appreciate the smoother sounds in a piece – I guess it's like putting salt in a chocolate cake. It isn't to make the cake savory, it's to heighten the sweetness… I think distortion can have the same effect, and is a very useful tool, especially when used subtly (if you can imagine that!)
Stream and buy Peter Gregson's 'Over' here.
Follow Peter Gregson: Facebook | Instagram | Soundcloud | Spotify