Photo credit: Roberto Brundo
It's an amusing paradox how Parra for Cuva's music
, containing recordings of the South American ronroco, an Indian flute player, and the hammered dulcimer, an ancient Persian instrument, was almost entirely produced within the four walls of the artist's studio in Berlin. That's the beauty of the 21st century though, one barely has to leave a room to travel far and wide.
Parra for Cuva's previous highly acclaimed album, 'Paspatou', already carved a unique position for the artist who brought a truly original sound to electronic music by mixing emotional dance floor experimentations with acoustic and ethnic soundscapes. His new single 'Ordel' takes this global exploration even further with the participation of seven musicians from around the world. For the artist, music-making isn't about converging ideologies and world views, rather these multi-cultural collaborations were forged solely on the basis of a mutual love of music.
'Ordel'
is Parra for Cuva's new single. Musically the track offers what
Parra for Cuva
does best, namely mixing wildly different sonic elements and styles into a coherent and meditative sound journey with subtle twists that interrupt the hypnotic groove. Singer
Kyson's
airy vocals give the song a tint of melancholy, while British neo-soul musician
Beau Diako
provided the gentle guitar strings that carry the track forward. In the end,
'Ordel'
is a dreamy escape into simpler times. The track's music video was directed by Japanese-Brazilian filmmaker
Rodrigo Inada
, who complimented the music with visuals that convey the absolute freedom of childhood and a bird's flight.
Today Parra for Cuva shares 5 key tips for studio production.
1. Use original vocal samples
There are many good ways to find good samples, but sometimes it can be worth it to make a detour and not always go on 'Splice', etc. If you are in need of vocal samples, go to Youtube and google random stuff such as 'Chinese Acapella Volk Song'. Or go on Google Maps and look for a region that sounds exotic to you and then search the region and any acapella versions of songs that pop up.
2. Use Soundscape and Sound-design in your mix
Nothing is more powerful than using sound-design in your mix. This doesn't mean you have to be a specialist. Just take your phone, hit record, drop a penny or two on a table, load this into your DAW, boost the shit out of it, reverse it and you have a great 'build-up' which you can use before a drop or in other parts. Soundscape can also be useful for your mix. Just get yourself 'PaulStrech' and import some melodic parts of your song and you will have a perfect soundscape to put under your track.
3. Guitar pedal and synthesizer
If you own a synthesizer and a guitar pedal of any kind, try to take a stereo signal out of your synth, and then the left channel goes directly into the sound card and the other side (in this case, the right channel) goes into the guitar pedal first and then into the sound card. You will find out that this will create a great, weird stereo image. I for example use a Pad from the 'Nord Stage 2' and a 'Z.Vex lo fi pedal'.
4. Velocity
Try to make your drums more recognizable. First, try to adjust the velocity in your midi drums. Every hit should have a different velocity. What really makes a difference is getting some real Hi-hats and recording them with a microphone. If you do that and play along with your song and layer them with your midi drums it will make a huge difference. In general, try to layer drums as much as possible.
5. Instruments
Buy as many real instruments as possible even if you can't play them. I know that might not sound very special but collecting instruments made a big difference for my sound. It always makes the music more unique and organic.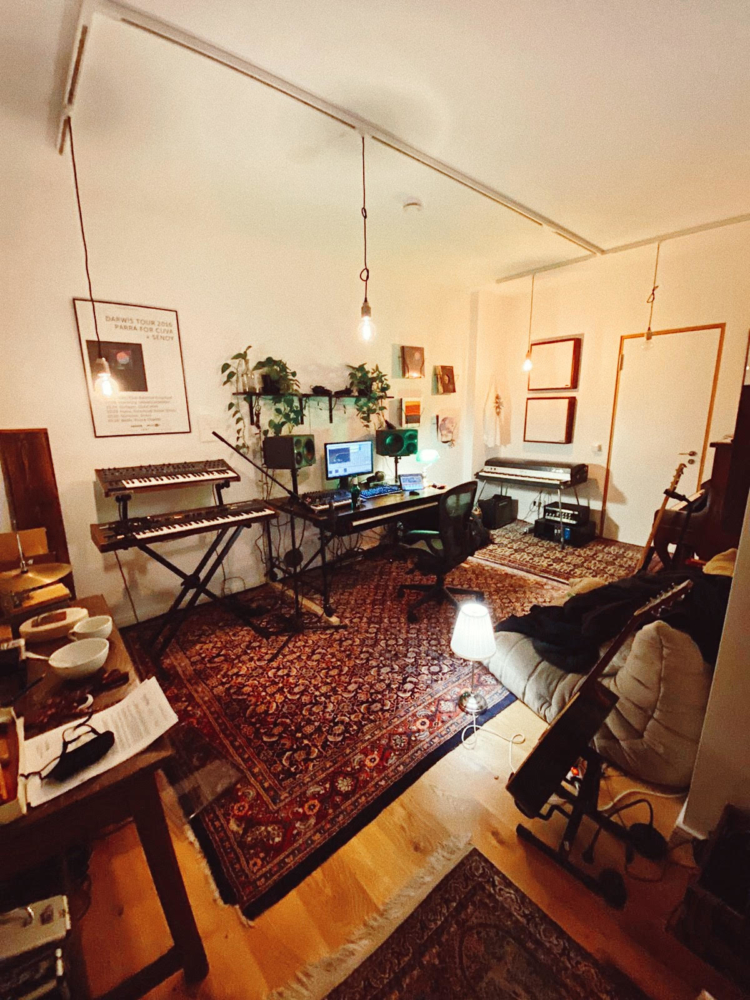 Parra for Cuva's 'Ordel' is now available. Stream and buy here. 
Follow Parra For Cuva: Facebook | Instagram | Soundcloud | Spotify