Red Axes are heading out on an exclusive All-Nighter tour that will see the pair play sets made up entirely of their own music, taking them from London, across Europe, and finally to their homeland of Israel on March 31st, 2023.
Since 2010 Red Axes, AKA Dori Sadovnik and Niv Arzi, have written over 2000 tracks, and only a small number have been released. So their "100% originals" tour is the only opportunity to hear the full spectrum of the duo's artistry and experience the evolution of their music as well as their versatility as producers.
Red Axes will play music from all eras, inspired by the people they've met, the musicians they've jammed with, and the places they've traveled. Whether it's one of their first-ever productions, a secret remix, or an unreleased edit, many of the tracks have never before been played, and will likely never be released. This tour gives them the opportunity to warm up, headline, and cool down all in one night.
To celebrate the start of their All-Nighter 100% tour, Red Axes share 10 inspiring tracks that fueled their passion for electronic music.
1. Kraftwerk – Radioactivity
"The discovery of this song changed a lot in our musical perception, we used to play a cover in our live shows during the Red Cotto band days." 
2. New Order – Blue Monday
"Another mega classic but that song is a great example of dance electronic and indie music mixing together perfectly, it's a dance culture game changer." 
3. Peter Richard – Walking In The Neon
"During our time with the band in Amsterdam, we used to hear this song in loops. Italo masterpiece and inspirational synths" 
4. Psychic TV – Horror House
"Genesis sings "I have a house it's not my house". That was actually when it started to feel natural and welcoming to start digging deep into the house culture" 
5. Fingers Inc. – Mystery of Love (Instrumental Mix)
"Some things like this helped us to understand the way it should sound like when we first started. The roots…"
6. Fad Gadget – Lady Shave 
"Another huge inspiration for us. The attitude of making crazy good music with no borders and with minimalistic wisdom." 
7. Solid Space – Space Museum
"During the work of our first Red Axes studio album, 'Ballad Of The Ice', we were listening to this album non-stop. Emotional synth wave dream." 
8. Its A fine Line – Grease
"Discovered in a Trevor Jackson DJ set at a party in Tel Aviv. That record led to our discovery of I'm A Cliché, Cosmo Vitelli's first label. It was our home for a few good years. Anyways, Ivan and Tim wrote here the coolest Rockabilly/Dance track ever made." 
9. Daft Punk – Alive 
"Rock n Roll in the club or in the rave or wherever. We saw Daft Punk in 2007 it was mesmerizing." 
10. Lena Platonos – Witches
"The last one, although there are so many more…We got this record from Josh from  Dark Entries. We were lucky enough to remix it and to meet Lena in Athens. It represents a lot to us, from the beautiful music and soul of Lena to the joy and pleasantness of working with Josh and his label." 
Red Axes are on tour now. Check out future dates and purchase your tickets here.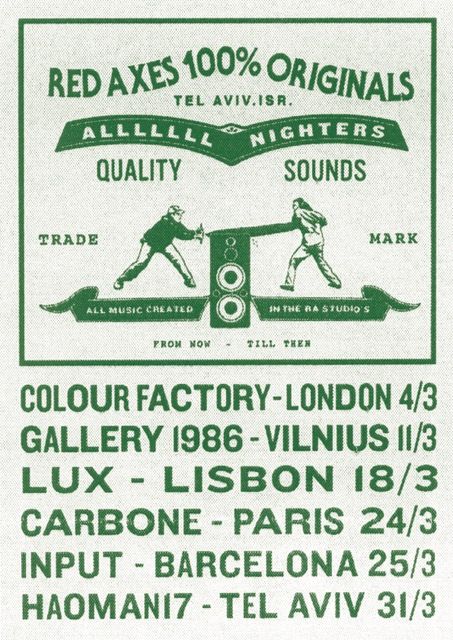 Follow Red Axes: Instagram | Facebook | Soundcloud | Spotify