My memories of Solomun and H.O.S.H. go way back to the first time I ever saw them play during the Winter Music Conference in Miami in 2008, two years after the Diynamic label launched. We had gone to a pool party to see the legendary Ben Watt play but when we arrived we saw these two guys killing it behind the decks with so much energy the crowd just over flowed with smiles and looks of 'who the hell are these guys?' I had to find out who they were so after asking several people who didn't know either of them, I went to the backstage area and finally found someone who did know who the bouncing duo were. I asked the first guy I saw and he replied in a German accent "that is Solomun and H.O.S.H., and I'm Stimming". From that moment on I paid very close attention to all of them and I've heard them play every chance I've had ever since.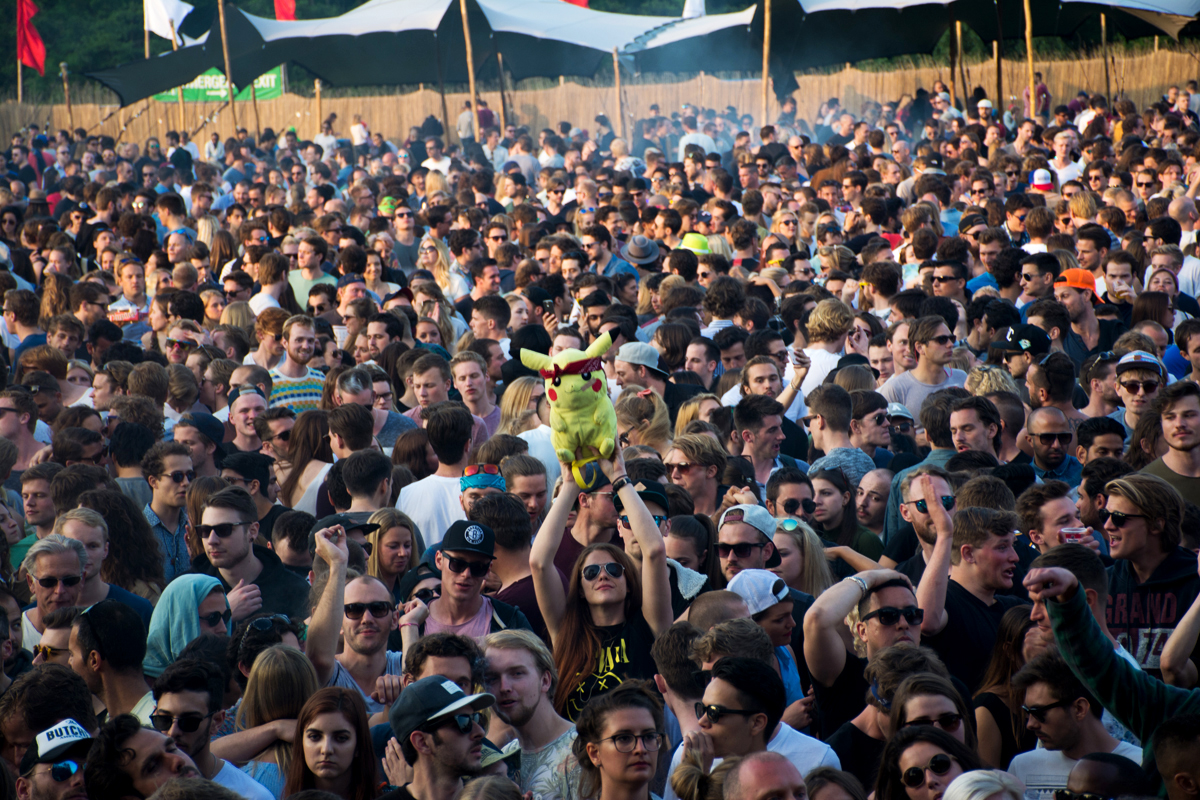 So when I discovered that they were hosting their own festival (the only label I know of doing so) with the full Diynamic family of artists, I instantly knew it was something that couldn't be missed. Straight after I bought the tickets I realized it was on a Friday. So out of the crowd of over 5,000 fans, many had ditched work to be there, which created an audience of dedicated music enthusiasts.
I arrived to the sounds of Adriatique, the Swiss duo that never disappoints. The sun was shining and it was a gorgeous day to be in Amsterdam Bos Park. We all celebrated the amazing music and grinned cheekily at the fact that some of our colleagues were stuck in the office while we made the much better decision to hit the park and dance on one of the rarely perfect Amsterdam summer days.
Next up was H.O.S.H. at the decks who always plays such a smoothly curated set of hidden gems, such as Noir & Olivier Giacomotto – Reste (Raxon Remix). I must say it's a proud moment when you realize you are dancing in a crowd of thousands of people to a track that one of your good friends remixed, well done Raxon!
Like most festivals there was another stage but I was so glued to the main stage I just couldn't leave. H.O.S.H had wound up the crowd perfectly which prepared the German duo Kollektive Turmstrasse to take over the decks. Tune after tune they continued to build the energy to the panicle moment when another confetti canon popped and the beat dropped to their hit 'Sorry I'm Late'. The crowd went absolutely mental! I often find it hard to get those unifying moments at a big festivals but these guys made it happen, which is why this was my favourite set of the day!
Soon it was time for the main man Solomun to take over and finish off a truly Diynamic day. The sun had set leaving beautiful pink and purple hues in the sky that made for for a wonderful technicolor view when combined with the lasers that beamed into the crowd. Solomun was definitely enjoying his time behind the decks as he played tracks like tracks like 'Moloko – Sing it Back (Mousse T's feel love remix)'. With only two hours slots each DJ had to make the most of their play time and Solomun definitely delivered. As his closing track approached the stage illuminated, smoke burst into the crowd and the last confetti canon blasted into the air. Like large glittery snowflakes in the night sky the confetti fell into the crowd as Solomun finally said good night with his own remix of 'Whilk and Misky – Clap Your Hands', which had everyone's hands in the air wishing the festival didn't have to end so soon.
Amsterdam law requires all outdoor festivals to end at 11pm but we had built up so much energy from the amazing music throughout the day we just couldn't call it quits. So we headed over to the official Diynamic after party which was held at Radion, winner of the best club in Amsterdam at the local nightlife awards held this past March. Across two different rooms the club was packed full of party punters who just couldn't stop dancing. Adriatique played the main room the whole night taking people on a very melodic trip while in the other room Magdalena played back to back with Thyladomid and got the crowd prepared for Undercatt, who definitely stole the show. I had never heard these guys play before but I was glued to every sound they played. They took us on a real techno trip that dived deep into every part of your brain that absorbed the music. After a full day of raving at a festival you'd think our legs would have hit the finish line but we just couldn't stop dancing! Many of their track selections were their own unreleased productions which they mixed in with tracks like 'Fango – Valvae' that made their set a story worth listening to. Then 6am came and their set finished so everyone had to move over to the main room where Adriatique had thirty more minutes to go. It was a blissful half an hour of deeper tunes that sent us off into the morning light so happy that we stayed right until the end.
Thank you to all the Diynamic artists and everyone involved that made the day so special, we can't wait to do it again soon!
Photos by Lisa Sant & Jeunique Mingels