More than just DJs, Cristiano & Sheena Savage have been branded as an experience. Using music as their language, they communicate sounds of connectivity, intimacy and melodic pleasure. Savage & SHē delve in a wide range of tempos and genre experimentation that has been refined into what they call their 'Sonic Journey'. Refusing to limit genres of inspiration, one can expect to hear influences from all across the globe.
Through their own songs, Live, and DJ sets, Savage & SHē stand out for their earthly sounds with a clear connection to Gaia. Having toured all over the world, the pair are set for the skies once again with a Summer tour, and are bound to make proper noise through a string of upcoming releases on some of the most renowned labels, like Nick Warren's 'The Soundgarden'.
We caught up with Savage & SHē to talk about how they met, how their chemistry works, balancing life through a pandemic, learning to live better, and much more.
Electronic Groove: Hi Sheena! Hi Cristiano! It's a true pleasure to have you guys here with us. How have you've been doing? How have you been keeping busy so far?
Savage & SHē: Hi guys! We are so happy to be here with you. In such unusual times, we are extremely grateful to have been very busy, balanced & creative. We recently returned home to Mexico from touring June – August in Europe & North Africa feeling very inspired by the energy we received from the people in each country. We are so blessed to return to the dancefloor, to be together again.
Electronic Groove: Let's rewind this one back to the very start…How did you guys meet? Was the connection for Savage & SHē instant or did it develop over time?
Savage & SHē: Savage & SHē was born before the name, our musical connection was instant; we have both been lifelong musicians, in a range of genres. When we met we started an acoustic project together. That project quickly turned electronic and the story begins there. Starting out in Toronto, Canada in 2015 as a DJ Duo we progressively integrated more live elements each year.
Electronic Groove: Where were you at, musically, before you connected with each other? How does the chemistry work? Does one have tendencies to go where the other wouldn't normally go?
Savage & SHē: At the time we started our project we had both taken a break from writing, but when we were together we were inspired to create. That's the chemistry we have together, when we write or perform together something special always comes from that journey. We definitely contrast each other in a good way, hence the name Savage & SHē. When it comes to performing or writing music together, we have both the masculine & feminine frequencies.
Electronic Groove: What is your 'Sonic Journey'? What narratives can one find behind your sound? What kind of things move you?
Savage & SHē: Our Sonic Journey is the storytelling that comes from our extended sets. We began this concept as a Party in Tulum at Nômade in 2019, Performing 3-5 Hour Sets at sunset (often turning into another 6+ Hour after-party performance) where we took the crowd from a calm ethereal downtempo to an Afro/Organic House moonlit beach party. When we are curating a performance short or long we are telling a story. Our sound is ever-evolving but our focal point is always organic, raw, natural soundscapes, from downtempo to techno there always needs to be life; Pachamama.
"When it comes to performing or writing music together, we have both the masculine & feminine frequencies"
Electronic Groove: You've got quite a handful of exciting releases coming up in the next few months….Is there anything you can give away about these at the moment?
Savage & SHē: YES! We are very excited to share our new projects with the world. We have a great flow going of upcoming releases as well as new projects being cooked up. We have two tracks dropping in September, a remix for Adam Husa on IAMHER out on September 10th as well as a collaboration with Tavi Castro called 'Noches En Tulum' out on September 11th. We have a few more projects coming out in October/November, we can't wait to share more details soon. To close out the year we make our debut on The Soundgarden in December. The track is called 'Our Generation's Greatest Lesson' and it is a song that was born at the beginning of 2020, a year in which we all expected something completely different than we received; A moment when we all stopped and looked inside ourselves for the first time.
Electronic Groove: And there's also a new upcoming tour with confirmed dates across Mexico, Costa Rica, North Africa, and the US! Congratulations! Are there any new stops on the map? Any particular place you're excited to see? How does it feel to be able to tour after so long?
Savage & SHē: We are so excited to visit so many new places this winter, we have tour dates in parts of Mexico we have never been to, which is very exciting for us. Mexico has such diversity, each place has its own magic spark.
We are traveling to Costa Rica for the first time, performing with Lee Burridge in what looks like a little piece of heaven on earth. Touring right now is a blessing beyond words, and though it has become increasingly more difficult to travel, we are making the best of the restrictions and going where the wind blows us. As musicians touring is how we make our living. Having gone through times where that reality wasn't possible was terrifying, but we have done our best at staying positive and grateful for what we do have.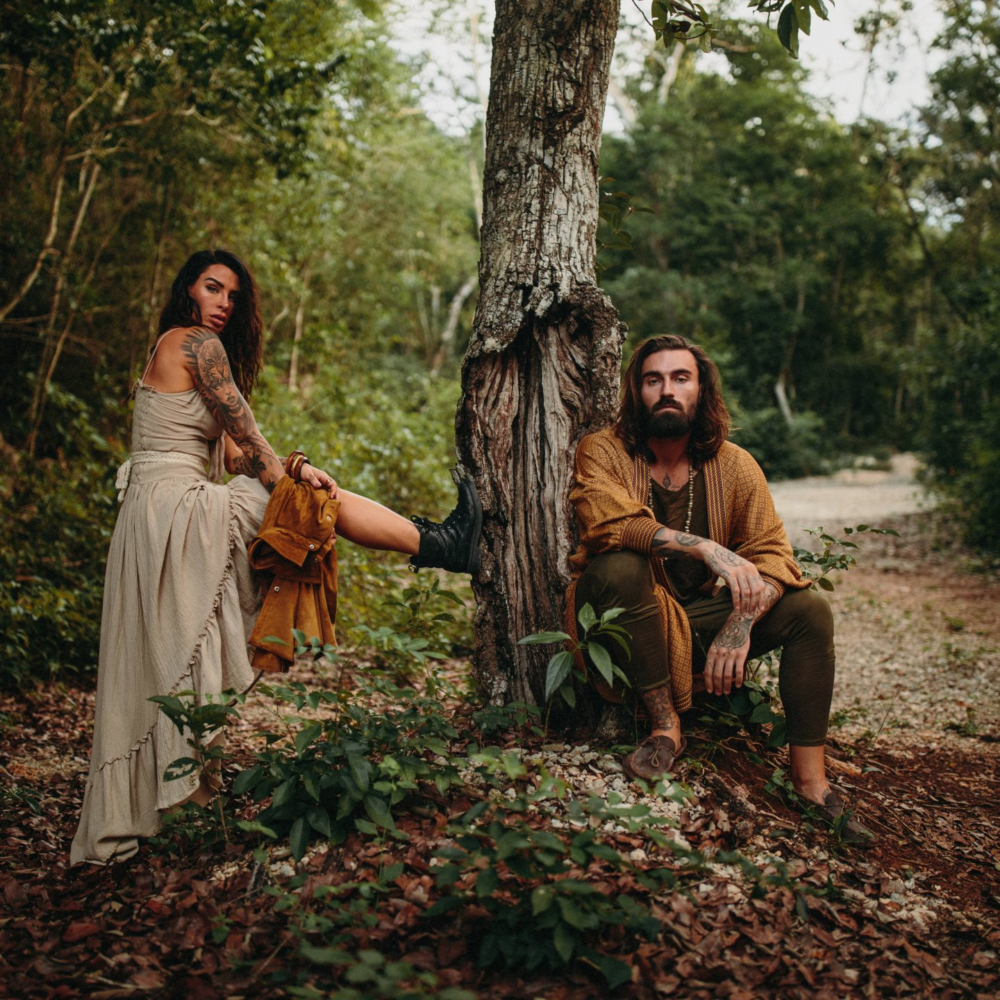 Electronic Groove: How did you go through lockdown? Did you change any habits? Did you have to find 'safe' spaces to create with everything going on? Can you create anywhere, or do you depend on a particular space, rather than a specific mindset?
Savage & SHē: During the lockdown, we were very fortunate to have our full studio in our home in Tulum. In that space we feel most creative; however, we feel it is 100% mindset over space. If we were sitting in the world's best studio but our minds weren't settled, nothing would come of it.
During the beginning of the lockdown, we quickly turned away from the social media and news going on and focused on the positives of being home with our dogs and not being stuck on the other side of the world on tour. We spent this time focusing on our mental/physical wellness, living in the jungle allowed us to connect with nature away from all the chaos. We used this newfound stillness to create art in many forms and reanalyzed what we needed to be happy at home and on the road.
Electronic Groove: What else is there in store for Savage & SHē? What are the next steps in this captivating story?
Savage & SHē: We have a lot more to share with you all, including our 'Full Live Tour Summer' 2022. Continuing to explore our Sonic Journey we look forward to dancing with each and every one of you!
"We used this newfound stillness to create art in many forms and reanalyzed what we needed to be happy at home and on the road"
Electronic Groove: Thank you so much for your time! We hope to see you guys soon! 
Savage & SHē: Thank you guys! Love from Mexico!
Follow Savage & SHē: Facebook | Instagram | Soundcloud | Spotify