British Dj and Producer Skream has announced a European tour for the end of the year.
The 'Open To Close' tour will be touching 13 cities at some of the artist's favourite venues. The artists is looking to make a conscious efforts to resurrect the 'back to basics' element of club culture, forsaking elaborate, extravagant production and music selection focused on a pure clubbing experience.
Skream will be playing all-night sets for every date planned and promises to move through the diverse range of musical tastes that he possess.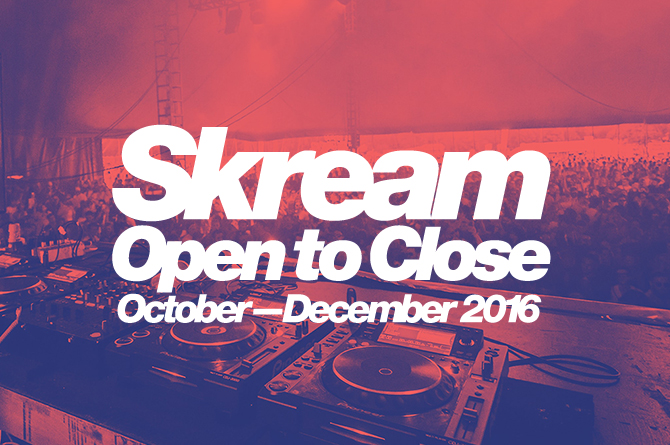 "The Open To Close tour was something I decided to do in North America last year so it really gives me a chance to showcase where I'm at musically now… The music policy can be anything from funk, to disco, to house or techno. Generally starting at about 100bpm and ending around 130bpm, but allowing the vibe inside the club and on the dancefloor to take me wherever it desires." – Skream
All tickets are available here: http://www.alttickets.com/stealth-presents…-skream-tickets
OCTOBER '16
October 8th | Wall – Milan
October 28th | Village Underground – London
October 30th | Opium Rooms – Dublin
NOVEMBER '16
November 4th | Patterns – Brighton
November 5th | Switch – Southampton
November 11th | Transport – Rotterdam
November 12th | Blackbox – Birmingham
November 19th Labyrinth Club – Hasselt
24th November, Cabaret Voltaire – Edinburgh
November 25th | Gorilla – Manchester
November 26th | Marble Factory – Bristol
DECEMBER '16
December 3rd | Mint Club – Leeds
December 9th | Stealth – Nottingham
December 18th | Sub Club – Glasgow