Two careers forged with pick and shovel; authentic underground miners with more than 15 years of experience coming together now in search of the same goal. SOSANDLOW means blind faith in rhythm, a doctrine based on love for electronic music and club culture. It's no coincidence that they formed a duo as the result of a friendship and an understanding that goes beyond the usual barriers. You can find their releases in labels as Connected Frontline, Cacao, Plattenbank, or Open Bar, among others, while their unique vision gets eagerly focused on the dance floor, promising epic nights based on electronic music and deep emotions.
Today, we sit down with Alex and Dani of SOSANDLOW to talk about their new release 'Calima', how they bond in the studio, what moves them, and their expectations for the future.
Electronic Groove: Hi Alex & Dani! It's a pleasure to have you here with us. How have you been?
SOSANDLOW: Hello! Well, fighting through these somewhat strange times, but taking all of the good from the situation to keep evolving and creating. We are very restless and, in the last year, we've had more time than usual to explore new paths and enjoy the journey.
Electronic Groove: So, let's get to know you guys a little bit better. What were your first interactions with electronic music like? Did it capture you straight away? Or were you at a different place when you first came across it?
Dani: My parents played a lot of music at home, some of it was electronic. I was captivated by the sound of synths and quickly started asking them to buy me dance music records. At 12 years old I was already collecting vinyl and cassette compilations. In my case everything was very natural and fluid, one thing led to the other, and at 14 I already had my first mixer and started to make my first steps as a bedroom DJ.
Alex: In my case, I discovered electronic music through a classmate around the age of 13. I would escape to his house with the excuse of doing homework, but instead, we spent the afternoon listening to his precious collection of cassette compilations, megamixes, and also some vinyl that we played on his father's old turntable. Slowly I started to get into the music scene and the little I could save was to buy music. At the age of 15, I managed to buy my first turntable with pitch control. While playing a cassette on the tape deck, I tried to match the few vinyl records I had managed to buy on my new turntable.
Electronic Groove: What was it that made you think the idea could work? Are your musical backgrounds similar? Could you tell us where you come from, musically speaking?
SOSANDLOW: Music brought us together, first as friends, then as partners in Alma Soul Music, and finally as an artistic duo. It was a natural evolution. We complemented each other very well and had a lot in common. The first few times we played together we were fully aware that the mix worked. Broadly speaking, Alex comes more from techno, Dani more from trance, and let's say that house was our common ground. With those backgrounds, the mix of characters and tastes results in a versatile and rich sound, full of disparate influences with a lot of history. We are looking for our own and different musical discourse, something that not many can achieve.
Electronic Groove: How did you guys meet? Was it through electronic music? How long have you been together as SOSANDLOW?
SOSANDLOW: Our journey as SOSANDLOW began in 2016 and practically from the first moment we had residencies like the one at NOX Club in Madrid. We met thanks to a radio show run by Dani on Global FM. Alex was a guest on the show and then everything evolved. Dani already had the Alma Soul Music label and had signed Alex Sosa's music to it. After that came long studio evenings together, trips, nights out, festivals… Many experiences that forged the duo.
"The first few times we played together we were fully
aware that the mix worked"
Electronic Groove: What's your musical background like? Did you guys play instruments since you were little, or did that come later in life? Did you have classes, or are you self-taught?
SOSANDLOW: Our first steps in music were 100% self-taught. In the mid 90's it was impossible to find classes on the topic in Spain. We had never played instruments beyond pounding a drum kit or breaking guitar strings, but our Pentium always had Fruity Loops or Reason installed, software with which we began to make our first tracks, which we're sure would be totally absurd if we listened to them today hahaha. Later on, we received classes on perfection and we began to specialize, especially Alex who is a mixing machine. In fact, he also mixes for other producers.
Electronic Groove: How do you guys work in the studio? Do you guys have 'roles'? Is one more adept at one thing than the other?
SOSANDLOW: Yes, indeed. As we said in the previous question, here the master of the machines is Mr. Alex Sosa, a real studio animal. He perfects all the creative processes of SOSANDLOW, musically speaking. Dani's role is more freestyle, working on rough ideas or presenting Alex with less elaborated visions so that he ends up building them. Later, when the constructions are more developed, Dani takes the lead again to polish the details in mixes or finish off the productions with added ideas that make up the final version. A method that is working really well for us, as we are getting a sound we are very satisfied with.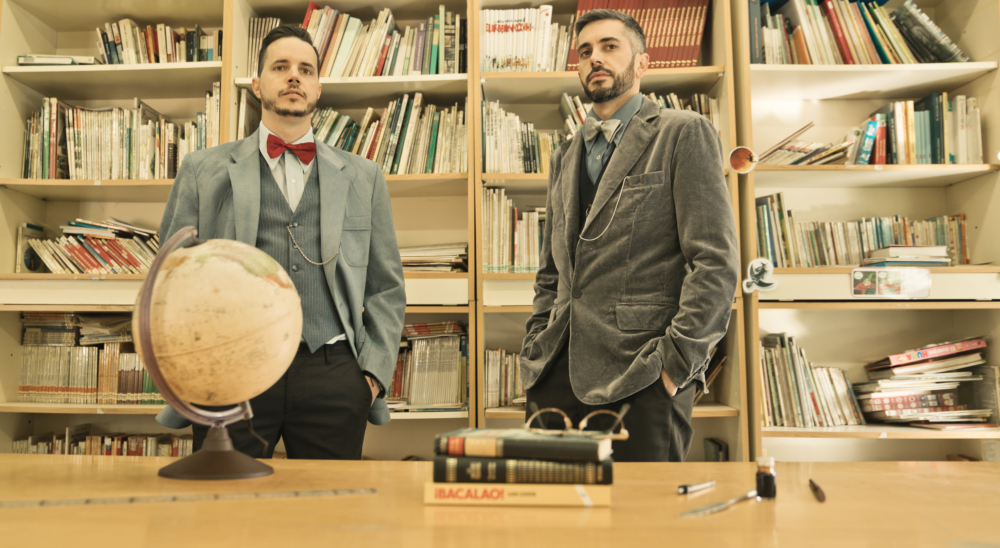 Electronic Groove: One of the main 'challenges' for bands or duos is usually creative compromise. How do you guys manage those tight decision-making moments?
SOSANDLOW: Maybe we are a bit obsessive about this, but we usually never stop creating. Obviously, there are stages in which everything flows and our creations meet enough expectations to be published, while there are other more frustrating stages in which we are not satisfied with the results, but one way or another, we never stop creating music and we don't fall into discouragement, we know that sooner or later inspiration comes.
Electronic Groove: What gets you guys going, creatively speaking? Are there tales behind your productions?
SOSANDLOW: The experiences, the city, the festivals, the clubs, the trips, different styles of music… the inspiration is there, in our day-to-day, you never know where it will appear. Of course, our productions have stories and are very intermingled when we are two people creating, but the stories are there. For example, in our track 'Calima', the desert winds and Berber cultures can be felt behind that evocative melody and its warm sounds.
"While there are other more frustrating stages in which we are not satisfied with the results, […] we never stop creating music and we don't fall into discouragement"
Electronic Groove: What's in store for SOSANDLOW in 2021? What new milestones can your fans look forwards to?
SOSANDLOW: More trips, more experiences, more joys, more frustrations, more moments; good and bad. The good ones to enjoy them and the bad ones to learn and grow from them. And with them, we will always try to take the positive and be grateful. This is the key to continue enjoying the journey. And along the way, we will continue doing what we like the most: creating music and DJ sets. Now we are preparing a new pack of demos in which we are so proud of. And in October we will release a new EP by Sinchi Collective. Grateful!
Electronic Groove: Thank you for sitting down with us guys! We wish you all the best!
SOSANDLOW: It's a pleasure!
SOANDSLOW's 'Calima' EP is now available via Musica Cavernicola. Stream and buy here. 
Follow SOSANDLOW: Soundcloud | Facebook | Instagram