Swann Decamme and Owlïsh recently teamed up for a live recording at the L'Amour à la plage Festival on Martinique Island on May 27th, 2023. The event was a major success and highlighted the talents of these two electronic music artists.
Photo credit: Swann Decamme and Owlïsh – Official
Swann Decamme, a French DJ, producer, and entrepreneur, has made a name for himself in the electronic music industry with his unique style that combines deep, tech house, and minimal. He has performed at clubs and festivals around the world, including Europe, North America, and the Caribbean. In addition to his music career, Swann is the artistic director of L'Amour à la plage, a popular festival held in Martinique that brings together music, arts, and gastronomy. Along with Marcan Liav, he has launched a new concept of events called Enigma, which offers an experience without cell phones to focus on music and dance.
Owlïsh, a 35-year-old French DJ, is known for his love of the night, darkness, and the sounds that come with them. His musical universe ranges from the more upbeat atmospheres of Indie Dance, Melodic Techno, and Afro-House. He never stops exchanging energy with his audience behind the turntables, and promoters are eager to book the services of this former show-jumping rider, chartered accountant, and fast-food manager who lived a thousand lives before becoming a DJ. His name now appears on the timetable of the SXM Festival, the event that sparked his passion for electronic music. While the Caribbean beaches remain his favorite playgrounds, Owlïsh aims to spread his inner fire in America and Europe, looking for new audiences and strong sensations. He is now a resident of the L'amour à la plage festival in Martinique, hosted by Swann Decamme, which brings together artists from all over the world.
Swann Decamme and Owlïsh are scheduled to perform on Saturday, November 18th, 2023 at 'L'Amour à la plage' in Martinique, as part of the festival's lineup at Ti Sable.
EG recently had a chance to catch up with Swann Decamme and Owlïsh to discuss their collaboration, upcoming performances, and future projects.
EG: Hi Swann &  Owlïsh, nice to chat with you today. Could you tell us how you met and how the idea of performing a B2B together at the L'Amour à la plage festival came about?
Swann Decamme: Thanks for the invite. It all started in 2016, when I was on my first international tour, starting with the Dominican Republic, then Saint-Martin, and finally Colombia. I played at an event in Saint Maarten on the Dutch side. It was at this event, thanks to the promoters, that I met Owlïsh. We hit it off immediately.
Owlïsh: Good to be here today. Back then, even though I wasn't a DJ yet, I was passionate about the electronic scene. The Saint-Martin scene was still in its developing phase. Out of curiosity, I attended the event where Swann was the headliner. It was at this event that we met for the first time.
Swann Decamme: Afterwards, we kept in touch from a distance. Owlïsh came to several events that I organized in Paris with my label, Curiosity Music. Our bond strengthened over time; I advised and guided him to start his journey in music, although we never collaborated directly.
Owlïsh: As years went by, my passion turned into a profession, and opportunities to work together arose. In 2022, Swann offered me a residency at the L'Amour à la plage festival in Martinique, which he co-founded in 2019. Today, we have become very good friends.
SD & O: The idea for the back-to-back set sprouted at the Rainbow Café in Saint-Martin last April. We improvised a closing set since we shared the bill. Subsequently, we worked hard to materialize this B2B at the tenth edition of 'L'Amour à la plage' last May. Our performance lasted 4 hours.
EG: As artists, how would you describe how you complement each other on stage and in your productions? What elements make your collaboration unique?
Swann Decamme: We noticed that our two styles meshed well, and we wanted to play together to offer longer sets and enhance the interaction with the audience. I mixed on Traktor and Owlish on CDJ, which added more breadth and depth to our set. It was a bold challenge, but we succeeded from the first attempt.
Owlïsh: Swann has a style that's both progressive and bright, while I lean more towards the melodic and afro vibes. This created an ideal balance, making our set especially groovy.
Swann Decamme: Our bond and the fact that we're friends, combined with our understanding of the Caribbean market, allowed us to curate a set that had L'Amour à la plage audience dancing all night long.
Owlïsh: Swann is well-acquainted with the Martinican market and is currently the trending DJ on that scene. As for me, being a resident of Saint-Martin, I am deeply embedded in the SXM scene throughout the year.
EG: You have several dates planned for the 2023/2024 summer season, including your return to the L'Amour à la plage festival in November. Could you tell us more about what you're preparing for these upcoming events?
SD & O: We are eager to reconnect with the audience in Martinique, to share our energy and the recent experiences gained in Europe. Our next performance will be at the 'L'Amour à la plage' festival at Ti Sable, on Saturday, November 18th, 2023. We are also organizing our first back-to-back in Saint-Martin, which will take place at the Rainbow Café in 2024, among other surprises. Thanks to the combination of our energies and musical affinities, we have forged a unique sonic identity.
"We noticed that our two styles meshed well, and we wanted to play together to offer longer sets and enhance the interaction with the audience"
EG: The Rainbow Café in Saint-Martin is also a venue where you'll be performing. How does it feel to come back and perform in your local area? How does the connection with your local audience influence your sets?
Swann Decamme: Owlïsh  is a resident on the Dutch side of SXM and is highly regarded by the audience. As for me, I'm a regular on the St Martinoise scene. I had the chance to play at the Rainbow for the first time last April as the headliner, with Owlïsh by my side.
Owlïsh: The idea for our back-to-back originated at the Rainbow Café. We improvised a closing set there. Swann has known the audience since 2016, and I perform there regularly. I'm kind of the "local" act for the night.
EG: You mentioned working on your first track together. How did the studio collaboration go? What are the challenges and advantages of working together on music productions?
Swann Decamme: We began our collaboration at the start of the summer in Paris. Our goal was to produce a groovy, sexy, and sun-soaked track. It's called 'Salsita'. We plan to test it and pitch it to a label. More information to come soon.
Owlïsh: Swann's experience and my understanding of the dancefloor allowed us to create a unique track. It's a beautiful fusion of our two combined styles.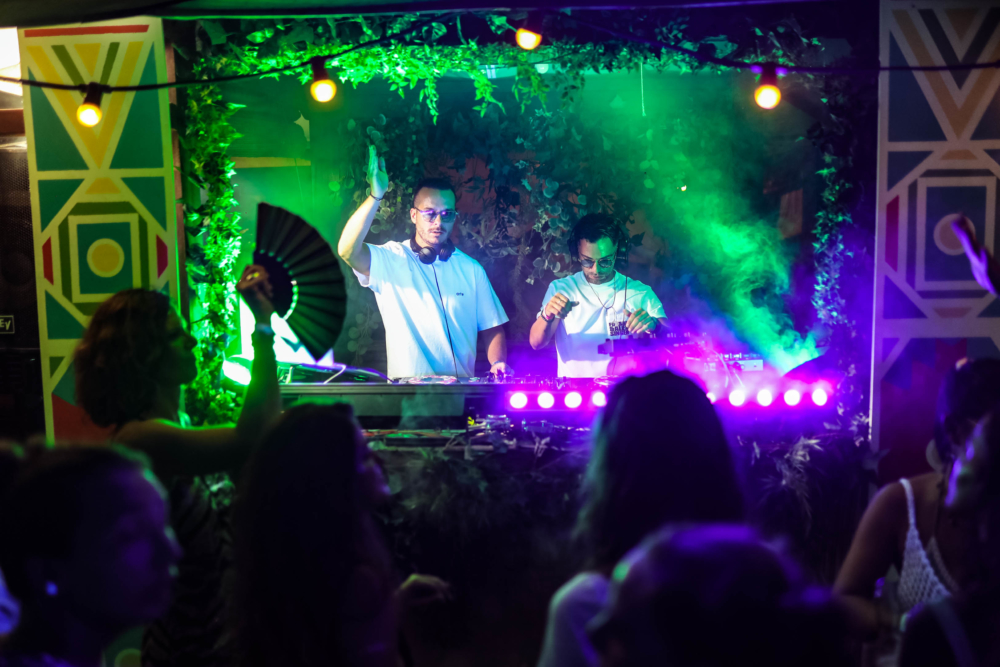 EG: How do your lifestyles and environments in Saint-Martin, Paris, and Martinique influence your music? Are there specific elements from the local cultures that you incorporate into your artistic work?
Owlïsh: Living in Saint-Martin allows me to fully dedicate myself to music. Being a full-time DJ, I can arrange my schedule according to my needs and aspirations.
Swann Decamme: As for me, I love to travel and meet new people to share my passions and experiences. It's incredibly enriching. Sharing is what I value most. Depending on the countries where I perform, my set changes, as I adapt to each new environment while maintaining my unique style!
EG: To add a personal touch to our discussion, share with us a childhood hobby that both of you were passionate about. Additionally, Owlïsh, could you let us know about your favorite restaurant in Saint-Martin, while Swann, could you tell us about a special place you love between Paris and Martinique?
Owlïsh: For over 15 years, I practiced high-level show jumping, participating in international competitions to represent France. Owning several competition horses, these competition years have helped me better handle stress during major events.
Swann Decamme: During my teens and into my early twenties, I was into road cycling at a high level. I devoted several years to my studies and this sport. It was a true passion: I trained intensively during the week and took part in competitions on weekends.
Owlïsh: My favorite restaurant in Saint-Martin is located at Mullet Bay, regarded as one of the Caribbean's most beautiful beaches. It's called Rosie's Place. There, you can enjoy grilled chickens and ribs while taking in a breathtaking view, feet in the sand.
Swann Decamme: Ah, yes! Every time I visit Saint-Martin, Owlïsh takes me to this wonderful place, it's such a change of scenery. Choosing a special place between Paris and Martinique is challenging, but I love the contrast between the city and the island. I have many friends in both Paris and Martinique, so every time I return, it's always a special moment for me.
Follow Swann Decamme: Soundcloud | Spotify | Instagram | Website
Follow Owlïsh: Soundcloud | Instagram | Facebook