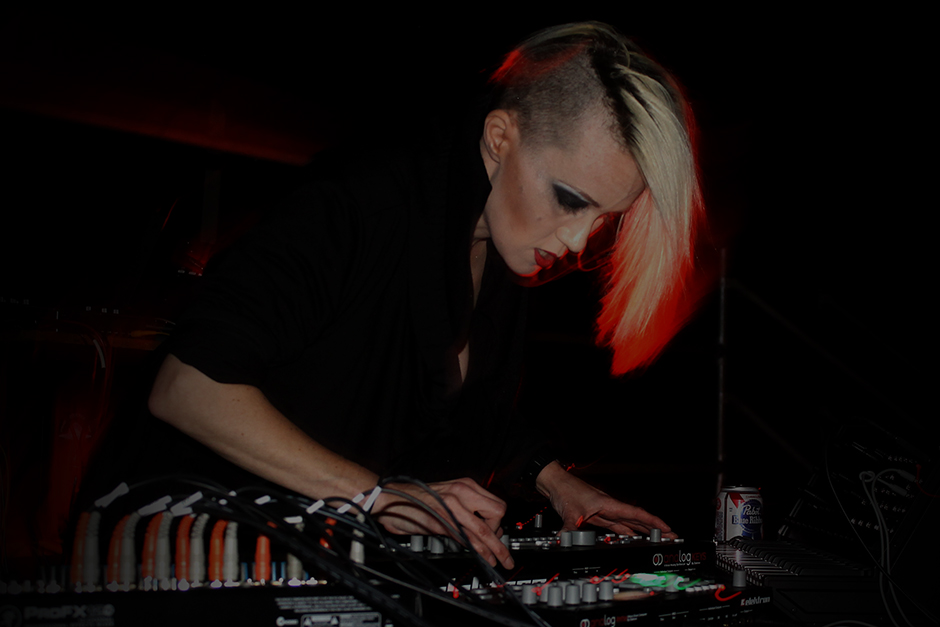 Pulsewidthmood shares the tracks that inspire her as an artist
Pulsewidthmod just release an album called 'Serpentine Servitude' on Detroit Underground, exploring the idea that perhaps the serpent in the garden of eden was really being humanity's servant. Who was this creator character to dictate which fruit was ok for us to eat? Who was he or they to say that if we ate the fruit we would be tainted and forever separated from divine love? All this did was create the idea in our consciousness that we were tainted.
Pulsewidthmood's 'Serpentine Servitude' is available. Grab your copy here. 
01. Kraftwerk – Radioactivity (No Nukes 2012, Tokyo, Japan)
"It's all about the melody and the incorporation of the vocals and visuals for this track. Nuclear energy is one of the worst things we have brought to this planet we inhabit."
02. Welcome to Paradise – Front 242
"I was raised in a very strict Christian household, no more needs to be said."
03. New Order – Bizarre Love Triangle (12")
"I was introduced to New Order around the age of 8; I remember going to spend the weekend with my oldest brother at Villanova University in 1988. He took me to a party where I got to dance under a disco ball to this song. I was instantly hooked to New Order."
04. Real Life – Send Me An Angel '89
"I remember being 6 years old and watching RAD over and over again just so I could watch and listen to this track. This is one of the first tracks from my youth that got me hooked on the sound of synthesizers."
05. Daft Punk – Da Funk
"Growing up, my best times were spent in a movie theatre and it was seeing "The Saint" that got me hooked to Daft Punk. The beat and the bass line on this one are what does it for me. To this day, this is my number one Daft Punk track."
06. Alessandro Cortini – La Guardia
"This track right here takes me to a special place, the drones combined with a beating melody that gradually builds up is really my bread and butter; it's my ultimate feely track."
07. Veil Of Light – Trust (Phase Fatale Remix) [a+w XII]
"I really love how this track sounds like a fusion between techno and rock. The wall of sound it has is super epic and I really love the incorporation of vocals on this one."
08. Schwefelgelb – Es zieht mich [a+w XI]
"This track in particular has been on heavy rotation during my driving time and has really influenced some of the latest tracks I've recorded; including 'Liar from Above'. I love the sounds, the brutality of them; it sounds hard but it has a ton of depth at the same time."
09. UNDERWORLD – REZ COWGIRL (Everything, Everything Live)
"I was introduced to Underworld via one of my all time favorite movies, Hackers. The energy of Underworld's sound is so dynamic and because of this, it's addicting. I can listen to their tracks over and over and they never get old; pure timeless tracks that always get me moving."
10. Nine Inch Nails – Right Where It Belongs
"The first time I heard this track it had me in tears; then seeing it performed live in Philadelphia in November of 2005 blew me away. Reznor has been the most influential artist to my artistic output; the album "Year Zero" in particular is perhaps the most influential album to what I do and what I'm about. I love concept albums."
11. Orbital – Nothing Left
"Damn, the whole album was one of those that I played on repeat, over & over again. Orbital's 'The Middle Of Nowhere' is taking me back right now to a time that I was truly lost, had no piano around and I went out and bought a Korg N1."
Pulsewidthmood's 'Serpentine Servitude' is available. Grab your copy here. 
Follow Pulsewidthmood:
http://pulsewidthmod.com
https://www.facebook.com/pulsewidthm0d
https://soundcloud.com/pulsewidthmod