Get ready to mark your calendars for a weekend of unforgettable underground music!
On May 19th to the 20th, Casa Morelos, one of Mexico's top music and art venues located in Barrio Antiguo – Monterrey will be showcasing Electronic Groove's weekend takeover with an incredible line up of some of the industry's top talent!
Apart from being conceived as a platform for upcoming talents in music and multiple art-forms, Casa Morelos prides itself in serving as a forum for top international djs . Designed on a multi-story, split-level setting, the club's decorum and vibe effortlessly fuse the appeal of electronic music with edgy art. The second floor is an eclectically designed loft built around the state of the art Funktion One sound system.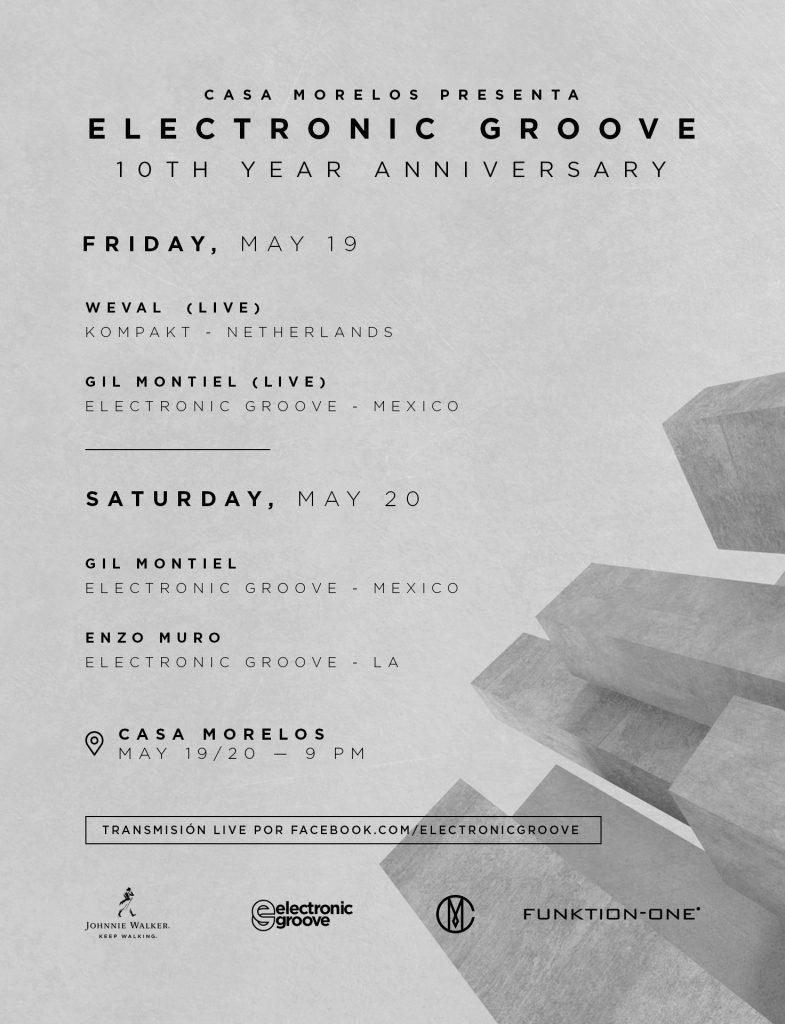 Join us as we continue in the Electronic Groove "A Decade in Dance" celebrations where Gil Montiel, a Casa Morelos resident, will start the evening off proper. Gil's latest partnership with Electronic Groove will continue to showcase his talents, showing time and time again that he knows no boundaries when it comes to creative ingenuity.
With a live performing, Gil will be showcasing a journey of sounds packed with emotions, cerebral melodies, draped in soulful grooves and stunning baselines. A perfect segway into the evening's main act from Netherlands, Weval duo Harm Coolen and Merijn Scholte Albers.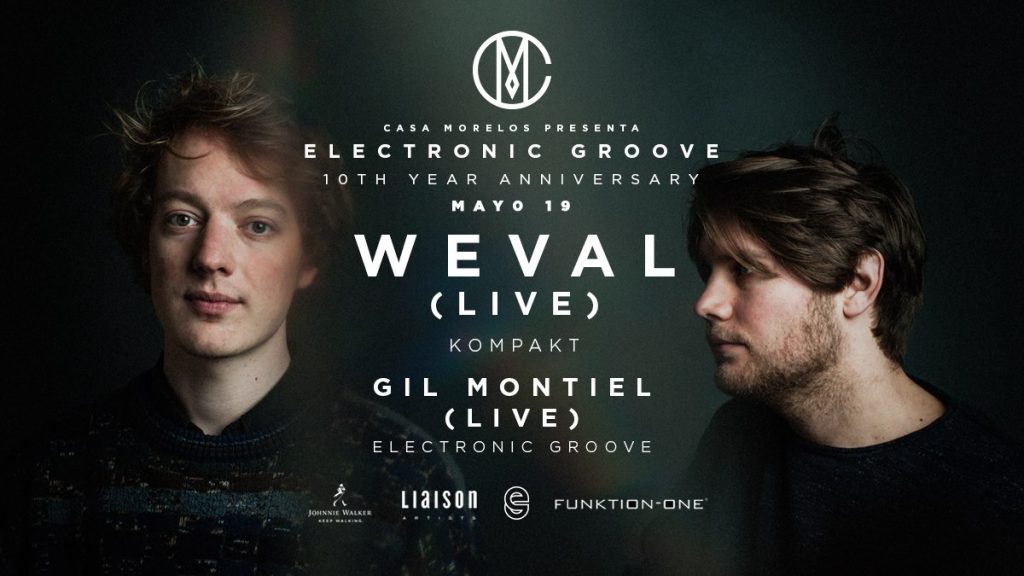 Debuting in 2013 with the impressive and much sought-after Half Age EP spotlighting the track Detian that was played in a Schweppes commercial starring Penelope Cruz. Two month's later the remix they made of Gui Boratto's single Take Control charted #1 on Beatport's Electronica Top 100.
Weval have since found a welcoming home with the Kompakt family where the duo cultivated their very own brand of crossover pop rapture.Their sonic expedition moved them deeper into uncharted territory in 2016 with the self-titled debut-full length Weval – not a mere collection of interchangeable tracks, but an organically flowing record with emotional heft and a narrative thread.
This insanely talented duo has garnered a reputation for producing slow-burning, emotive and highly dynamic electronic music with a taste for danceable drama and epic melodies. Weval's music lends itself perfectly to the evening's live setting.
Enzo Muro and Gil Montiel will close out the weekend festivities on Saturday evening. Enzo has been dropping records around LA, Mexico & Peru. Currently, he hosts Bamboocha Radio's LA Underground Radio show as well as the LA Underground Sessions on Electronic groove. Since its beginning in October 2011, the show has brought Guest DJs from around the world together and into the homes of listeners for a couple hours of sick beats. The amount of music that Enzo has been exposed to, on his radio show or out and about at every show in LA, gives him a broad and tasteful style of music when he djs.
Whether you're in Monterrey or not, this electrically charged music celebration will not disappoint!