The 2019 album release 'Cygns' sets the stage and new signs on the electronic horizon and shows Cygnotic in a matured, sophisticated and compact way and at the same time more ambitious then ever. 9 years lie between the last album 'Through The Gates Of Nocturnal Sleep' and the new creation. True to the Cygnotic-Style the sound is shaped by epic sound fields, pulsating basslines and sparkling sequencers just sublimated by hymn-like golden leads. The dynamic vividly arranged compositions float in between gripping melodies and diversified arrangements that are embedded in organic drum structures. Monumental, melodic, fragile, mystic, hymn-like, epic, deep complex layered electronica. All that you will find on 'Cygns' – carrying a constant light of euphoria within an enchanting melancholy.
We caught up with Cygnotic to talk about his new album.
Electronic Groove: Hi, Cygnotic, congratulations for your new album 'Cygns'. What does this release represent in your career?
Cygnotic: Thank you! 'Cygns' feels like a culmination of my electronic career and shows another level of progression in Cygnotic's music. For my ears, the nine tracks are arranged and produced more compact and the album in its entirety is more "to the point" as before. Every second of every single track has its need and legitimation to bring it fully to life. In my perception, the Cygnotic signature sound that was once started on the album 'Reflections From The Future', yet with a more spacy sound, shines out more balanced and allover more sophisticated this time.
Electronic Groove: You took a 9-year hiatus to release this new LP? Why?
Cygnotic: That's true. I took some time to rearrange the publishing because I canceled my deal and contract with my former record label. And so my previous works had to be re-released under new distribution and my attitude to music business had to be reordered too. I lost a bit the faith in the resonance and it took a while to reconnect. On the other side, I was nevertheless still involved and occupied with other side-projects. But right, no need to take a break for nine years, but looking back in retrospective maybe it was needed to let mature the demo tracks for a later time. So when listening to them at the end of 2018 I had a kind of a wide range perspective to hear it with improved matured ears and to rearrange the tracks when needed and enhance or add parts in the final process of production which took place within the first quarter of 2019. Anyway, you can be sure that the follow-up release won't take nine years again ;)
Electronic Groove: What was the inspiration to produce the album?
Cygnotic: Briefly to combine retro-nostalgia and post-modern electronic spirits. Cygnotic as well as 'Cygns' as its latest brainchild is born from the idea to absorb the timeless atmospheric synthesizer works of the late 70's and early 80's and bring them into the next millennium,  mixed up with more modern influences and ideas. To pick up these sublime moods of the golden analog synth era and enhance it to an uplifting epic creation with an individual retro-modern style of electronics.
EG: What can you tell us about the production process? Where it was recorded? What did you use?
Cygnotic:  Everything was created, recorded and produced in my Cygnotic studio. The used sounds largely originate from legendary synth classics like the Jupiter or MoogModular, partly balanced as softsynths and real hardware synths like the Prophet or Moog Sub37. On the other side I also love to feature the contemporary modern synthesizers and sounds like the Novation Supernova II, Dave Smith Instruments aka Sequential or the RobPapen softsynths. Vintage and modern spirits united in harmony brings the big picture for my sound concept. Most of the time the sounds are interleaved, layered and morphed which results in more space, depth, and complexity for the single sound in context with the others and the whole production. As well the drum patterns are worked out in a more sophisticated way and feel all over more important as in previous releases.
And I finally had the opportunity to include and feature the legendary Simmons Drums and Linn Drums in a dominant and combined way; just that arouses retro emotions and associations to the 80's. But I see this nostalgia with Cygnotic just as a factor and not as a unique feature. Diversity is essential to me. Talking about the production of  'Cygns' means a huge targeted and purposeful workload. Besides the smarter arrangements its the dynamics and liveliness that play a more important role as in former works. Concerning pre- and post-Mastering with 'Cygns', a lot happened in this field to achieve the needed punch and yet the required warmth without overproducing it that would chase off the vintage spirit. Balance is king.  Again, as within the whole production, a healthy mix of digital and analog equipment proved its value. Especially in the final post-Mastering, the analog circuits of hardware compressors from SPL were vital for the well-balanced sound characteristics.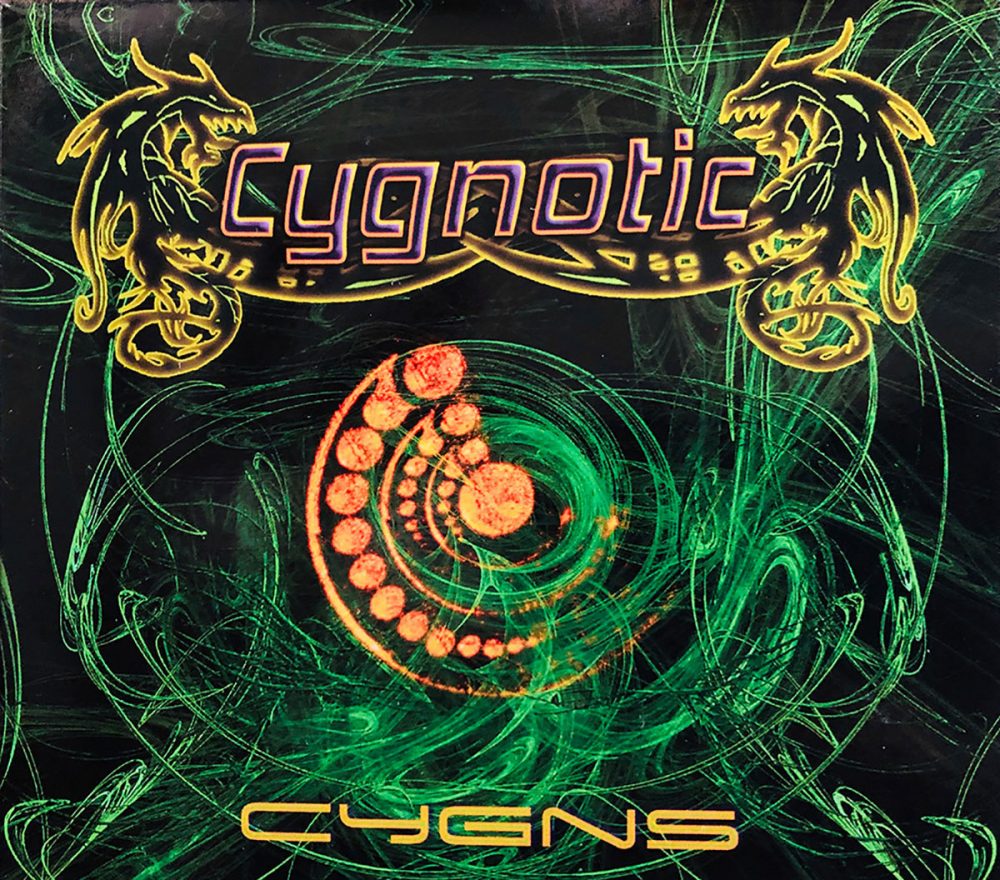 EG: On 'Cygns' you explore different genres such as progressive trance, EDM, future pop as well as electronic wave, new retro wave, and synth-wave. How did you merge them all in one piece of work?
Cygnotic: The melange of styles surely emerges from my diverse musical influences. Especially the early works of Tangerine Dream (Virgin Years), Jean-Micheal Jarre, as well as Kraftwerk, Vangelis and the John Carpenter soundtracks left a huge mark on me as a teenager, actually until now. These distinctive used sounds, back then new and fresh, were very formative for this unique musical mood. So using these legendary sounds nowadays, now you can afford them, inspired me when composing, with the intention to bring them a step further in time.  Furthermore, I grew up very early with progressive art-rock like Rush, Saga, Marillion, and Pink Floyd, which means complex songwriting with a brilliant catchiness and synth affinity. That basically formed my musical core and still floats in my genes. Later on influences of psychedelic trance and goa trance as well as wave and EBM Music joined the mindset; fronted by Astral Projection and Front 242 or Hocico; immersively different for me at this time and a new value in my musical melange.
My musical interests and penchants are versatile and multifaceted. All these influences and a lot more blend together in 'Cygnotic' without the intention just to copy or replicate. Rather this spirit enfolds naturally when I write music and one gets sometimes slightly aware of a passage or stylistic device from these influences which sparkles at a point in my mind as a far vintage dream which I carry on and transform beyond, to something new for my very own. It's done without an intention, but afterward or when working out a track I feel like "now a Marillion like synth solo would be nice"; so done on 'Quantenfluktuation' from the 'Reflections' album. So I work that in. Cygnotic should be the melting pot for all my musical electronic love affairs.
"Cygns represents like my last decade it's time to reconfigure a bit"
EG: You have released two different videos related, 'Dreaming in Reverse' and 'Replicant Logic', who created them? Why did you choose these two tracks?
Cygnotic: Actually there a four videos out from the new album, at present. And it would be great to have a video for every track. That's because Cygnotic is a kind of a one-man show that it all has to be done by myself. I search for fitting visuals, then edit, layer, and melt them. So by doing that also on my own it extends my musical creations into something audiovisual. The Cygnotic sound is very emotional and carries always kind of a loose storyline within, at least fragments of that. For myself, I see mind images for every track when just hearing it. The videos should support these moods and blend them into a new level of audiovisual experience.
The first video was 'Iridium Dawn', a track with a gripping hook line and snappy and yet zombiewalk-like bassline and a nice twist in the middle. Seems a good first impression to my sound when not starting with the album as a whole. The images support these vintages more darker moods of some ancient visitors. 'Electronic Devotion' as the second video release is the pure old-school electronic track for every synth-aficionado. With the image sequences, you can follow the brizzling electronic circuits of electrons on the grid and beyond, leaving the matrix and transform to something out of mind in the second part of the track. In 'Replicant Logic' the images created support a strong important role for the track to enter a cyberworld by feeling the immersion into a cyborg's conscious mind. Of course, inspired by Blade Runner. It's about an android who creates a higher consciousness and the need to rebuild and recreate.  The images enhance the whole 'logical' musical arpeggio sequences with these robotic vibes and twist them into some warm desire of being human and aware. 'Dreaming In Reverse' took also a big advantage from the pictures to slip into a reversed inverted gloomy dream sequence. Everything is edited backward and actually the video start of the drowning scene is the end of the story. I really try to do a video for every track over time and let float images from my abstract mind into an audiovisual context.
EG: Are you planning some dates to play the album live?
Cygnotic: Hmm… Seems difficult because there are so many layers and instrumentation playing at the same time, which means, everything has to be pre-produced and highly down stripped to handle that, as well a bunch of electronic musicians and drummer would be needed. Let's see what the future brings.
EG: What are your plans for the coming months?
Cygnotic: Because 'Cygns' represents like my last decade it's time to reconfigure a bit. But I will start soon working on new tracks and my goal as always is to top the last release. I will feature more some great synths I did not use in the last times like the Waldorf Microwave, the Nordlead I, Kawai 5000 or Oberheim Matrix.  Besides I'm also busied with at least three side projects, some full electronics, others just half electronic and more guitar orientated.
EG: Can you describe 'Cygns' in three words?
Cygnotic: Timeless, epic, electronica.
Cygnotic's 'Cygns' is now available. Buy and stream here. 
 Follow Cygnotic: Website| Facebook | Instagram | Soundcloud