From the sand in Nevada to the beaches of Dubai, Audiofly is in a class of its own. The legendary producers Anthony Middleton and Luca Saporito, with 22 years behind them as a creative partnership, seems to be always cooking the next frontier of an all involving melancholic extremely balanced sound. Whether it's traveling the world, their DJ Performances, running successful labels: Supernature, Maison D'Etre, and the worldwide acclaimed Flying Circus brand, or simply their exploration of freedom and love, Audiofly is a mature and established duo, driven and unmatched.
As Audiofly gears up for its performance at Art With Me Miami, and following the official news of their split, EG caught up with the duo to learn more about their upcoming presentation, their past, future, and more.
EG: Anthony! Luca! Welcome back to EG. Always a pleasure to have you here with us. Where are you based right now? How have things been going this year?
Audiofly: Hey! How are you? Thanks for having us again. We are both based out of the island of Ibiza. It's generally a very beautiful and creative place to be. Kinda requires a bit more traveling on the weekend, but you essentially recharge the minute you hit the ground on a Sunday. So It's worth the extra miles. :)
EG: What was your summer like? Any particular highlights?
Audiofly: Summer was cool. We chose not to headbang it this year. Instead, just do good shows and get home in one piece after a weekend. Ibiza was on fire. Basically, it had an extended season to make up for the Covid break. It was kind of an intense time to be living on the island if you were looking to be hippie and chilled. On the other hand, if you were looking for something to do every night. It was the place to be.
EG: By the way, thumbs up on being a part of this year's edition of Art With Me Miami! You must be excited. What can your fans expect from your show?
Audiofly: We are always so happy to be part of the AWM shows. It's so nice to see an event organization going that extra mile and trying to do something original, creative and fun alongside the usual "song and dance". They support the arts and artists have a wide vision and we are glad to be counted as part of their family. We are in really good form right now musically speaking, so we are excited to share that with all our fans attending.
EG: Are you a fan of anybody else on the roster? Are you looking to catch any set in particular?
Audiofly: Always like to catch a Lee Burridge set…MAGA too, and of course the Bedouin boys. But there are so many talented people playing that weekend. The list is long!
I think the secret lies in always respecting each other's vision and making sure to keep communication alive, but after so many years together I think it becomes kinda inevitable to have diverging opinions.
"What started as a co-working relationship turned into late nights, afterparties, and later turned into full-form collaboration on a new creative project"
EG: What are your thoughts on the current state of the scene? What would you like to see more and less of?
Audiofly: Personally, we'd like to see a little more consciousness and a little less ego in our business. We'd love to see more artists using their platforms to promote important global issues. It would also be nice to see the whole club scene taking a more proactive stance on sustainability since we are on the verge of a planet-level collapse. It would be nice to see our good vibes rippling out into the world and touching others in turn. Too much to ask? Lol
EG: By the way, you're also doing a solo Live show as well, Anthony. What can we expect from that? How much work is it to prepare two separate shows? Do you need to get into two different mindsets?
Anthony from Audiofly: Well, I've been experimenting with music for healing and opening, music for activating the parasympathetic nervous system and resting the adrenal (do do do) system. The project is called 'The Darker The Night', a kind of antithesis to all the other music we are making and playing too. I made an album and then a live set, and then spent the last year teaching myself how to make beautiful, animated video artworks that accompany the whole musical experience. I don't exactly know in what pigeonhole this project will end up in, but it's definitely connected to the psychedelic experience…and requires the audience to let go and listen and experience.
Anyway, I'm very proud. I hope some people wanna come to check it out, tune in, and drop out for an hour.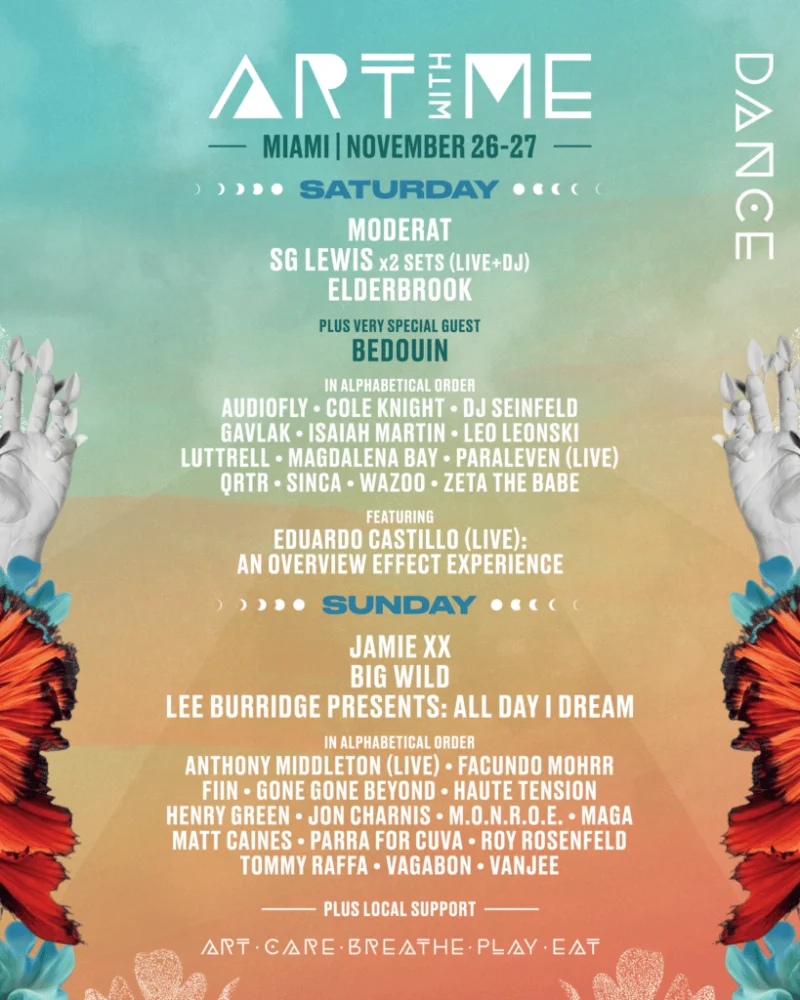 EG: This is your 22nd year together as Audiofly. What's the secret? Any reflections on the past and future of Audiofly?
Audiofly: 22 years is a long time to spend with someone by all means, but when those years have been spent traveling around the world, before any of the technological advances we see today, before even the inception of social media in all its forms, it really makes you think doesn't it? I think the secret lies in always respecting each other's vision and making sure to keep communication alive, but after so many years together I think it becomes kinda inevitable to have diverging opinions.
That's when the going gets really tough. If I had to reflect on those years, I feel pride in the fact we survived so many different micro scenes and managed to stay relevant all this time. That in itself is a huge achievement.
We are in currently the process of touring Brazil and the USA until the end of the month. In the next few weeks, we will be in Europe for a little tour around Geneva, Barcelona, Paris, Dubai, and Doha, and finally, we will have an epic NYE in Tulum to close the year in style
EG: How do you keep entertained when you're on tour? Any good books, movies, or series you'd recommend?
Audiofly: We have been avid consumers of series for a long time now. We have recently watched 'Dahmer' and we recommend it wholeheartedly as it was well-scripted, aptly acted, and kinda engrossing at some point. A very good look at the psyche of a serial killer from childhood up to his own arrest. Very well done!
"We think the secret lies in always respecting each other's vision and making sure to keep communication alive, but after so many years together I think it becomes kinda inevitable to have diverging opinions."
EG: What's next for Audiofly & Flying Circus? What particular milestones are you looking forwards to now?
Audiofly: We just debuted Flying Circus for the first time in the city of São Paulo and it was a huge success. Next year we will try and conquer even more territories, but for now, our next focus will be Tulum on NYE in collaboration with Incendia (a well know Burning Camp that's now based in Mexico throughout the whole year). The lineup includes ourselves, Art Department, Yulia Niko, Yokoo, Anstascia, Matthew Dekay & DJ Three – should be a great destination party for many traveling ravers from around the world.
EG: Thank you so much for your time, guys! We wish you all the best for the future.
Audiofly: Thanks, always a great pleasure to catch up with you guys! One love.
Audiofly and Anthony Middleton will perform at this year's edition of Art With Me. Purchase your tickets here. 
Follow Audiofly: Facebook | Soundcloud | Instagram | Spotify