Bedouin is an American-based music production and DJ partnership consisting of Tamer Malki and Rami Abousabe. Together they share a broad sonic vision that pulls from their diverse influences owing to their Middle Eastern heritage, Western upbringing, and worldly travels. As musicians, singers, songwriters, and multi-instrumentalists, they've pioneered a distinctive and timeless sound that has connected with crowds from all corners of the world. Their sophisticated productions are featured on some of the world's most notable labels such as Crosstown Rebels, Get Physical, All Day I Dream, and recently their own imprint – Human By Default. Select major label releases include remixes for Black Coffee and Virgil Abloh on Ultra and Sony/Universal.
As  Bedouin gears up for their appearance at Art With Me Miami 2022, we caught up with the duo to talk about their recent Pacha Ibiza residency, their upcoming album, and more.
EG: Hi guys! Welcome to back EG. Where are you based right now?
Bedouin: Thanks for having us back! We're in Miami again, but we have a packed touring schedule through the end of the year so we're still worldwide.
EG: So, last time we spoke, you guys were heading off to Ibiza for your 'A Wednesday Saga' residency at Pacha. What was that experience like? Any particular highlights from your summer run?
Bedouin: This first year at Pacha was a dream. We put so much work into this residency – starting years ago, before the world shut down and it was magical to finally see it come to fruition. Every night of Saga was monumental for us…the reunion of Deep Dish was an absolute honor, nights with our friends like Damian Lazarus, Black Coffee, and DJ Tennis made us really feel at home, and playing out some of the new tracks from our album for the Pacha crowd and feeling the reaction for the first times is something we'll never forget.
Outside of Saga…Kappa Futur Festival was a big moment for us, the 7th year of our Mykonos Residency, being on the cover of DJ Mag…the list goes on. We're eternally grateful for the opportunities we have.
Read our Bedouin's Saga Opening review here. 
EG: By the way, we are looking forward to your set at Art With Me Miami! What can we expect?
Bedouin: Miami is our home now, so it's our first homecoming event since May. We don't like to set expectations for any of our events, but you can be sure our first set, back in over 6 months will be a banger.
EG: Are you fans of any other acts on the bill? Do you guys usually make time to catch other acts at festivals?
Bedouin: Definitely would consider ourselves Jamie XX fans! And sometimes we can, but with our busy touring schedule – we're often on a tight timeline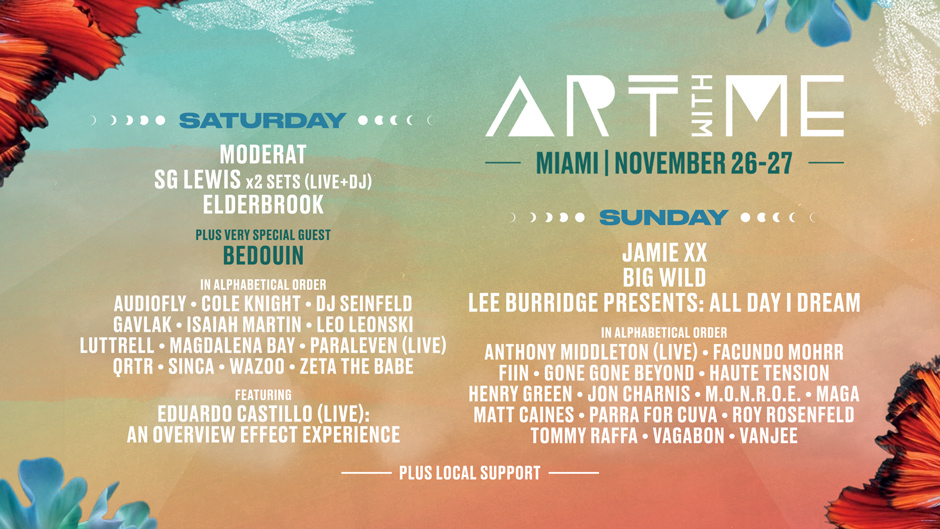 EG: What's the latest with Human By Default?
Bedouin: We have some super huge news coming soon… stay tuned. We're constantly listening to demos and signing new artists. We're really excited about the releases we recently had to Filippos and Ian Ludvig, definitely worth a listen!
EG: How do you usually keep entertained between flights? Any new books, movies, or series you'd recommend?
Tamer: I'm always listening or working on music on my headphones.. if not, then I'm reading something… I try to keep it busy at all times to make time go smoother while on the road.
Rami: I'm constantly drawing or painting. I always have a pen and paper with me, you can find me doodling in all corners of the world. Besides music, drawing and painting are two of my favorite creative outlets.
"More compassion and less ambition. In the words of Thom Yorke – Ambition makes you look pretty ugly"
EG: What are your thoughts on the current state of the scene? What would you like to see more and less of?
Bedouin: More compassion and less ambition. In the words of Thom Yorke – "Ambition makes you look pretty ugly."
EG: What's next for Bedouin? What particular milestones are you looking forwards to now?
Bedouin: Our album! We mentioned it in our last conversation with you…we promise it's coming very soon. It's really been such an amazing journey working on this album for the past 7 years…it's a pivotal moment in both our lives to finally have it released to the world and we can't wait to share it with you.
EG: Thank you so much for your time, guys! We wish you all the best for the future.
Bedouin: Thank you for having us again! We hope to see you at Art With Me :)
Catch Bedouin at Art With Me Miami on November 26th, 2022. Purchase your tickets here.
Follow Bedouin:  Facebook  | SoundCloud  | Instagram  | Spotify