Photo Credit: Marie Wynants & Lisbeth Antoine
Enrico Sangiuliano is a name you will have no doubt noted if you've dipped your toe in Techno waters. Standing as one of contemporary dance music's most influential talents, the Emilia native's impeccable back catalog represents nothing but timeless No.1 records, and now only grows to hold more future classics. Aside from his chart-topping studio endeavors, the melodic pioneer's lengthy resume of iconic performances have thrilled and inspired in equal measure, making him one of the most discernibly authentic and balanced artists on the circuit.
Embarking on his newest exploration in the world of sound design, the production maestro recently announced the launch of his 10-chapter, transient record label NINETOZERO, along with its correlative SOLO all-night-long event series. A sonic storyteller with deep and meaningful narratives at the core of his many opuses, Enrico's time-limited imprint serves as an intervention to the notion of perpetual music, opting for an ephemeral concept that challenges audiences to redefine their listening habits. His corresponding SOLO series gives new perspective and insight into his sound palette as a DJ, as he extends the NINETOZERO ethos into an immersive live experience that highlights the evanescent beauty of contemporary club culture.
EG caught up with Enrico Sangiuliano to learn more about the drop of his 'Silence' EP, his NINETOZERO imprint, the SOLO concept series, his views on the current state of the industry, and much more.
EG: Ciao Enrico! Welcome to EG. It's a pleasure to have you here with us. Where are you based right now? How have you been?
Enrico Sangiuliano: Hey, guys nice to chat with you! I'm in Lisbon right now. I moved here about 2 years ago and I've been good, I really like living in Lisbon. It's a really nice and intense period being back in the game fully again and playing a lot of shows. The only thing is that my body is still trying to readapt to the crazy rhythm of being constantly awake.
EG: First of all, congratulations on the launch of your NINETOZERO imprint! What has the reception been like?
Enrico Sangiuliano: Thank you very much, I'm really excited about this journey. It's still at the very beginning and it's already resonating with people a lot. The reception has been crazy, really crazy, people are already getting tattoos on their skin relating to the project! There are a lot of aficionados within the NINETOZERO audience who are paying attention to the concept behind the label and the details within the project, and they like the overall story. I wasn't expecting it to have that much impact and success at this early stage, as it stemmed from nothing; from scratch. I just released the first EP, 'Silence', which is #9 in the countdown, as well as one SOLO all-night-long event, and the response has been amazing.
EG: So, there's quite a peculiar concept to NINETOZERO. Could you tell us more about it? How did it come to be? Has this been in your head for a long time now?
Enrico Sangiuliano: NINETOZERO is a transient record label, so a label that exists for only a limited amount of time and will release 10 times, counting down from 9 to 0. So, we just released #9 and then the next will be #8, then #7, and so on. Each time a release drops, I will play an all-night-long set (aka my SOLO event) somewhere around the world in a temporary location. The first release was 'Silence', which came out on the June 10th, and on the 11th, I played a SOLO set at the Marktkantine in Amsterdam, which is a legendary venue – well it WAS a legendary venue, because after our night it closed down after 30 years of being active. It was initially a club, then it was changed to a theatre and then back to a club again. Now it has been demolished, unfortunately for our scene.
At the same time, going back to the central concept of the label, NINETOZERO is a statement about everything being temporary and the fact that nothing lasts forever, so starting our project in a club that was closing down for good was a perfect match. From the beginning, we declared that NINETOZERO wouldn't exist forever, unlike most of the record labels out there which start from a certain point and don't have a deadline. As a label owner, you have to look at your past, the way the industry and music are moving in the future, and make sure to still maintain your identity and potentially compromise as a result. With NINETOZERO, we don't have this because it's about the here and now; it attracts a lot of attention because you want to grab it before it expires and it disappears.
You know, in a world where music is often over-released and over-present, the goal for NINETOZERO is to put the focus and the importance back onto the music, and with a limited amount of releases, there's a lot of focus on them because if you want to follow the project, you have 10 chapters to follow. That's it.
The idea started in my mind at the beginning of COVID. When the first lockdown came, I had time to rest and I think I spent the first month of it sleeping. And then suddenly my brain, my spirit, and mind awakened again and I was inspired and felt it was time to create something new. This is when the idea of telling a story through a temporary label was born.
EG: And, as you mentioned, the first installment, 'Silence' is already available. What can you tell us about this one? Are there stories to your tracks? Or do you view them more like sonic explorations?
Enrico Sangiuliano: 'Silence' is everything you have in between two sounds. It is also the sound of an instrument or place when it resonates with its own vibrations. When you think there is silence in a theatre for example, and the orchestra is about to play and the instruments are all silenced, it's never truly silence. At the same time, silence is the end and the beginning of everything. As you can read on the vinyl artwork, everything originates, terminates, and is enclosed in silence.
It was a perfect concept to start with. I expressed that concept through the two 'Silence' versions on the EP. They are two sound explorations and they leave a lot of empty moments where silence becomes an echo of the sound or a moment before something epic happens. Both versions of the track are very dramatic, and in my opinion, the perfect opening to this series of releases.
'Future Dust' is a peak-time addition to the EP. The ticking hi-hats kind of remind you that time is passing by and the track itself is a rolling journey into the future in my opinion, and into what will be in the future at some point. We all are 'Future Dust', we will be dust at some point, the same as where we came from.
While 'New Expression Of Love' is what it says, it is my contemporary translation of love to sound. It's an extemporary track, I don't think it sits comfortably anywhere in terms of musical genre. It's a bit of everything and at the same time nothing; it's too heavy to be classified as a melodic tech house track, too gentle to be considered a peak-time techno track, a bit progressive, a bit house, it's a bit deep, it's extemporary. So, to play on this narrative of transiency and focusing on the present, this track expresses what love is to me right now.
"In a world where music is often over-released and over-present, the goal for NINETOZERO is to put the focus and the importance back onto the music"
EG: 'Silence' also boasts a pretty unique artwork. Will this be the concept for all NINETOZERO releases? How did you come to settle on this particular aesthetic?
Enrico Sangiuliano: The complete translation of the project into graphic and artwork is a collaboration with Temp Studio. It's a great group of creative guys from Bergamo, Italy. They will take care of every piece of artwork in the label's saga and they literally reflect what the concept expresses. So, expect a lot of interesting things to see visually and also at some point, maybe more tangible things to play with.
The whole graphic concept is based on the stand-alone pieces and the countdown, which you can also see in the logo. We were aiming to come up with an aesthetic that would be very different from the usual face images and close-ups that you mainly see on social media nowadays. The idea was to have our own identity for the project but not have it be too loud, as we want people to discover us because they find and love the music. We prefer to be on point with the aesthetic and graphics and do our own creative journey without being in people's faces too much. There will also be additional elements on the graphics front to come in the future too.
EG: You've just had your SOLO #9 at De Marktkantine. What was the experience like?
Enrico Sangiuliano: The Marktkantine was crazy. Playing solo is something I'd done in the past and to me, the idea of playing from silence to silence is very powerful. You enter the club, you're waiting for people to start filtering in and then chat and interact with them to start to create this vibe. Then slowly I start the set with field recordings or ambient music before gradually fading into some rhythms. All of a sudden, you're dancing to some nice, deep, slow psychedelic rhythms and everybody is going off because you've created this anticipation. It really feels like you're one with everybody in the room and they're all there for you because they know you are the captain of this journey.
I played for 6 and a half hours at Marktkantine and was able to play anything from ambient to techno, deep techno, breakbeat, and even hardcore at some points, especially because I was in Amsterdam and the Netherlands has a strong connection with hardcore; it's also part of my past. There were some more psychedelic, almost psy-trancey tracks in my set too. It was a crazy journey that I will never forget, plus we had the chance to live the Marktkantine one last time before it closed. So it was my first time playing at the club, my debut/launch event for NINETOZERO, presenting chapter 9 and it was the first and last time for this kind of event to happen at Marktkantine as it closed its doors forever after 30 years. Once again, the concept of everything being temporary, which is expressed by NINETOZERO, comes back to the choice of location where we decided to do the SOLO event. The Dutch crowd is among my favorite crowds in the world. There were people from everywhere of course, but mostly Dutch as we were in Amsterdam. They really know what you're playing, they are a very well musically educated crowd and really know their stuff. It was a crazy, crazy night that I'll never forget.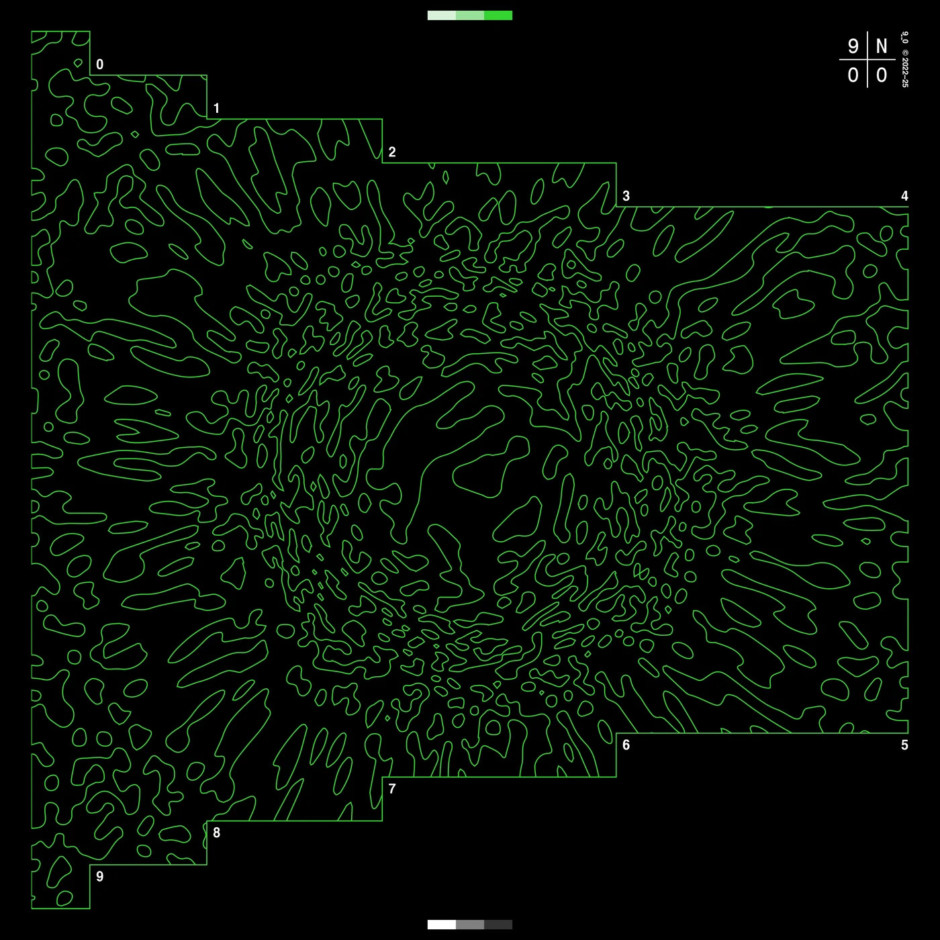 EG: What was the last piece of music you heard before this interview that wasn't composed by you? Would you recommend it? What are some of your favorite electronic music artists at the moment?
Enrico Sangiuliano: The last piece of music I heard before this interview was some shit I heard from the duty-free store in the airport in Milan and I really don't advise you to listen to it. I think there is way too much noise pollution around and since ears don't have eyelids, we can't control what noises we're subjected to, unfortunately. Noise pollution should be better controlled.
Regarding my favorite artists currently, I tend to see waves of sound and look at our electronic music scene as a whole collective. Having said that, I have been recognizing some promising, up-and-coming talents. Two of them are Alex Lentini and STOMP BOXX. They are two very, very good producers (and also DJs) from Italy. I think that their musical personalities translate well and they can hopefully have a bright future ahead. Another good producer that I really like is Mattia Saviolo, he's already released on Kraftek and some other labels. I think he has his own distinctive sound and for me, he's a good guy to follow. The same goes for these two guys from Southern Italy called Antonio D'Africa and Sall, who often work together. They are pretty big on Spotify already as they're very story-telling in their productions and their tracks tend to work very well when I want to go emotional in my sets.
EG: The pandemic gave us all a chance to slow down and reassess. In the electronic music scene, it even gave us time for some much-needed discussions. What would you like to see more and less of?
Enrico Sangiuliano: In general, I would like to see less but more, so more quality, but less quantity. We are used to consuming music like it has no value and it's very important to slow it down and to reflect on what we work on more, especially as producers. I think there is so much music out there that hasn't received the attention it deserves because everyone releases so much and our system is based more on quantity than on quality. The same goes for the shows, in my opinion. You don't necessarily need to be able to see a DJ multiple times a year in the same city or play 35 gigs a month. Also, if you play too many shows, you have no time left for yourself and no time to experience and metabolize it in order to bring it home and translate it into your productions. So, I think for the scene to be more fruitful, we should all take a little bit more time before saying yes to everything – because we cannot even manage the amount of music we have. At least that's how I feel as a DJ and selector.
In terms of DJing, I want to be able to maintain the energy that I bring to each and every set, as it is a trademark for me as an artist, which is why I try to not perform too much. I hear of colleagues that have come back from the first few months after the pandemic and accepted too many shows and are suffering as a result. They don't show it online or in their seats, but they have depression and panic attacks. Our profession is a very stimulating one that comes with a unique lifestyle, but it's also very tricky and tiring so you need to know how to manage it. We all need to take a little more care to protect our health and our scene.
"We are used to consuming music like it has no value and it's very important to slow it down and to reflect on what we work on more, especially as producers. I think there is so much music out there that hasn't received the attention it deserves because everyone releases so much and our system is based more on quantity than on quality"
EG: What's next for Enrico Sangiuliano? What particular milestones are you looking forwards to now?
Enrico Sangiuliano: I've got a fantastic summer filled with very exciting shows. some festivals and club shows until the end of August. Then, I'll be at Burning Man in the Black Rock Desert, which will be another stunning experience. And then in the second part of September, I will be taking some time off to go back into the studio. In the meantime, the first NINETOZERO EP is flying high in the charts. It was #1 for several weeks and then went to #2 in the Beatport charts. The title track 'Silence' was also #1 in the electronica charts so it's been great. It's still a little early to talk about release #8, but I'm incredibly excited to unveil it.
Making these present and future months even more exciting is seeing the response from people when I play out my NINETOZERO tracks. Some are already released, like the 'Silence' EP cuts, but it's amazing to see people go off on the unreleased records without realizing they will soon be unveiled as NINETOZERO tracks. For sure, they also go off for 'Future Dust' for example, which is the biggest scoring track of the first EP – every time I play that one, the walls come off, haha!
I don't have any particular milestones that I'm working towards, I'm lucky enough to be playing in some of the most interesting environments the planet has to offer. Production-wise, I'm in a good flow and I'll be in an even better condition once I have more studio time in September. My goal is to always keep a healthy balance between playing shows, selecting records, making records, and being home to see my family and friends. At the moment, that's a little bit difficult, but that's the milestone I'm working towards, being in harmony.
EG: Thank you so much for your time, Enrico! We wish you all the best for the future.
Enrico Sangiuliano: Thank you so much guys, it was a pleasure talking to you. Good luck with everything and see you in the future. Don't forget – nothing lasts forever!
Enrico Sanguiliano's 'Silence' EP is out now via NINETOZERO. Purchase your copy here.
Follow Enrico Sangiuliano: Facebook | Instagram | SoundCloud | Spotify