Neverending, Hernan Cattaneo is one of the greatest exponents of the progressive house scene, carrying its flag to every corner of the world. With a career that spans over 25 years, and presentations ranging from the arid sands of Black Rock City during Burning Man, to the world-famous acoustics of the Colon Theater, the DJ and producer is royalty for thousands and thousands of fans. On the eve of his 'Sunsetstrip' event in Buenos Aires, we sat down with him to discuss his expectations for that afternoon, and what awaits him for the coming months.
EG: Hi Hernan! How are you? It is a great pleasure to have you with us again. We were lucky to groove out with you in Tulum at Magdalena's 'Shadows', great show… How has this beginning of the year been for you?
Hernan Cattaneo: Hello friends! 2020 started very well, I played very good shows in Uruguay, Cartagena, the one you saw in Tulum with Magdalena, another in Valparaíso and then I went on vacation with the family. Last week I performed again in Antwerp and Barcelona, and this weekend I will be for Carnivals in Peru and Bolivia, both with Oliverio.
EG: Being on the eve of what will be a new edition of 'Sunsetstrip' in Buenos Aires, we imagine that you must live these days with great anticipation. Is that so?
Hernan Cattaneo: It's always very strong and intense to do these great shows in Argentina. The anticipation is enormous. All the tickets have been sold a while ago and we just need the day to come so that we can have a great party with everyone. For me, there is nothing like playing in my own country. First, because it is home, but also because this is where people connect the most with this sound I love, even on a global scale.
EG: How is the prelude before reconnecting with the public that accompanied you from the beginning? Do you live these gigs differently than other dates?
Hernan Cattaneo: Of course, I feel great expectation and that anxiety that generates to have all eyes on me, but I also know that I have the privilege of playing for one of the best crowds in the world, people that will always be on my side. It's very nice to see on the dance floor fans of my age who follow me from 30 years ago when I played in Cinema, then those of 20 who went to Pacha, and also now many young enthusiasts who just entered electronic music. I know it's a rare thing. I enjoy it and value it very much.
EG: Some of your presentations are borderline marathons, as will be the 7 hours of 'Sunsetstrip'. How do you prepare for such long sets? Are you still looking for new music up until the last moment or do you prefer to relax before?
Hernan Cattaneo: I always try to make long sets and more in my country where I do only a few shows a year, and I know that people enjoy extended ones. I listen to music every day of my life whether I'm playing that week or not.
"I feel great expectation and that anxiety that generates to have all eyes on me, but I also know that I have the privilege of playing for one of the best crowds in the world"
EG: We know that, after Buenos Aires, you've got the Sudbeat Showcase coming up in Amsterdam, and the classic 'Never Get Out Of The Boat' party in back-to-back format with Nick Warren. What can you expect from these two great presentations? Do you face the musical preparation for each event in another way?
Hernan Cattaneo: Yes, I look forward to those shows and there will also be a Sudbeat Showcase at the Miami Winter Music Conference for the first time. Regarding music, one has folders and folders with music and uses them according to the type of event. A sunset or a boat with Nick is much different than one at 3 AM in Amsterdam, or at 10 am in Stereo Montreal, right? The important thing is to be prepared for every situation :)
EG: Lately, we've seen you a couple of times as a guest on different radio shows, and it seems like you usually have a great time. Is it something you would be interested in doing at some point? Can we expect any of that in the future?
Hernan Cattaneo: I always liked the radio and although I am shy, in that environment I have no trouble talking, so it is definitely something I would like to do in the future when I get off the airplanes a bit. A radio show where you hear and talk only about music.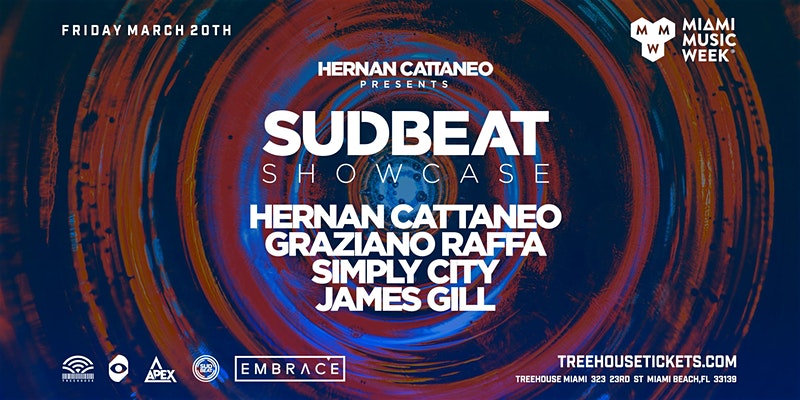 EG: Finally, is there a message you want to leave to your fans for this new edition of 'Sunsetstrip'? Any future projects to continue enjoying your music?
Hernan Cattaneo: First, thank you for the infinite support you give to me in my country. I am very well aware that with the terrible economic situation there are many who make a great effort to pay the tickets for a show that (taking place in such a spectacular place) has a very high cost. It is a great privilege to generate such an attraction when there are so many other shows every weekend in the city. This year we will be having here in Argentina two or three very interesting news for everyone who likes what I do, and I can't wait to announce them.
EG: Thank you very much for sitting with us again Hernán. We wish you the best for this year. It will be a pleasure to be able to dance with you again at the Capo De Polo on Saturday 29!
Hernan Cattaneo: See you there friends, only a week left!
Follow Hernan Cattaneo: Website | Facebook | Soundcloud | Instagram