Frankfurt-raised, Berlin-based artist Johannes Klingebiel unleashes a potent and untiringly emotive work with the release of his 'Fow Now' LP. A man of many disciplines, he combines his background in jazz drumming with an insatiable appetite for all varieties of electronic music in a gripping collection of sounds that showcase the artist's creative indulgence. Capable of thriving in both at-home and party environments, this thought-provoking release cannot be boxed into clear-cut categories.
EG caught up with Johannes Klingebiel to learn more about the release of 'For Now' and its remixes album, his motivations, inspiration, and much more.
EG: Hi Johannes! Welcome to EG. It's a pleasure to have you here with us. Where are you based right now? How have things been going this year?
Johannes Klingebiel: Thanks, the pleasure is mine! For a few years, I've been living in Berlin now. After a more quiet and introspective year (because of a certain pandemic) things got more vivacious again this year, with the release of new music and finally traveling and playing gigs again.
EG: That's great to hear. So, what was your Summer like? Any particular highlights?
Johannes Klingebiel: This summer has been a good one, playing gigs in front of actual audiences again, and everywhere you could really feel the communal joy of sharing these kinds of experiences again after all this (necessary) isolation. Especially playing with my freshly formed live band on festivals like Fusion, Garbicz and other great places has been a pleasure.
 EG: By the way, congratulations on the release of your 'For Now' LP on Bloomer Records! What has the initial reception been like?
Johannes Klingebiel: Thanks! I got a lot of great feedback about it from people known and unknown to me. It feels great to get messages from strangers, saying that they're listening to the album all the time. And as I already mentioned, playing that music with my new band live has been super rewarding!
EG: So, from what we know, 'For Now' engages "the state of transition and provisional spaces". Could you expand on that concept?
Johannes Klingebiel: The state of our society and the world, in general, seems to get more fragile day by day, and I think that somehow affected the music of the album. I recorded the music during lockdown months alone in my studio, during a time when a lot of things we had always taken for granted were suddenly in question or completely disappeared. In my case, this prescribed break from usual everyday life lead to a distancing from the club-focused music I'd been doing before and to more eclectic experimentation with different instruments and styles of music. I guess that's why the album has this transitional and exploratory vibe to me.
"I'd say it's an album more for the headphones than the dance floors (even though playing the music live on dance floors has been proven great)"
EG: What can your fans expect to find on this one, musically speaking? Were you listening to other music during the recording process?
Johannes Klingebiel: I'd say it's an album more for the headphones than the dance floors (even though playing the music live on dance floors has been proven great), borrowing from the sound palettes of krautrock, ambient, and even trap music.
I always try to keep my music listening habits open-minded, switching between electronica, jazz, pop, rap, and basically anything that floats my boat, and I guess that has been especially true during these pandemic years…
EG: 'For Now' also comes with its own remix album, including takes by Prins Thomas, Katerina, Benjamin Frohlich, and Sekitova. What was the selection process for the names like?
Johannes Klingebiel: Basically, the good folks of Bloomer Records and me assembled together a list of possible names for it, a combination of friends, long-time heroes, and newly found inspirations and I'm more than happy with the eventual result and the reinterpretations everybody brought to the table. Taken as a whole it feels like a parallel alternative coherent listening experience to the album.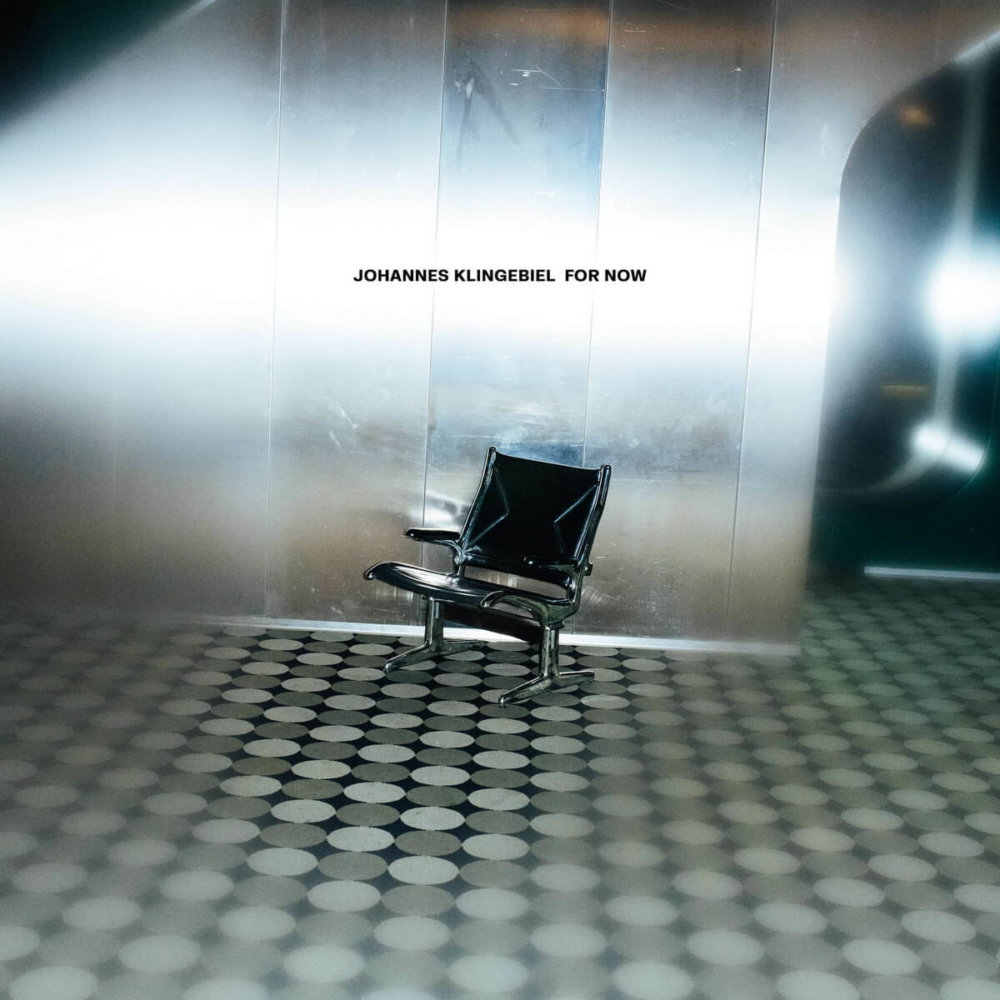 EG: What does your studio look like at the moment? Any new soft or hardware that you picked up during these sessions and would recommend?
Johannes Klingebiel: One upside of the pandemic was that it gave some friends and me the time to build our own studio space in Berlin out of something that was more of a rehearsal space before. Now we can easily record and mix whole band jams if we want to. We call it 'Sauna Studio' (for no real reason to be honest). The central synthesizer responsible for most of the sounds on the album is the Moog Matriarch, which has grown to become my "bread and butter" synth for any given production. It just has this great warmth and even the most basic sounds have that certain character to them. Another item I just got recently and already love dearly is the Polyend Play. It's a very well-designed hardware sequencer with a lot of cleverly implemented generative randomization-style elements. And it's the perfect fit for the new solo-live-act I'm currently developing.
EG: How do you keep entertained when you're not in the studio? Any good books, movies, or series you'd recommend?
Johannes Klingebiel: To anyone who hasn't seen it or heard about it I wholeheartedly recommend the HBO miniseries 'Irma Vep'. It's this extremely meta story about an American actress in Paris and sort of a remake about the making of a remake of a remake, and if that sounds artsy fartsy to you, it's really not at all, it's super entertaining and often-times laugh out loud funny.
"Berlin is such a heterogenous and chaotic city, that you can't really capture it in one individual experience, and of course, that's the great thing about it"
EG: What are your current thoughts on the state of the scene? What would you like to see more and less of?
Johannes Klingebiel: Phew, I don't know really. To be frank, I don't really feel that connected to any kind of scene at all, at least in a macro sense, or rather, I have a hard time putting my finger on what that scene actually is. In a very micro and local sense, I enjoy being part of a loosely connected and growing and evolving network of artists surrounding our studio (the 'Gaswerksiedlung' in Berlin-Rummelsburg), and, to me, this feels like a fresh bright spot in this city, where the wind for experimentation and exploration of recent decades seems to have waned a bit in the last years and things feel a little settled. But maybe that's just me. Berlin is such a heterogenous and chaotic city, that you can't really capture it in one individual experience, and of course, that's the great thing about it.
EG: What's next for Johannes Klingebiel? What particular milestones are you looking forwards to now?
Johannes Klingebiel: Right now, I'm working on a new solo live set, which will be more electronic and club-focused than my band project, and I presented that for the first time at ADE in Amsterdam at the Reflektor Records night. It was my ADE debut and such a great experience, playing to a packed room and meeting all these scarily friendly and welcoming people. Hopefully soon again!
Besides that, I'm constantly working on new music, which will hopefully see the light of day soon in some form, as well as scoring some short film projects. Writing film music is something I got into a few years ago, grew really fond of, and hope to do a lot more in the future, also, hopefully, for bigger projects.
 EG: Thank you so much for your time, Johannes! We wish you all the best for the future.
Johannes Klingebiel: Thanks a lot for having me! And all the best to you, too.
Johannes Klingebiel's new 'Fow Now' LP is out now via Bloomer Records. Purchase your copy here.
You can also find the 'For Now' remix album here.
Follow Johannes Klingebiel:  Facebook| Soundcloud  |  Instagram  |  Spotify