Laurence Matte is a relatively new face in the electronic music scene in her hometown of Montreal, Canada. Her skills inspire confidence while her daring provokes a journey. It's not just a night, it's a shared experience. A sense of communion and connection. It's somewhere we go together. Raised in her bohemian grandparent's house, filled with treasures collected from world travels and vinyl from across the continents, she is truly a melting pot of influences. Harnessing this, she creates dynamic, emotional soundscapes. Her music is responsive and fluid: it moves with the feeling of the crowd. A natural autodidact and perfectionist, she is always tinkering with new formulas. Freely selecting sounds from different cultures, time periods, and genres. She has created the Cazar nights, a weekly event at Soubois. There, she invites local artists to promote the Montreal scene and builds a community around shared interests. She also has invited DJs that inspire her, such as Behrouz, Themba, Elfenberg, Unders, Birds of Mind, Holmar, Britta Arnold, and more, with whom she played alongside at Cazar.
Her sets tell a story of voyage and adventure. She is audacious and artistic, equally inspired by the music of Lhasa de Sela as by the poetry of Boris Vian. With a musical practice that resembles a collage, she builds harmony out of chaos and creates something both poetic and strangely accessible. Always danceable, her sound often leans towards deep sets with both synthetic and organic touches. A soundtrack to get lost to.
We caught with Laurence Matte to talk about her current musical projects.
Electronic Groove: Hi, Laurence, and welcome to Electronic Groove. First of all, how are you? How have you been dealing with the whole COVID-19 situation these past months?
Laurence Matte: Hey, thanks for having me. I've been doing alright. I think like lots of people, the whole COVID-19 situation really helped me to slow down, to work on developing a boundary between my work time and my personal time. That's not easy for me—I think it's always kind of challenging when you're working in clubs and festivals. I mean, obviously, in the beginning, I was totally terrified. The idea of not performing, of not working at all—I felt like I'd lost a huge part of my identity. Playing live in front of people feels so central to what I do, it was always what I was most grateful for. I mean also there was the money thing; I'd lost my only source of income. I felt really helpless, and I think that was shared by a lot of people in the music industry.
But as time went on, I slowly got into streaming live sets to reconnect with music lovers. Honestly, the first couple of months were tough. I didn't love it in the beginning… It felt contradictory to what my definition of clubbing was: being together in space and time, seeing people and feeling their energy in 3D, getting that kind of immediate and intuitive feedback from each other. I was skeptical that all that would be lost in translation, erased by the technology. But then I started to get a new sense of freedom. Slowly, I realized I didn't feel the pressure to please the people in front of me anymore.
That's always a part of the job, you know, meeting your audience in the middle. You're always balancing your vision with where you're at. Take Montreal and Toronto for example, they have different sonic palates, different languages, those are subtleties you're trying to play with from moment to moment. But online, it's these perfect little bubbles. I can play whatever I want, whenever, and that feels great. It's a different landscape—it feels like we can coexist in new ways. But at the end of the day, I do think it's important to stay connected with the real world, to see people in real life, talk to each other, take care of each other face to face, not just through technology.
Electronic Groove: Can you tell us how did you first connect with music? How did you figure out that electronic music was your thing?
Laurence Matte: I was raised in a family where I was surrounded by music. My grandpa was a part-time musician and he traveled often for work. He'd bring back amazing vinyl from all over the world. There was always something interesting playing in the house—it wasn't just like Celine Dion in the background. There was a sense of exploration, the thrill of finding treasures. I think that's how it all started.
Later, in 2014 I went to see Jacques Greene in Montreal. That's when I really started to get into electronic music. His chopped and looped vocal fragments blew me away—it felt like the music had a different kind of architecture. After that I started analyzing why I was going to certain places and shows, I zoomed in on the Electronic landscape and started playing with ideas of where I wanted to stand. It's such fragile, shifting ground. It was endlessly fascinating to me. So I bought some equipment so I could teach myself how to mix and started digging into music.
"I feel like there's a lot of pressure on artists to maintain a certain aesthetic, to 'always stay true to your brand'.
It feels wrong, somehow"
Electronic Groove: About your sound. Was it hard to find your own? Do you spend a lot of time in the studio?
Laurence Matte: Do I even have a sound? I don't know, that makes me kind of uneasy. I feel like there's a lot of pressure on artists to maintain a certain aesthetic, to 'always stay true to your brand'. It feels wrong, somehow. Like, we should all just be playing whatever the fuck we want. Music is a kind of emotional reaction. I'd been mixing in private for a while before I started to do my first gigs in clubs and parties and part of it has always stayed very intimate for me. My catalog of music is constantly shifting and changing.
That's something I've always tried to build into my sets. I try to keep experimenting. I play this game with myself that every time I start getting comfortable in a routine, I push myself out into something different. I try not to get too attached to one genre or one way of doing things. Thinking on your feet is so central to how I evolve as an artist. I want to grow with my crowd, play them things that are right at the edge for them, take them somewhere they might not have gone alone. That feels important to me.
As for the studio, I'm taking production classes these days. I love playing around with Ableton but I'm not in a rush to put something out for the sake of making hype. There are so many incredible hybrid artists now who produce and DJ, but for now, I'm happy just to be a curator and work on things organically. People have said for years that DJing is a dying art but I think you'll always be able to draw a crowd and build a community mixing other people's music. Don't forget DJing started with crate-digging in record shops: there will always be the impulse to share your treasures with other kids, and I love that.
Electronic Groove: We know that you are a part of Bespoke Musik. How did that come about
Laurence Matte: Before the lockdown, I had a monthly residency in NYC at Gospël. I was getting ready to do a night at Amaya Society and Rocky reached out to me on Soundcloud. He wanted me to do a radio show for Bespoke Musik and eventually an event at ZeroSpace, this mind-bending venue he runs there. Then, of course, the borders closed. But I did get the chance to do a set for Bespoke Musik that's up on Soundcloud, so that was the silver lining.
Electronic Groove: How do you go about planning your sets? Do you plan a lot, or is it a thing of the moment?
Laurence Matte: Given the current situation, I'm taking a lot of gigs as they come in for different platforms that don't necessarily curate the same artists or the same style of music. I love to lean into that and create sets that meaningfully connect with those differences, almost personalizing them for each platform. It feels intimate, almost conversational. I guess that's a kind of planning.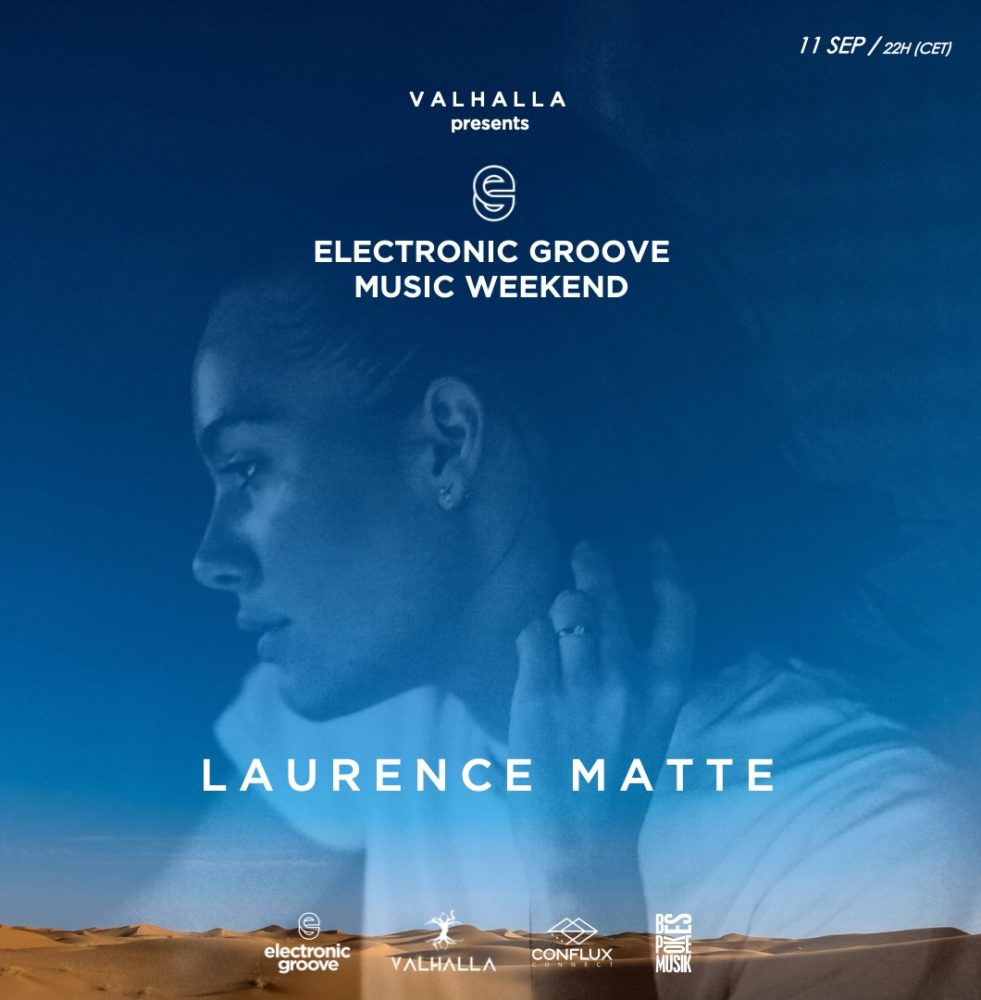 Set your reminder for the Electronic Groove Music Weekend here >> https://bit.ly/3lTWFSp
Electronic Groove: What can you reveal to us about your upcoming set for our Electronic Groove Music Weekend?
Laurence Matte: We'll see. Maybe something sexy. I don't know.
Electronic Groove: Many thanks and we wish you nothing but the best moving forward! Can't wait to hear you rocking our Electronic Groove Music Weekend!
Laurence Matte:  Thanks for having me, it's been great.
Follow Laurence Matte: Facebook | Instagram | Soundcloud