Berlin-based DJ, producer and label owner Len Faki is one of the most outstanding and in-demand artists in techno's present age. He is an internationally requested DJ, whose productions and remixes are played by techno's most prominent names. His bone-dry but communicative execution style sets him apart as a true gentleman behind the turntables, an artist whose sets are based on raw passion and beauty, who uses his fingertips like sensors on a Richter scale, gauging, anticipating as well as triggering eruptions on the dance floor.
We caught up with Len Faki ahead of his Coda Toronto show and other musical topics.
Electronic Groove: Hi, Len, glad to have you on EG. How was your weekend?
Len Faki: Thanks for having me. I'm just back from an intense South America weekend. I played in Buenos Aires, Santiago de Chile and Medellín. So it was quite traveling intense and is still hurting a little bit, but at the same time, it was super rewarding. I had 3 really great gigs. One club show and two festivals, and all three really blew my mind, I couldn't have asked for more. Actually, it is always super nice to be in South America, they are the most warm-hearted people, welcoming me with open arms each time I visit them.
EG: You will be playing this Friday at Toronto's Coda, a club you've visited in the past. How does it compare to other clubs around the world?
Len Faki: I really like Coda. It remembers me a little of the 90's and my beginnings. Especially in the south of Germany, there were a lot of clubs with this kind of basement mood with a lower ceiling. This brought back some good memories when I played there for the first time and I felt instantly comfortable and home, it reminds me of my roots. I like those clubs and the special cozy energy they create, I am really looking forward to being back this weekend.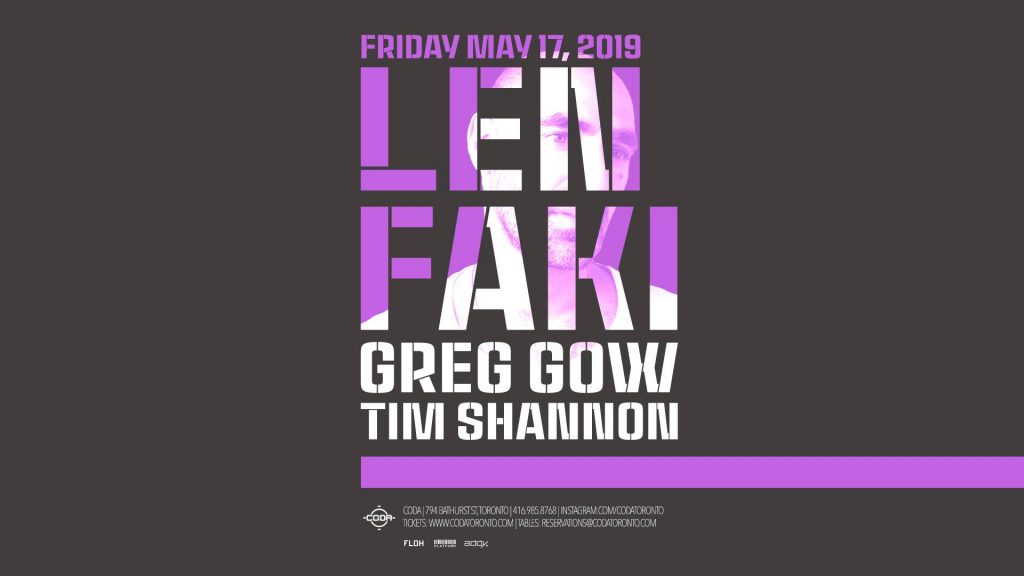 Lef Faki at Coda Toronto on May 17th, 2019. Grab your tickets here. 
EG: What are you looking for when choosing new dancefloor material? And where are some of your favorite places to find those hidden gems?
Len Faki: I do search rarely. It's more collecting everything I like. It's stuff that was sent to me or that comes to my mind and that I buy. Those tracks can have quite a big range from more house to darker techno to jacking tracks, I always have a huge music archive with me. It's quite time-consuming to edit and remix everything I play, so I never really make it through all those tracks and always have a lot I can choose from. Also, it's fun to go through my records from time to time and digitalize them. Depending on the mood or if  I'm attracted to one of them. Even after all those years, it fascinates me how many new things I still discover in my shelves. My music comes from all different kind of sources, which is probably one of the origins of why my sets are so diverse.
EG: Dance music has gone through many changes over the past decades. As someone with many years of experience and knowledge of the scene, what is your take on its current state, and what are your thoughts on its evolution in North America and Europe?
Len Faki: The hype is changing and evolving every few years but I don't take this so serious. At the moment I think there is a very colorful mixture of artists with a high diversity and productivity. It's a good range of all different age groups and styles which I like. It was nice to be part of the development that North America techno culture has made over the last years, especially in the bigger cities. It's such a huge country and compared to the size, techno is still a small niche in the scene, but for me, this is totally fine. I hope that there will be more young, upcoming and passionate promoters in the future that will continue working together with the established ones to grow the scene further and further. But it always can keep its niche character, I would prefer that.
EG: You have a massive pack coming out today on Figure. What can you tell us about the production process behind 'Robot Evolution' and what comes into play when choosing the remixers?
Len Faki: The original track was produced for the compilation to celebrate Figure's 15 years and 100th release. For the production, I was reviewing all those years, how the label has started and where it is today. Its development but in general what has changed. Digitalization, social media – it's getting more and more in this direction. Human tasks are done more often by machines. As much as this all fascinates me there is also a part in me that thinks about protecting the human part. Those were my core thoughts and the origin of this spherical, deep and sci-fi energy. Together with the vocals, it's exactly the expression I wanted to create and everything came together.
For the remixes, I wanted to go multi-faceted and a wide spectrum. That's what I play and what I really like. Also, in regards to the title, I thought this is matching and with that, I asked those diverse artists which I respect and value a lot. I am super happy they were up for it and the remix EP turned out so great.
EG: Electronic Groove: We've seen a few artists come to discuss the toll of touring and depression. Have you ever been through tough times during your career what advice can you give to those who are starting their careers in the music industry?
Len Faki: That's a good question and one that many don't want to talk. The truth is that a DJ and live producer has some downsides you have to deal with, which is not always easy. Also, a few years ago I was at a point that I had to think about how to cope with all the tasks and demands that come with heavy touring, studio production time and being a public person having outside opinions about me. I was not in the best shape or a sporting ace at that time. I was smoking, not sleeping enough, too much coffee, and I realized that if I wanted to continue doing this in a good way I'd have to make changes and adjustments in my life. Then I changed my routine to have a better balance. Now I practice sports very often, do outdoor runs, holidays filled with hiking and activities, changed my diet to a healthy one and I guess I'm living a more active lifestyle in general. That, all together, helped me a lot to improve.
For someone that is starting his DJ career, my advice would be that you need to have a strong purpose, and I suggest that this is not becoming famous or having many IG followers because those superficial things will not carry you through the tough moments. I think it rather should be something like an absolute unconditional passion for music, for producing and for DJing. For me, music was my biggest passion and friend since I was a little boy. I grew up in an immigrant family and it wasn't easy. Music was always there and not judging me.
When I started to go out to techno parties at the beginning of the 90's I found a kind of home. It was not important where I came from, who I was, we were all the same, it was about the music, dancing, about enjoying the moment and having a good time together. I loved this freedom and acceptance which was and still connected to techno. Experiences like this and having such a strong connection helped me to go through all the difficult times. I am lucky, I have music, my biggest love is always with me.
EG: Lastly, what is the best and worst part of being Len Faki?
Len Faki: Being Len Faki :), but honestly – the worst is not having much private time, mostly not being there when weddings or birthday parties are celebrated, or just hanging with friends or family on the weekends because of all the touring. Also, I have lost quality time with my friends over the years, but at the same time, this way of life makes me incredibly happy, to follow my passion, to live my dream. Even though traveling is often the hardest part, it also brings me to the most beautiful and interesting places on this planet.
I am incredibly thankful that I had the chance to visit so many different countries and cultures and have met so many nice, interesting and inspiring people. The connection I feel with the crowd and the energy in the room when I play, I love that! In the end, it is definitely worth it, at least for me.
Follow Len Faki: Facebook I Instagram I Soundcloud