Malin Linnéa is a Stockholm-born DJ, music curator, event organizer, and producer. Recently she has shared decks with the likes of Guy Gerber, Bedouin, Blond:ish, Audiofly, Damian Lazarus, Mira, and many more in places like Tulum, Brazil, London, and Ibiza. Malin is currently spending her second summer in Mykonos, Greece, where she is a resident DJ of Scorpios as well as leading sound meditations at the Soho Roc House.
We caught up with Malin Linnéa to find out the details about the artist's current plans and to talk about her upcoming set for the Electronic Groove Music Weekend.
Electronic Groove: Hi Malin, and welcome to Electronic Groove. First of all, how are you? Where are you based right now? How have you been dealing with the whole COVID-19 situation these past months?
Malin Linnéa: Hi and thank you! Right now I'm in Mykonos spending my second summer here as one of the resident DJs at Scorpios. I perform between here and Soho Roc House, as well as lead sound meditations so it's quite full-on, to say the least.
I spent the lockdown months in my home town Stockholm as my mom was ill during this time and unfortunately passed away from cancer in June. To say the least it's been by far the most difficult period of my life between the COVID, the uncertainty for our industry, plus my mom passing. I hope and think from now on that things can only get better.
EG: We know that you spend your time between London and Mexico City. How did that come about?
Malin Linnéa: I decided to move to Mexico City to be able to spend more time in the studio. In London, it was very difficult as I was DJ-ing 5-6 nights a week so I was always too tired to produce before the next gig the same day, and also I didn't have space as in my apartment I was sharing with another girl. I spent 10 years in London which was great but I wanted a change. It's a cool city but not great for a creative who needs time to spend on their craft.
EG: Can you tell us how did you first connect with music? How did you figure out that electronic music was your thing?
Malin Linnéa: I was a music nerd as a child and started collecting records when I was 7. Later on, I spent an exchange semester in Madrid studying finance in Spanish but I was going out listening to music more than I was studying. In the same period, I went to Space Ibiza for Carl Cox on the first night on the island. After that I completely fell in love with house music and just thought it made sense, given all my records and passion for music, to learn how to DJ. At the time I just thought it would be a fun hobby, I never imagined I would do it as a career.
EG: About your sound. Was it hard to find your own? Do you spend a lot of time in the studio?
Malin Linnéa: I think as an artist your sound is always slightly evolving. After 10 years in London, my sound is definitely groovy, house, and quite melodic. At the beginning of lockdown, I spent all my time producing, then I stopped to be with my family the weeks before my mom passed away, which was definitely was the right choice. Just a few days after that I flew to Mykonos and started DJing here. I currently spend most of my free time hunting for music as I don't want to play the same all the time, and you need a lot of music if you're playing 20 hours per week in the same place.
"I completely fell in love with house music and just thought it made sense, given all my records and passion
for music, to learn how to DJ"
EG: We know that you are a part of Conflux and that you are planning your first tour across North America. What are your expectations for this new adventure?
Malin Linnéa: I'm very excited about this as the only place I have played in the United States is Burning Man. In Europe, the crowd differs so much depending on the country so I'm curious to see whether it's the same there, these different states and cities have a completely different crowd and vibe.
EG: In a different twist from most DJs, you have worked with some of the biggest names in fashion. Could you tell us how did that happen? How is that different from playing in clubs?
Malin Linnéa: I'm not sure how it happened actually, I was just asked by brands to DJ for them. If it's for a specific launch or collection it's more about creating a particular feeling rather than making people dance (which could, of course, be the case later in the evening), and that can be quite interesting and creative. I've also produced music to be used in ads for fashion brands which is always fun and challenging.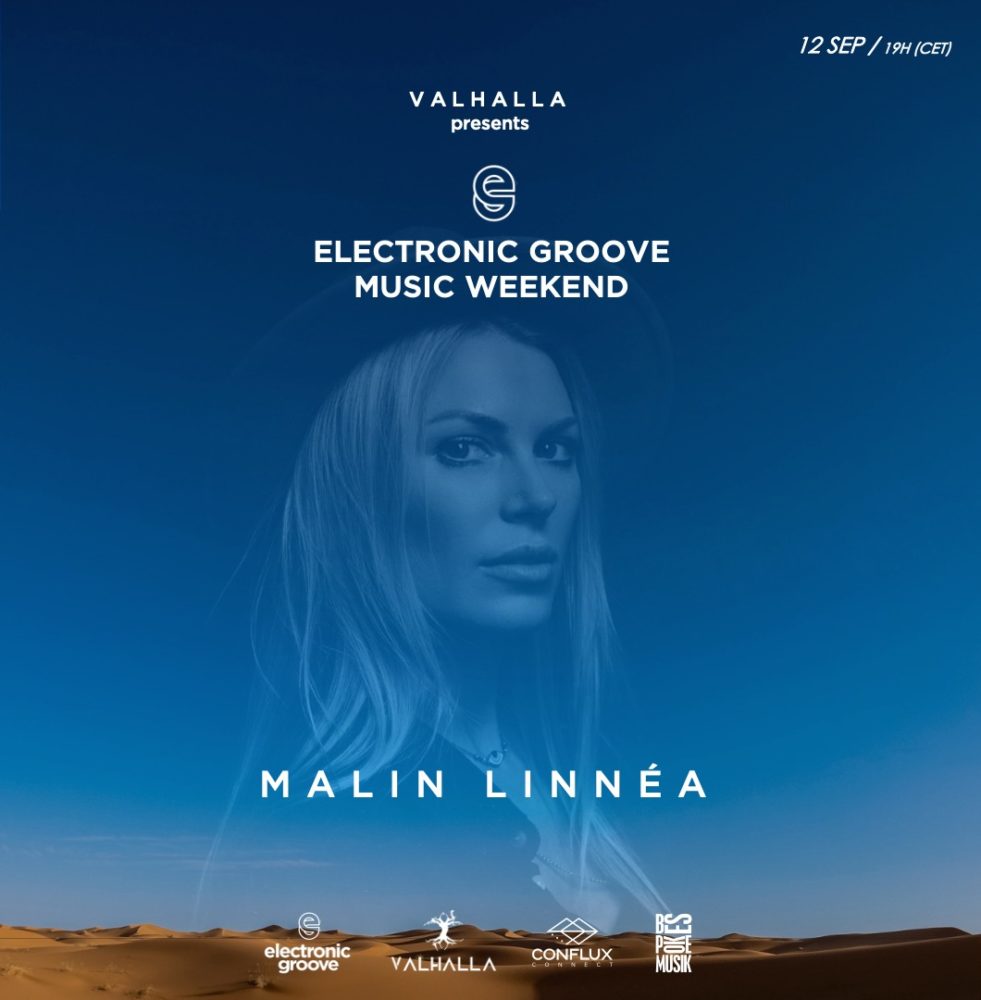 Set your reminder for the Electronic Groove Music Weekend here >> https://bit.ly/3lTWFSp
EG: What can you reveal to us about your upcoming set for our Electronic Groove Music Weekend?
Malin Linnéa: As I'm in Mykonos I had no other choice but to record the session from the Scorpios – which certainly had its challenges on its own. The set you will hear is completely unplanned and one of a 5-hour daytime set. Some tracks are old favorites, some I'm mixing for the first time. It's also a lot more downtempo than I normally play, but this is due to COVID restrictions and that we can't want too much of a party vibe. I never really plan my sets, I just start playing and see where the music takes me.
EG: Many thanks and we wish you nothing but the best moving forward!
Malin Linnéa: Can't wait to hear you rocking our Electronic Groove Music Weekend! Thank you again for having me!
Follow Malin Linnéa: Facebook |Instagram | Soundcloud