'Shapes in My Head' is the forthcoming debut album by Sun Lo, a collaboration between multitalented Canadian producer ATTLAS (Jeff Hartford) and acclaimed British vocalist Richard Walters. Bringing together two like-minded artists who have never even met in real life, the album demonstrates a synergy between the seemingly disparate musical worlds of the club, the orchestra, and the singer-songwriter.
Though it's not a concept album, ATTLAS's production and Walters' lyrics coalesced around a single narrative, inspired by Kazuo Ishiguro's 2021 novel 'Klara and the Sun', a work of dystopian sci-fi in which an artificial intelligence examines its relationship with the human world.
EG caught up with Jeff and Richard to learn more about the incoming release of 'Shapes In My Head', the drop of their new single  'Heights', their take on social media, artificial intelligence, and more.
EG: Hi guys! Welcome to EG. It's a pleasure to have you here with us. How have you been? Where are you based right now?
Jeff Hartford: Thanks for the invite. I'm currently based in London, Ontario. I was in Toronto until mid-pandemic then moved in with my partner here in 2021 for more space to accommodate both of our professional lives.
Richard Walters: Hello, I'm based in the UK, about an hour outside London. For me, it's a good mix of asphalt and foliage.
EG: First of all, congratulations on the announcement of your forthcoming debut album, 'Shapes In My Head'. You must be very excited. What can we expect?
Jeff Hartford: If you've heard the singles, I'd say it exists within a similar sonic landscape, but explores the range of emotions and production decisions with more nuance and pause. If you're new to the music, I'd say it's singer-songwriter electronica. My compositional approach was largely my piano demoing for or with Richard's songwriting and singing, so already it felt more like being in a band than being a producer. For the more beat-driven tracks I initially approached it as "Max Cooper meets Coldplay", which references both the intricate detail and warm synth work paired with sensitive and accessible songwriting and tender vocal performances. As the project evolved, however, the music readily dips its toes into areas that are more ambient and orchestral-inspired.
Richard Walters: Incredibly excited! It's been a long time coming – we worked on the album remotely in between our other projects, so it was a slow workflow, but I think that benefitted the process, to be honest. It's a record we're both very proud of and I think a perfect splice of our individual projects.
EG: We know 'Shapes In My Head' is inspired by Klara and the Sun and the evolution of AI technology along with its impact on our daily lives. So, what is your position on this? Is this a change for the better? Are you somewhat uneasy with it?
Jeff Hartford: I'll preface this by saying I'm only speaking for myself. For better or worse, it's inevitable. From the first time humans used tools of any sort, we've been on this pathway. Tools to lift for us, push for us, see for us, and now think for us. Of course, they will create for us as well. In the short term, the novelty is a bit thrilling albeit worrying. In the long term, it won't replace any of my favorite hobbies and pursuits and past times. Why learn to cook when there are restaurants? Why do I run every day when I won't be in the Olympics? When it comes to my line of work, I will still write music, but maybe the audience or the performance of financial viability changes.
My probably naive and hopeful outlook is that what is more "human" persists and perhaps, once we reach the threshold where nothing "digital" can be trusted as real (news, current events, speeches by political leaders), and reality itself can only be verified by our 5 senses and not our digital proclamations, we'll engage and explore in the fresh air and the flesh with a healthier perspective.
Richard Walters: It feels like the AI conversion is one I have daily at the moment, especially in relation to art and music. We're at the bottom of the staircase with it right now, who knows where it's leading us, but I personally feel, if used responsibly and with consideration, it's a wonderful tool.
EG: And you've just released 'Heights', from 'Shapes In My Head.' Tell us about the song and how it relates to 'Shapes In My Head'?
Jeff Hartford: Thematically, I'll let Richard speak to his lyrical/narrative decisions. As far as my role on the production side, 'Heights' typifies the atmospheric approach I use to build much of the space the songs exist in. A lot comes down to playing in many synth/string/piano parts, printing them into these giant cavernous spaces, then re-sampling that audio in loops and collages to build a familiar yet foggy layer of sound re-remembered.
Richard Walters: It's a song about human fragility, both emotionally and in terms of our greater needs and position in the world or even the universe. As we approached the end of writing the album, I started thinking about the story and narrative arc more and more, and this song felt like the penultimate scene of a film, a big dramatic moment of release and wonder.
"It feels like the AI conversion is one I have daily at the moment, especially in relation to art and music. We're at the bottom of the staircase with it right now, who knows where it's leading us […]"
EG: By the way, how did you guys meet? How was Sun Lo born? Were the idea of it and the connection instant?
Richard Walters: I was introduced to Jeff's music by a friend and absolutely fell in love with his work. I followed him on Twitter, he followed back and we started chatting about life, music, and ultra-marathons!
Jeff Hartford: Richard covered the main details of the introduction and it was definitely a fast connection. Though the largest lifestyle adjustments of the pandemic have loosened their grip, too much of that time period has persisted for me (social isolation, working alone in a basement with too much screen time, and closest friends hundreds of kilometers away), and Sun Lo became a reason to hang on and continue writing. The onset of the collaborations were just two (new) friends talking life, sharing musical snippets and demos back and forth. I'd wager that we had a pile of records "nearly done" before we even considered a name or package to contain the work we had done together. Rather than fuss about how to delineate Richard Walters and ATTLAS on any naming conventions, it felt fresh and tidy to give the music and the project its own name identity.
EG: And why did you decide to call this particular project Sun Lo? How did the name come along?
Richard Walters: We spent a long time thinking about whether this collaboration needed a new identity or not, and ultimately felt that the music deserved to have its own life beyond our other solo work. Sun Lo grew out of various chats and list-making, it seemed to fit with the songs instantly.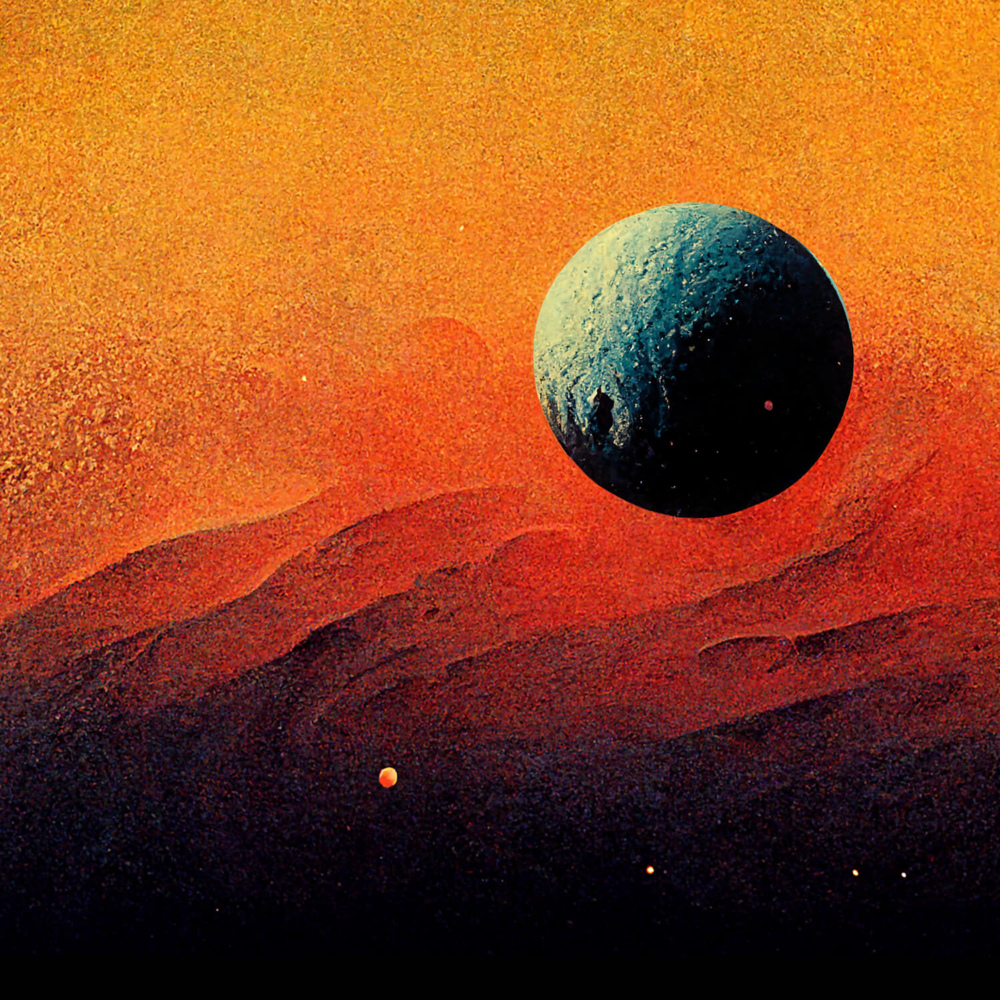 EG: How do you feel about the use and role of social media today? Does it take too much away from the music?
Richard Walters: Much like AI and art, if it's used in the right way and with consideration, it can definitely enhance the experience for artists and listeners. I think it's just important to make the content feel like part of the bigger picture, and avoid it feeling throwaway.
Jeff Hartford: Personally, it has been a major sticking point in most of my musical career. I can remember the hot flash of stress when my earliest records started to get label deals, and I had no social media pages. I was never comfortable over-sharing and didn't like the way I looked, and social media truly exacerbated these aspects of how I saw myself. I feel if I'm on social media, just about everyone is successful, rich, beautiful, clever, and confident. I've never even made a joke online and in real life, I am chatty and light in nature. Social media doesn't take away from what I love to write and how I feel about music, but it definitely has changed how I see myself.
EG: Can you tell us something about yourself that only a few people know about?
Richard Walters: I'm terrified of swimming in the sea. It's an unreasonable fear that stems from a weird encounter with a jumping fish when I was about ten. I just can't swim in the sea, I think too much about everything underneath and the enormity of it.
Jeff Hartford: It was a tiny label and a tinier deal, but my first "release" was a folk album of me singing and playing guitars and banjo and mandolin.
"I think it's just important to make the content feel like part of the bigger picture, and avoid it feeling throwaway"
EG: How do you keep entertained when not in the studio? Have you checked out any good movies, series, books, or albums you'd recommend?
Jeff Hartford: I love long-distance running, and got interested in ultramarathons a number of years ago and haven't quit since. Alongside meditation and cold water therapy, those three elements keep my brain from destroying itself. Beyond that, anything outdoors (winter/summer camping, canoeing, fishing), gardening (I have a bonsai garden outdoors in the summer, and in the winter I have about 50-60 plants in an indoor setup on the same floor as my studio), and art galleries. I recently flew through Ted Chiang's writings, but frequently return to the classics of Philip Dick, Arthur Clarke, and Bradbury. Then I'd say cooking and hockey fill the rest of my time!
Richard Walters: I love reading and find so many song ideas in books – recently I loved 'The Glass Hotel' by Emily St. John Mandel. TV series too, if I get hooked I find it hard to step away – 'Succession', 'The White Lotus' and 'Sweet Tooth' all gripped me recently.
EG: What's next for Sun Lo? What particular milestones are you looking forward to in 2023? Where can your fans catch you next?
Richard Walters: I'd love for us to play live, take these songs out of the studio. Jeff & I have yet to meet IRL, so that's probably the first step!
EG: Thank you so much for your time, guys! We wish you all the best for the future.
Richard Walters: Thanks EG!
Sun Lo's 'Shapes In My Head' will be out on April 28th. Pre-save it here.
Follow Sun Lo: Instagram | Facebook | Soundcloud | Spotify