We've been pissed off with the cyclical, repetitive nature of pop culture since the 1960's. It was Roland Barthes who famously scorned the idea of originality in popular art and claimed 'the bastard form of mass culture is humiliated repetition'. He probably had a point. Repetition isn't even an unavoidable side effect of an endless stream of genre and sub-genre anymore. Music is built on it, reliant on it: the very foundations of house, disco & techno are, after all just a steady succession of recycled, repetitive beats.
So in an era where nothing is or can be original, where art is just a facile version of its former self, how do you stand out as an artist in a predictable sea of inanity? Because all that said, we don't like change. We went there briefly with glitch hop and look what happened to that.
Bob Moses rank in the top fifteen live acts in the world, according to a 2015 poll by Resident Advisor. Having seen them play twice in recent months, it's a fair accolade, but its not originality that sets tech-wizz, Jimmy Vallance and frontman Tom Howie apart: They make pop music. They're 'DJ's' and rock stars. Bob Moses are driving the kind of deeply seductive modern bandwagon that the likes of David August, Nicolas Jaar & Jan Blomqvist are riding. They make gorgeously predictable, unashamedly indie-fused house and yet they vacillate seamlessly between the two, pulling it all into a curiously nuanced, woozy, sensual sound. Your nan would love them. They're also very nice guys. But that's a different story.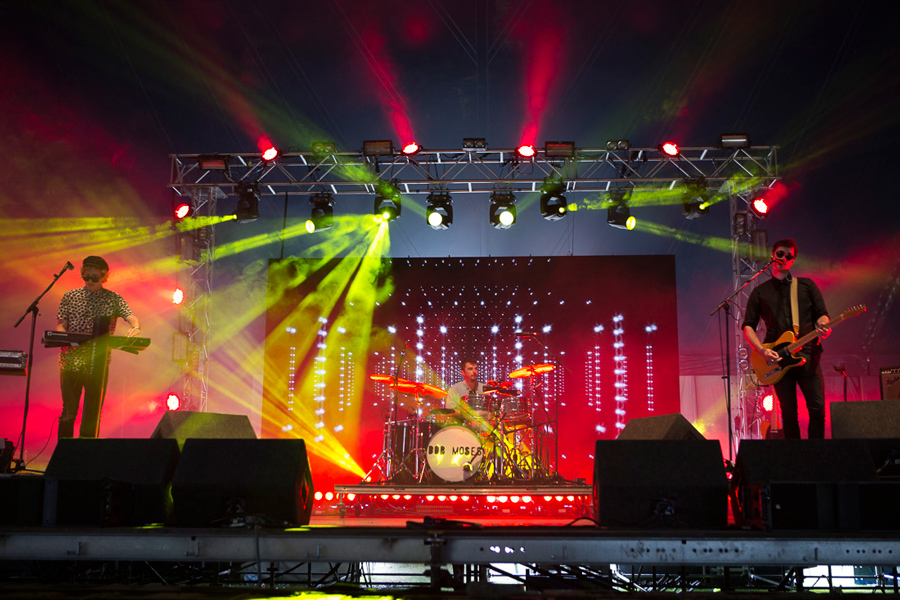 Photo by Alex Welensky
What's interesting is Bob Moses' no fucks given attitude to being a popularised success story within an arm of the music industry intent on situating itself (wrongly, if you listen to Barthes) in an esoteric domain. Far from selling out, they're selling tickets. A clever move, you might say given Vallance's heritage, which is anything but mainstream and includes working with All Day I Dream's, Matthew Dekay and M.A.N.D.Y's co-founder, Phillipp Jung. The duo's background is in California punk, Northwest grunge, and minimalist electronic. They honed their craft on the New York rave scene, Howie has a background in songwriting and rock music, Vallance, in trance.
Nowadays, there's still hints of grunge, but also even, dare I say it, teenage angsty emo-rock. Anathema to electro-heads, yet its electro-heads buying tickets. Its music for the girls: melancholy, first-love, bedroom blues and these boys are very good at it indeed. We caught up with them at a Lovebox and again after a stellar self-curated night at London's Village Underground, where they showcased a tracks from their Never Enough Edition of Days Gone By, a forth a special edition of their album released on August 19th via Domino Records which features remixes from Tale of Us and Joris Voorn. Here's how it went:
Electronic Groove: I understand you guys were heavily into the California punk & US grunge scene. 'Talk' and 'Like It Or Not' for example resonate for me with Nirvana-esque grunge sound. How much did that era affect or influence your sound, or you as artists?
Tom: I think I listen to the album 'Nevermind', no joke, probably every fourth plane ride. We grew up on Nirvana. It's the first album I feel like I first really got into. I was about eight years old. It was also the first album I was really bewildered by, scared by, intrigued by as an artist. Both of us when we were teenagers, post grunge was what was on the radio and that naturally seeps through. Also we're from Vancouver and its pretty melancholy there.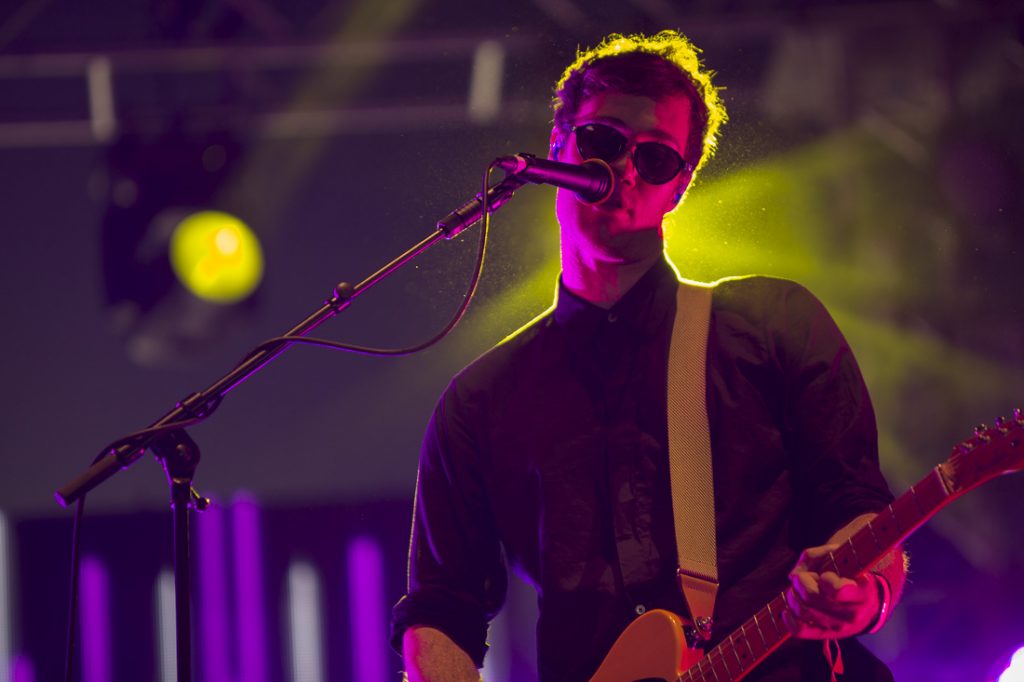 Photo by Alex Welensky
Electronic Groove: Your music at times has a real air of sadness as in tracks like 'Keeping Me Alive'. How challenging is it for you to carry that sound in a dance set as you did on your recent essential mix for Radio 1, for example?
Jimmy: It took us a while to fuse that house and grunge sound. Our first year was kind of like a journey and how to mix song writing with a groove that could hold a dance-floor. We were spending a lot of time going to warehouse parties in New York. We were listening to a lot of groove orientated deep house and we wondered what it would be like if we wrote tracks around that. Either people were going to love it, or they were going to hate it but when we started doing it, people really dug it in New York.
Tom: Deep house is really a bastardised term now but back when we were starting out and going to raves, all this stuff was really brooding, moody, subdued – all the sounds were kind of muted. There was a lot of tape machines, a lot of analog and it was all very deep and dark – almost underwater. Take Francis Harris or Frank & Tony. Or Stimming's early stuff or Trentemoller – that whole vibe.
Jimmy: It went even more obscure than that – but then people started calling Disclosure 'deep house' and we were like 'wait a minute'!
Tom: Also at that time James Blake had put out his first record and he was using some of the same sounds, it wasn't a dance beat at all but then he was using some of the same sounds. We wanted to produce a sound along those lines but with more energy. That really was our whole ethos.
Electronic Groove: What are your thoughts on the evolution of house in the US compared to the UK, or Europe?
Tom: We spent a lot of time in Berlin before we were with Bob Moses. Obviously the UK has a big house history but our favourite city in the world, as far as the crowd goes, is probably Amsterdam.
Electronic Groove: Jimmy, I know you formerly worked for Matthew Dekay (of Lee Burridge's, All Day I Dream ) & Phillip Jung ( Co-founder, M.A.N.D.Y) How long did it take you to find your own sound as a producer & how much did time with those artists affect or influence your sound?
Jimmy: I started to work with Matthew when I was eighteen and he kind of took me under his wing. I started going into the studio, meeting with his engineers and then I started helping Matt and Lee make music. That had a massive impact on me. It was 2008 I think, right when Berlin was becoming big. Ricardo Villalobos had put out that Fabric set and we were mad obsessed with that minimal house sound. Lee had all these amazing records from the 90's and he was like 'guys, check this out'. Lee Burridge is a legend and he basically gave me a quick crash course in music. It was a bit like going to university. That influenced me tremendously and though that I met Phillipp Jung.

Photo by Alex Welensky
Electronic Groove: We're sure you have some amazing stories in all your years of traveling. Anything you're allowed to share with us?
Jimmy: People take our suitcases a lot. Last night we were having a party in the van on the way back from Latitude and our sound guy gets up and starts dancing and falls over. Disaster. Lots of crazy shit happens.
Tom: The worst are just baggage. In Italy we lost all our clothes and all our gear and we had to play regardless.
Electronic Groove: What would you be doing if you hadn't made it in music? What was your plan B?
Tom: I've no idea. I didn't really plan on a plan B!
Jimmy: Probably working at Fedex. Id be a baggage handler & I'd just take peoples suitcases and throw them down the stairs.
Electronic Groove: You have a history of playing at Burning Man. Was there any artistic or musical evolution that came from your experience there?
Jimmy: When we first played at Burning Man, that was important for us. Our experience had always been warehouse raves and parties in Brooklyn: that was really where our sound originated from. But Burning Man was the first place where we were like 'this is just as much of a home for us as anywhere else' so we felt very connected with the vibe and what everything is about there. Everything you do influences your sound one way or another but people kept telling us – 'this would be sick at Burning Man' and so we listened.
Electronic Groove: Are you guys happy with the evolution of your career?
Jimmy: We're totally stoked. To be able to wake up and do music every day and to tour and to travel – its amazing that we get to do that.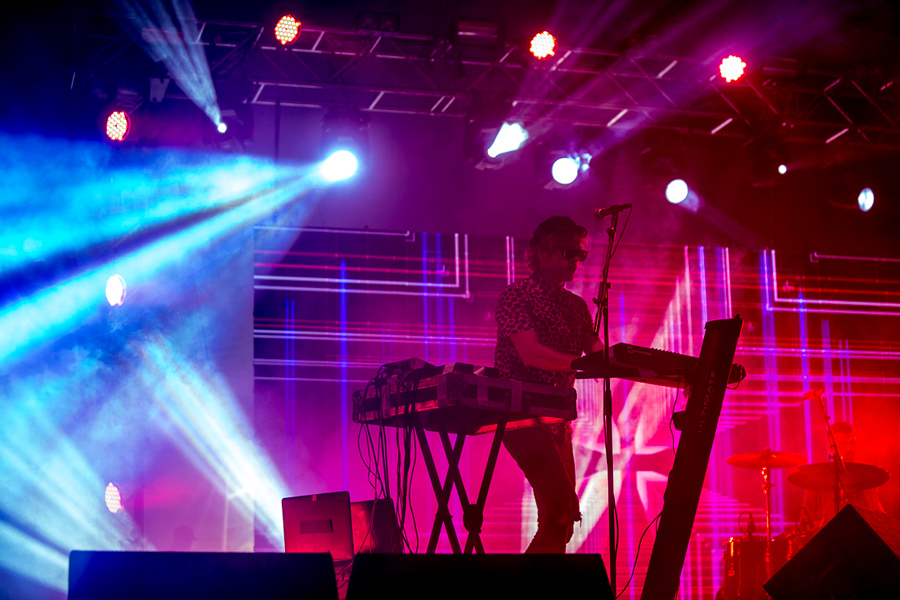 Photo by Alex Welensky
Electronic Groove: What challenges are presented when playing at festivals versus playing at small clubs?
Jimmy: Its more not knowing what you're getting yourself in to. For example when we play a show and we know our fans, we know what to give them. At a festival you just have to hope people like it and you just don't know what to expect. Maybe its a festival where our type of music isn't really the focus and you just have to roll with it. It's kind of like a box of chocolates. I think we're at the point now where we're on auto pilot now to a certain degree until you get on stage.
Electronic Groove: From some time now we've seeing a lot of parties feature a great number of artists with reduce set times. I noticed you only played for 45 mins at Lovebox. Do you think that this this format limits the artistic expression or does it change the vision or interpretation from the listener standpoint?
Jimmy: We have no say in how long our set is. Playing 45 minutes its just a case of playing the hits and get off. It's worse if you're a DJ. The first 45 mins of every DJ set is the worse part of every set, because it takes a while to get into it. We played the same set last night and by the second to last song, I'm like 'yeah, we're into this now' and then you're off stage. So playing an hour and a half is a bit more ideal for us. But, its always better to leave people wanting more.
Electronic Groove: Final Question. The dance floor is flagging – what's your fail safe track to rev it up?
Tom & Jimmy: 'Tearing Me Up' ( their bestselling track )
Me: Who is that by?
As I said, electronic music heads aren't generally into Bob Moses.
They're far too popular.