For the first time ever,

Bedouin

presents Saga every Wednesday at Pacha Ibiza. A new story through infectious music that has hypnotized audiences from all across the globe is waiting to be told. With a stacked lineup, complete with renowned international guests, Bedouin's 'A Wednesday Saga' is set to present German duo Andhim this Wednesday, September 7th.
A seasoned duo, Andhim has toured the globe, basking in its wonders and comforts. Now, the White Island connoisseurs are celebrating their involvement in Bedouin's 'A Wednesday Saga' by selecting their favorite Ibiza spots for this season.
Read Bedoun's 'A Wednesday Saga' opening review here. 
1. The Kave
Forget about all the fancy millionaire's villa after parties. This is the place where you want to rave out your last brain cells. What happens behind the round Hobbit door of The Kave stays behind it. It's a super fun place where you dance face to face with some of your favorite artists.
2. Benirrás
The drums of Benirrás are the soundtrack to a sunset in Ibiza and the perfect spot for romantic dates, or just a place to come down and get in touch with nature after a long and wild party night.
3. Can Pilot (Restaurant)
Can Pilot is a very basic yet authentic and yummy restaurant in San Rafael, which has been one of the local's favorites for years. It's all about meat and BBQ, so get prepared for a food coma. And make sure you bring some clothes to change into because it gets very smokey in there.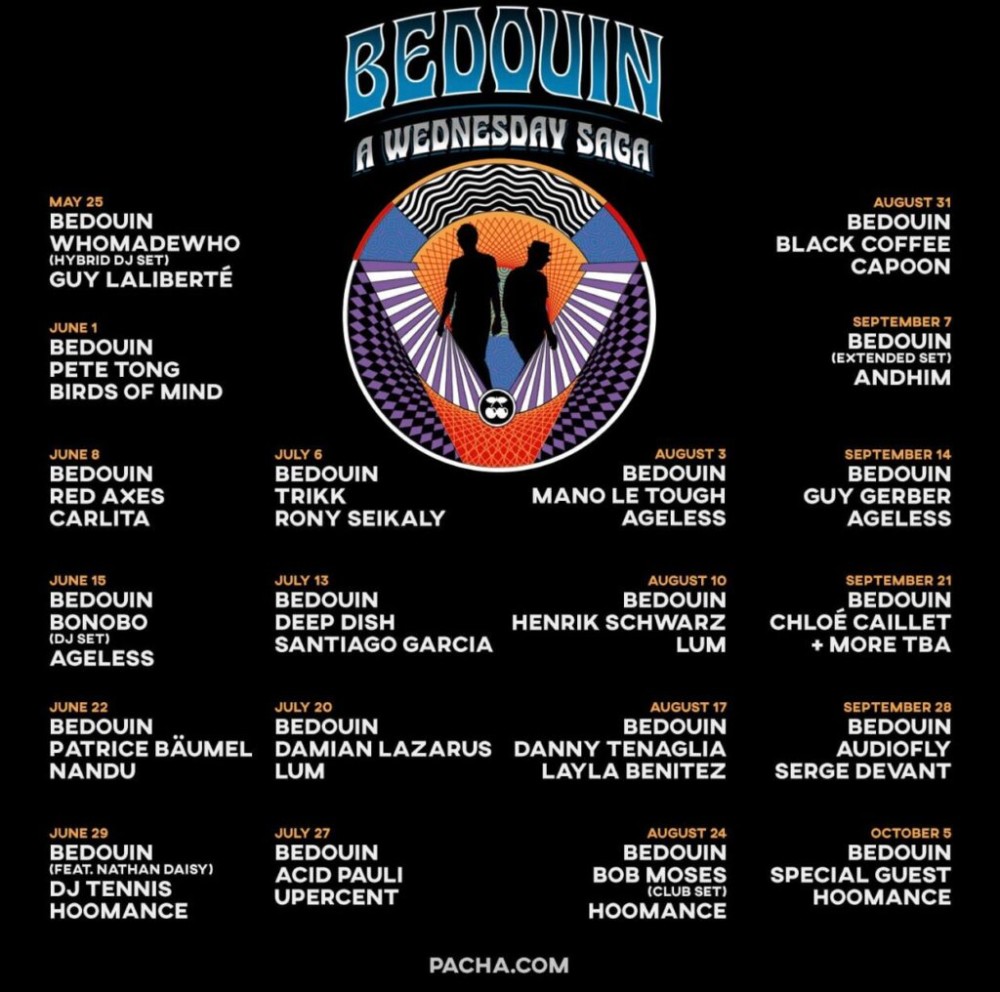 4. Zuma Restaurant
Without a doubt the best Japanese kitchen on the island with amazing views and extraordinary cuisine.
5. St. Gertrudis
Located in the middle of the island, this charming white village offers a wide range of restaurants and bars, from gourmet cuisine to quaint pubs. The village of Santa Gertrudis is located in the heart of the island and with a lot of history and tradition, it practically symbolizes Ibiza as a microcosm. Definitely worth a stroll.
6. Fish Shack Restaurant 
Very authentic fish restaurant right by the water. Perfect for lunch. Big portions for fair prices. But don't leave anything in your car in the parking lot next to it (never leave anything in your car anywhere on the island). Our car was broken into last month and all our stuff got stolen.
Andhim will be a part of Bedouin's 'A Wednesday Saga' on September 7th, 2022. Purchase your tickets here. 
Follow Andhim: Facebook | Instagram | SoundCloud | Spotify